Stern Stories
Sir John Vickers Discusses the Vickers Report at NYU Stern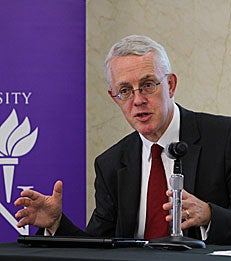 On September 22, Sir John Vickers spoke to an audience of Stern students and alumni about the Vickers Report, the proposed financial regulation set forth by the UK's Independent Commission on Banking. Two of its key findings are that core banking operations must be ringfenced from the rest of bank's other businesses, and substantially more capital is required than that imposed by Basel III. It is arguable that these reforms go further than any other banking legislation, including Dodd-Frank in the United States.
Following his speech, he joined a panel discussion led by Gillian Tett, US managing editor of the Financial Times; James Staley, CEO of JP Morgan's investment bank; and
Ingo Walter
, Seymour Milstein Professor of Finance, Corporate Governance and Ethics, and Vice Dean of Faculty.
View all media coverage from the event
.