Stern Stories
Connect Possible
As part of Stern's growing community of Berkley Scholars, the newest cohort of scholarship recipients shares why Stern is a perfect fit.
As part of Stern's growing community of Berkley Scholars, the newest cohort of scholarship recipients shares why Stern is a perfect fit.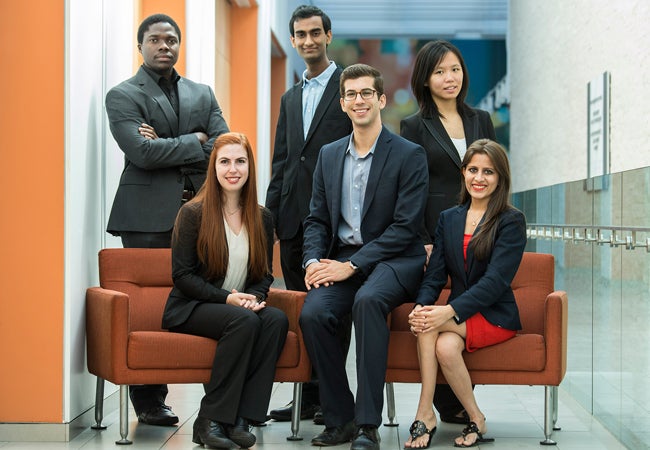 "The emphasis on IQ + EQ is apparent in everyone from the dean to the faculty to the students. As we heard during LAUNCH orientation, we're building a community together here to make the most out of NYC and our MBAs," said first-year MBA student and Berkley Scholar, Anjali Taparia.
Anjali and classmates Jonathan Herzog, Xinshi Ji, Rishi Jaggernauth, Tefiro Serunjogi and Sabrina Yurkofsky began their Stern journeys in the full-time MBA program this fall. As the second cohort of
William R. Berkley Scholars
, these students, who began their MBA studies immediately after graduating from college, bring a combination of diverse academic talents with a desire to contribute to business and society. Stern alumnus William Berkley (BS '66), chair of NYU's Board of Trustees, created this program to support talented college seniors who are ready to pursue their passions and contribute to Stern's collaborative community.
All of the Berkley Scholars possess a stellar academic résumé, but each brings individual experiences and perspectives to share with their classmates – from studying abroad in five different countries, creating a nonprofit startup, working in the family business, to an impressive list of leadership awards, a former national athletic record and an unyielding commitment to doing well and doing good.
"Community was one of the strongest reasons why I chose Stern," said Rishi, a graduate of Rutgers University with a passion for biotechnology. "Over the past month, I've come to know that I truly am part of the Stern family, and that sense of community is very unique here."
Anjali, who helped manage her family's healthcare business while pursuing her bachelor's degree in economics and starting a non-governmental organization (NGO) chapter at her university, agreed. "We see the same culture that we heard about throughout our application process," she said.
The Scholars are well accustomed to making the most of their skills and opportunities. Xinshi used her knowledge of global markets – having studied at top universities in Berlin, London, Sri Lanka, India and Abu Dhabi through NYU's global network – to lead an international team of students to compete in the Hult Prize, a global crowdsourcing competition sponsored by the Clinton Global Initiative. In between setting national swimming records in his home country of Uganda and interning as a research fellow, Tefiro has launched his own nonprofit organization, The Reach Program, which seeks to support and mentor high-achieving students in Uganda as they apply to top-level universities abroad. Jonathan, who hopes to apply his MBA experience to a career in the public sector, will be returning to his alma mater after graduating from Stern to pursue his JD as part of Harvard Law School's inaugural Junior Deferral Program.
Similarly, Sabrina has combined extensive academic research with real-world industry knowledge through internships at various media companies including ITV Studios America and The Weinstein Company. She values the Berkley Scholarship Program for offering her access to industry trendsetters and thought leaders, as well as the opportunity to grow in her career. She also notes the value of the mentorship and camaraderie that her fellow students have offered as part of this program. "The students here have a mentality focused on doing good, on having a positive impact on society through business. I know this experience will help me achieve the gravitas to further my career, but, more important, I know that I will graduate from Stern with a strong network of like-minded, collaborative peers."
With the program now in its second year, the 2015 Berkley Scholars had the chance to connect with the inaugural class to seek advice and establish strong relationships with fellow classmates before their arrival. "I met with Jim [Depeng Jin], one of last year's Scholars, before deciding Stern was the right place for me," Jonathan explained, noting their shared interest in study abroad and athletics. "It was really valuable to have a class of scholars before us who could give us a foundation and show us that there is a community of scholars here at Stern."
Rishi concurred, describing his conversations with both Jim and fellow Scholar Caroline Casavant during his decision process. "They've set the bar so high with their professional accomplishments at Stern. Their precedent really proved to me how capable we are of doing well straight out of an undergraduate program."
As the semester kicks off, the Scholars have fully embraced another key LAUNCH concept: Explore. Diving into the
$200K Entrepreneurs Challenge
, the
Leadership Development Initiative
, global study preparations and club leadership positions, they are immersing themselves in the MBA experience and laying the groundwork for successful career paths ahead.
For Tefiro, the process is as important as the end result. "This experience is opening my eyes to what I can and should be doing with my life, to think beyond what I thought was possible."