Create Possible
NYU Stern's Creative Destruction Lab-New York City Selects 27 Startups for its Launch Cohort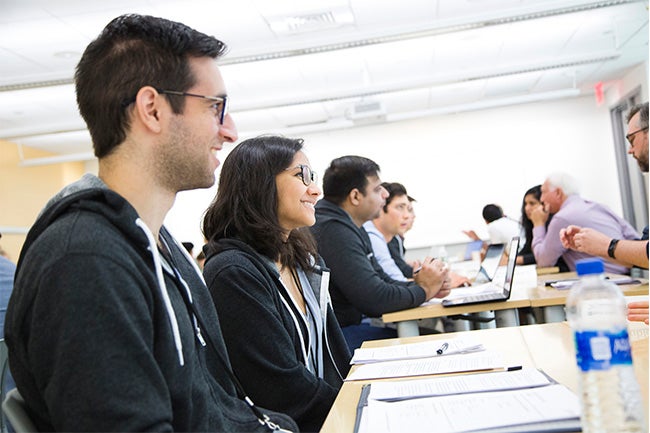 Last fall, NYU Stern School of Business announced the establishment of the first Creative Destruction Lab in the United States—
CDL-NYC
—to support the commercialization of early-stage science and deep technology startups.  CDL-NYC received a landslide of applications for its inaugural 2018-19 cohort from founders associated with some of the top research institutes and academic institutions worldwide.  CDL-NYC accepted 27 ventures with an admission rate of less than nine percent, becoming the most selective program in the CDL network. CDL-NYC's founders aim to commercialize disruptive inventions in a variety of fields such as artificial intelligence, robotics, material science, therapeutics and medical devices.
The nine-month CDL-NYC program links experienced entrepreneurs and investors with venture founders to help scale their ventures through a structured, objective based mentoring process.  The program also leverages NYU's position as a world-class research university in business, technology, medicine, science, analytics and engineering to provide venture founders support on key technical milestones from NYU's scientists, faculty, and economists.  An affiliated CDL-NYC MBA course gives select students direct access to the venture development process as the students work directly with the venture founders. Finally, CDL-NYC's corporate partners provide pro bono services, such as legal and accounting advice, to the startups.  The CDL-NYC program is based upon the successful Creative Destruction Lab model founded at the University of Toronto.
According to NYU Stern Professor
Deepak Hegde
, Director of CDL-NYC, "New York City is arguably the world's most exciting place now for high tech and science startups.  We have incredible startup talent in the city, but also many accelerators and programs that help startups. CDL-NYC distinguishes itself by providing founders access to its outstanding network of business coaches and investors, NYU's world-renowned scientists and Stern's top MBA students.  The fact that we work collaboratively with other programs and universities, and do not charge fees or equity from startups, makes us one of the world's most founder-friendly venture programs. We look forward to graduating several disruptive startups from our first cohort."
2018-19 CDL-NYC Admissions Highlights
Applications for CDL-NYC's 2018-19 launch cohort received from 20 states in the U.S. and 18 countries  
A majority of applicant ventures have at least one founder who has earned a PhD or masters degree from a top-ranked academic institution
The majority of the novel technologies were developed within a leading science, technology or healthcare university or institution
Venture applications spanned artificial intelligence, diagnostics, finance, cryptocurrency, biological science, materials, software, hardware, robotics and therapeutics  
Over 100 startups made the shortlist for CDL-NYC's interview process which included an onsite Interview Day on September 14th; 27 startups were chosen after interviews with the CDL-NYC team, Stern MBA students, scientific experts and CDL-NYC partners
"We are creating the premier ecosystem of entrepreneurship education and programs here on the east coast, in the heart of New York City, that fuels the demand for highly inspired ideas with equally high potential for impact," said Raghu Sundaram, Dean of NYU Stern.  "I am excited by the strides CDL-NYC has made in taking us closer to this vision."
More About the CDL-NYC Program
Creative Destruction Lab-New York City (CDL-NYC) is a nine-month program at NYU Stern for early-stage science and technology based startups. Through the program, startup founders are coached by program mentors, investors and scientists to meet individualized business objectives on eight-week intervals. Individualized objectives for each startup are designed to maximize each startup's chance of scaling into a massive disruptive company.  The mentors are headlined by the "G7-Fellows" who are experienced entrepreneurs, having had successful exits, and who are looking to invest in CDL-NYC ventures. Startups that fail to execute on their objectives can be cut from the program at the discretion of the mentors so that resources can be concentrated around ventures that are excelling. Those that meet their objectives are likely to attract investment from the G7-Fellows, as well as from one of the many venture capital firms that are represented in the program.  While companies in the CDL-NYC program do not require an NYU affiliation to participate, all companies will benefit from access to and support from NYU scientists, economists, and MBA students. Startups can also benefit from access to several complementary services from CDL-NYC's corporate partners. As CDL-NYC is an academic initiative of New York University's Stern School of Business, CDL-NYC does not take equity or collect fees from startups. Its operations are supported by its
Founding Partners and Corporate Partners
. For more information, visit the CDL-New York City
website
.
About New York University Stern School of Business
New York University Stern School of Business, located in the heart of Greenwich Village, is one of the nation's premier management education schools and research centers. NYU Stern, whose faculty includes three Nobel Laureates in Economics, offers a broad portfolio of programs at the graduate and undergraduate levels, all of them enriched by the dynamism, energy and deep resources of one of the world's business capitals. Visit 
www.stern.nyu.edu
 and follow NYU Stern on Twitter: @NYUStern. 
---