Stern Stories
Develop Possible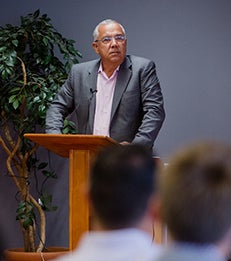 Creating a growing company requires courage, patience and nurturing. It starts with the leader.
Tony Alvarez
(MBA '76), co-founder and CEO of Alvarez & Marsal, and a member of NYU Stern's Board of Overseers, shared insights from his 34-year tenure at his firm and beyond to students and alumni in a talk titled "Managing Chaos," hosted by the School's
Leadership Development
team.
Born and raised in the Philippines, Alvarez received his MBA from Stern in 1976. After working at Coopers & Lybrand and Norton Simon, he co-founded
Alvarez & Marsal
in 1983 with business partner
Bryan Marsal
. The firm provides corporate restructuring, performance improvement and business advisory services across multiple industries. Alvarez & Marsal had just 26 employees between 1983 and 1999. The slow growth was intentional, explained Alvarez, so as not to sacrifice the quality of the firm's services. "Quality was the most important part of our partnership," Alvarez emphasized, explaining that the firm began with
corporate restructuring
and principal investing. In 2000, the firm
expanded globally
, and later added new capabilities including
tax
,
valuation
,
disputes and investigations
as well as
due diligence services
. Alvarez & Marsal currently has 3000 employees across four continents and 51 cities, and is recognized as a global leader in corporate restructuring.
Alvarez highlighted several key principles business leaders should keep in mind to foster growth, primarily the importance of taking the time to perfect the firm's craft. "You have to be ready to grow when the time comes," he explained. "Creating a growing company requires courage, patience and nurturing. It starts with the leader." Alvarez also stressed that business leaders should value entrepreneurship, compensate to reward results rather than seniority, hire the right people, promote work-life balance, train and share knowledge with the young, be curious and patient, and nurture new ideas.
Alvarez walked students through the key steps in turning around companies in distress, which involves assessing the firm's liquidity, selling assets or securing loans if necessary, diagnosing and fixing core operational issues over a period of one to two years, investing revenue, restructuring debt and recapitalization. To win clients, he advised to communicate a plan of action and demonstrate small victories to build credibility. Be a source of calm, act quickly and commit to decisions.
Finally, Alvarez shared some of the most significant life lessons he's learned throughout his career, emphasizing the importance of strong values: "The most powerful person in the room has a center. Having fun is the key to maximizing profit. Strike a balance between operating strategically and opportunistically. A balance of knowledge and relationships, of hard and soft skills, is essential." He also advised against making career decisions based on money. "Culture, values and who you are working with are more important than money."
The session concluded with a Q&A.