Stern Stories
Focus Possible
The first students in NYU Stern's two new focused MBA programs, the Andre Koo Technology and Entrepreneurship MBA and the Fashion & Luxury MBA, were welcomed to campus for orientation
The first students in NYU Stern's two new focused MBA programs, the Andre Koo Technology and Entrepreneurship MBA and the Fashion & Luxury MBA, were welcomed to campus for orientation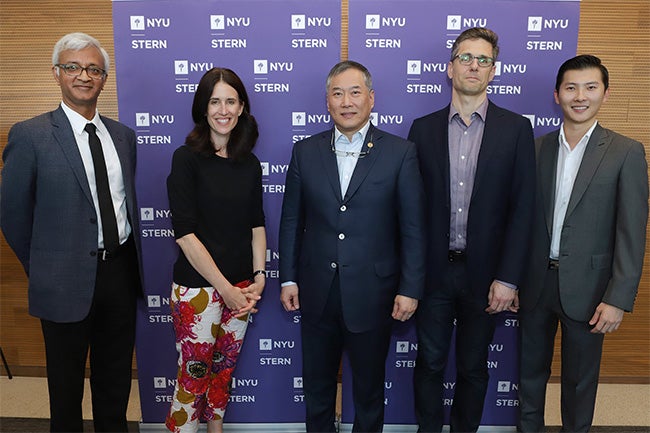 NYU Stern Dean Raghu Sundaram; Michelle Peluso, SVP & Chief Marketing Officer, IBM, and Stern Tech MBA Advisory Board Member; Andre Koo (MBA '94), Chairman, Chailease Group, and Stern Tech MBA Advisory Board Member; JP Eggers, Academic Director of Stern's Andre Koo Technology & Entrepreneurship MBA program; Andre Koo, Jr. (BS '18)
On May 14 and 15, the inaugural cohorts of NYU Stern's two new focused MBA programs, the
Andre Koo Technology and Entrepreneurship MBA
and the
Fashion & Luxury MBA
, were welcomed to campus for orientation to begin their journey at Stern. Programming included faculty-led sessions, alumni panels and welcome receptions with top industry executives from Stern's
Tech MBA Advisory Board
and
Fashion & Luxury Council
.
The one-year programs represent a new category of specialized MBA, developed in partnership with the business community to address talent gaps in each sector. Each is designed to deliver a rigorous and real-world educational experience that prepares students who have a definitive career focus in technology, or fashion and luxury.
Dean Raghu Sundaram kicked off the two-day event by addressing the students and speaking to the unique opportunities available through the immersive programs based in New York City.
"Stern takes pride in developing the business leaders of tomorrow," said Dean Sundaram. "With global headquarters and startups just steps away from campus, our NYC location means we can immerse students in live case studies like no other business school, bridging industry gaps and offering solutions in real-time to real business challenges."
Andre Koo Tech MBA students attended a welcome reception hosted just around the corner from campus at IBM, along with faculty and members of the Stern Tech MBA Advisory Board, industry leaders who were consulted on the development of the program. Michelle Peluso, SVP & Chief Marketing Officer, IBM, and Tech MBA Advisory Board Member, spoke to why she is excited to work with Stern students.
"This is such a critical time for business," said Peluso. "Ten to 15 years ago, engineers could be engineers and business leaders could be business leaders. Now, there is a confluence between technology and business, and there is an urgent need to close the talent gap. With NYU Stern's location in New York City, the diversity of its students and the real-time experience available to them, this program is primed to serve the needs of the industry."
At the reception, Dean Sundaram presented alumnus Andre Koo (MBA '94), Chairman, Chailease Group, and Tech MBA Advisory Board Member, with a plaque in recognition of ​his and his wife Jana's
​significant support of the program
, which is named in his honor.
"My family's ties to NYU Stern span three generations, and we take great pride in our alma mater," said Mr. Koo. "Never before has the intersection between technology, business and entrepreneurship been greater than today. The Andre Koo Technology and Entrepreneurship MBA program puts Stern in the lead to address the growing demand by companies for a new type of talent that is fluent in both technology and business."
Fashion & Luxury MBA students were welcomed with a reception hosted by Matthew Slosek, Vice President of Sales, North America, at Belvedere Vodka, part of the LVMH Group. Members of the Stern Fashion & Luxury Council, composed of leaders from across the industry, along with faculty, were also in attendance to engage with students.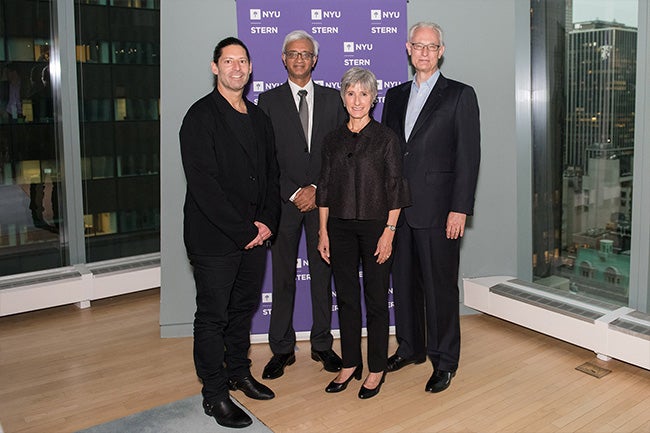 Marc Beckman, CEO, Founding Partner, DMA United, and Stern Fashion & Luxury Council Co-Chair; Dean Raghu Sundaram; Kim Corfman, Academic Director of Stern's Fashion & Luxury MBA program; Professor Jeffrey Carr, Stern Fashion and Luxury Council Co-Chair
"Belvedere Vodka has worked with MBAs on multiple Stern Solutions projects, and we always glean great insights," said Slosek. "We are very excited to continue working with students on future projects and partnerships."
The new focused programs are optimized for MBA seekers who are dedicated to business careers either in technology or in fashion and luxury, commitments which are evident in the programs' Class Profiles.
In the
incoming class of the Andre Koo Tech MBA
, 87% bring coding experience, with many skilled in multiple languages; approximately 1/3 of the class majored in engineering, math or science and approximately 1/3 majored in business. Additionally, the class is composed of 42% women, which is comparable to two-year MBA programs with the highest percentages of women.
In the
Fashion & Luxury MBA's incoming class
, 54% previously worked in the retail or consumer products industry, with past employers including brands such as Ralph Lauren, Tory Burch and Max Mara. The class composition includes an equal number of business and humanities majors at 35% each.