Stern Stories
Innovate Possible
Julia Gabel (MBA '18) recounts Professor Greg Coleman's "Digital Media Innovation" class as a series of TED Talks for the media world and shares lessons learned
Julia Gabel (MBA '18) recounts Professor Greg Coleman's "Digital Media Innovation" class as a series of TED Talks for the media world and shares lessons learned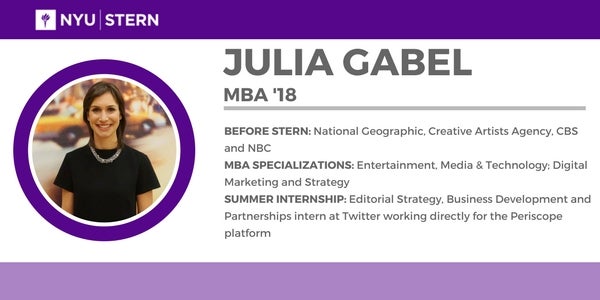 After roles at NBC, CBS, Creative Artists Agency and National Geographic, Julia Gabel (MBA '18) set her sights on an MBA to complement her existing skills. Hear more about one of her favorite courses at Stern, Professor
Greg Coleman
's "Digital Media Innovation" class:
You had the opportunity to take Professor Greg Coleman's "Digital Media Innovation" course. What was your experience taking the course?
Professor Greg Coleman's Digital Media Innovation course was one of my favorite courses at Stern to date. Combining learning about Professor Coleman's personal experience in publishing and media in tandem with hearing the talented media professionals he invited as speakers was an ideal comparator to my professional life. To say that the experience widened my understanding of the industry would be a gross understatement. My personal perspective was challenged; the range of possibilities for my career after Stern has vastly expanded since taking Professor Coleman's course.
Which speakers in particular resonated with you?
I called every Tuesday night "TED Talks for the Media World," and I feel strongly that is not an exaggeration. From the CMO of Boxed.com, Jackson Jeyanayagam, who was also the former Director of Marketing at Chipotle during the food crisis, to the founder of Gotham Gal Ventures, Joanne Wilson, all of the speakers this semester provided valuable advice that I will take with me throughout the rest of my professional career.
Jackson, for example, practiced the same transparency he preached during his time with our class. He explained that part of Chipotle's marketing success during the food crisis was its transparency to its customers throughout the issue. Jackson urged us to take this principle with us into our own professional careers and do our best not to hide issues from our future executive leadership.
Were there any major takeaways from the course that will impact your approach to the next phase of your career?
I think Professor Coleman said it best in advising us to take risks and go to a company where you really believe in not only the product or brand, but in the leadership as well.
How did this class complement your experience prior to NYU Stern?
Professor Coleman's class expanded on my experience prior to NYU Stern. While applying for the MBA program, I sourced content for all four of National Geographic's global television networks from international distribution companies and negotiated the deal terms with budgets upwards of a million dollars. That experience combined with other entertainment and media roles I've held made the advice from the speakers in Professor Coleman's class particularly relevant to me.
Recent Social Media Highlights from "Digital Media Innovation." Check out #DMI17NYU on Twitter for more:
Thank you @thegothamgal for your insights, humor, and wisdom in @GregBuzzFeed #DMI17NYU class last night! pic.twitter.com/PRmkeR6Lza

— Dasle Kim (@daslekim) December 7, 2017
Thanks @BuzzFeedBen for joining @GregBuzzFeed's class tonight, sharing the story behind the news, and the "Off the Record" tips #DMI17NYU pic.twitter.com/DxFCs6Mshr

— Amy Osekowsky Davis (@amyosekowsky) October 17, 2017
Now listening to @jpmaheu drop gems in my #DMI17NYU class. Professor @GregBuzzFeed brings in some cool speakers.

— Young 'Cois (@FrancoisLoren) October 11, 2017
Enjoyed hearing @jacksonjey speak in my #DMI17NYU course with @GregBuzzFeed! His driven and courageous approach to business is inspiring!

— Tiffany O (@tiffanyotoya) October 4, 2017
Watching a live demonstration of a @tasty video in class! Thanks for visiting @McCollumAshley! #DMI17NYU pic.twitter.com/VCeeV8UJUR

— Sarah Rubin (@sarahkrubin) October 31, 2017