Stern Stories
Inspire Possible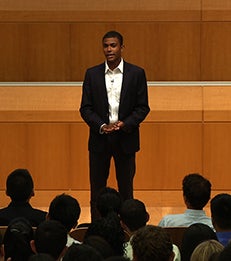 "'An Education in Possible' isn't just a tagline; it's an experience." - Larry Arbuthnott
"'An Education in Possible' isn't just a tagline; it's an experience," Larry Arbuthnott, a student in the second year of the
MBA/MPA dual degree program
, explained to incoming MBA students at the 2013
LAUNCH
, the incoming full-time MBA students' introduction to the NYU Stern MBA experience. "It's kind of a puzzle: you're thrown in, into a pile of pieces, and you have to figure out which pieces fit for you."
Larry's talk was part of a "Tales in Possible" presentation by nine different students and recent alumni to showcase what Stern students have accomplished in recent years. "What brought me here today was to share this story with you, the story of what's possible in just a year," Larry explained.
Watch highlights from Larry's talk:
Prior to Stern, Larry worked in Haiti for a bank that granted microfinance loans to small businesses. His parents were from Haiti and he had a great personal interest in the country, but "I came to Stern with the hopes of transitioning to a role that was a bit more macro-oriented."
During his own LAUNCH in fall 2012, Larry soaked in all of the opportunities that Stern offered: "I was inspired by my classmates, by the orientation itself and by the sheer array of opportunities that lay ahead of me." He also felt a bit overwhelmed by the volume of opportunities available, but his "strategy of careful, thoughtful enrollment definitely paid off." To begin with, he committed to being Assistant Vice President of Finance for Stern student government and the Vice President of the Stern Enterprise Association's (SEA) annual spring conference, the Social Innovation Symposium.
During the spring of 2013, Larry participated in a
Stern Consulting Corps
(SCC) project with The Clinton Foundation (now a
Stern Signature Project
) which appealed to his interest in Haiti. The project paired a team of four Stern MBAs with Booz & Co. consultants in support of the Haitian Center for Investment Facilitation (CFI). The team assessed financing mechanisms, researched best practices among investment promotion agencies in the Caribbean region and delivered recommendations for promoting foreign investment.
"By the time the Social Innovation Symposium rolled around, the team that I worked with put together an amazing conference. We had over 350 attendees, 2 keynote speakers including Charles Best, the founder and CEO of Donors Chose, as well as Jacqueline Fuller, the head of Google's global charitable giving, and list also includes several high-powered practitioners," Larry recalled. "And for me, on a personal note, the conference was really productive because it's where I made the connection that led to my summer internship." The chief operating officer of the Calvert Foundation was one of the panelists, and after the conference, Larry contacted him about a summer internship. With the help of Stern's
Social Impact Internship Fund
(SIIF), he was hired as an intern for the foundation. "This past summer turned out to be incredible," he recalled. "I got hands-on lending experience, I did some underwriting and I helped channel more than two million dollars into fair-trade cooperatives in Latin America."
"The bottom line of these next two years," Larry advised the incoming MBAs, "is are you going to take advantage of what's at your fingertips, because you get out what you put in."