Stern Stories
Inspire Possible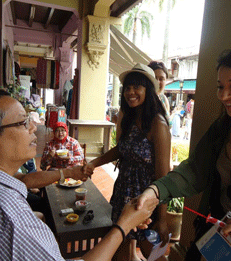 Stern senior Jasmine Clark shares highlights of her Stern experience in New York City and beyond.
Stern senior Jasmine Clark shares highlights of her Stern experience in New York City and beyond.
NYU Stern senior Jasmine Clark came to Stern from a high school in Georgia with a limited business background, and recalls feeling a little out of place. But, she explained, "I'll never forget my second semester freshman year and the first class, Business and Its Publics, with Professors
Jeffrey Younger
and
Jeanne Calderon
. They pushed me farther than they probably realized." She added, "The rigor of the class coupled with the plenary sessions—where I was most inspired by Newark, New Jersey mayor Cory Booker and by our own Stern Dean
Peter Henry
—reaffirmed that I was indeed in the right place."
She also cites as inspiration Undergraduate Dean
Geeta Menon
and her scholarship donors Howard and Janet Maisel Kagan, all of whom encouraged Jasmine, "to do what you love to do" and "to go into the world and make Stern proud."
Jasmine calls her time New York City, "magical," but she did indeed go out into the world. She studied in Singapore through the
International Studies Program
(ISP), in which every Stern junior studies abroad for one week, and in France through a semester abroad in Paris. "I learned so much about my dreams and myself while I was in Paris. All of my courses were in French, taught by a French professor, and I quickly learned the French classroom culture. Though a bit intimidating at first, I grew more confident in my work and my presentations—something that is very useful for a woman in business," she said.
Jasmine has been able to use all of her skills and experiences from inside and outside of the classroom in her marketing internships. At NBC Universal, she pitched a thrifting-inspired social media platform for NBCU's The Style Network, " myownstyle.com," which was geared towards an atypical demographic, the thrifty mother. More recently Jasmine joined an engineering and technology start-up company, Bunkers Hill Construction, as the head of marketing and the only female and partner with a business background.
Now entering her fourth and final year at Stern, Jasmine is working to secure a full-time marketing position at a global consumer packaged goods company. She noted, "My experiences show me that it doesn't matter where you end up, it only matters what you do with what you've learned. And being a Sternie, I believe I will be able to do a lot with what I've gained here."