Map Possible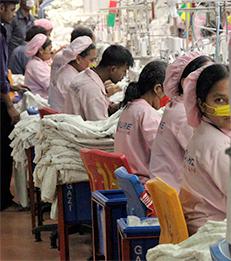 Out of the estimated five to six thousand factories in Bangladesh, we estimate that more than two thousand facilities fall into this unregistered category. - MBA student Alicia Miller
Two MBA students partner with NYU Stern's Center for Business and Human Rights on a Stern Signature Project to estimate the true size of the export garment sector in Bangladesh.
"Two years after the Rana Plaza disaster in Bangladesh, many of the country's factories remain unregistered and uninspected," full-time MBA student Sarah Manning describes. Sarah, along with fellow MBA student Alicia Miller, has been partnering with Stern's
Center for Business and Human Rights
, co-directed by Research Scholar
Sarah Labowitz
and Professor
Michael Posner
, on a
Stern Signature Project
to address this challenge. The pair has been working with the Center's graduate fellow, Nayantara Banerjee (Gallatin '15), to locate and map the unregistered garment factories.
Bangladesh is one of the world's major clothing exporters, producing garments for hundreds of global retailers and brands. Since the collapse of Rana Plaza in 2013, the Center has taken on an ambitious research agenda to better understand the complexities of the apparel supply chain and make recommendations for change.
The Center's research has focused on the risks to garment workers presented by the prevailing model of "indirect sourcing." In this model, smaller, unregistered factories supplement the work of the larger registered factories that fulfill large orders on tight timetables for multinational brands. Alicia explains, "There is no oversight of these unregistered factories. Out of the estimated five to six thousand factories in Bangladesh, we estimate that more than two thousand facilities fall into this unregistered category."
"Stern's Center for Business and Human Rights has been working to develop an estimate of the true of size of the export garment sector," says Sarah. "They enlisted our help to start by developing a map of all of the registered factories. Last semester, we collected a list of more than 10,000 factory records from five public databases. The list included a lot of duplicates and locations that couldn't be mapped, so we were charged with developing a useable list that could be mapped out."
Alicia explains, "This may sound like a simple task, but we faced major challenges. Addresses in Bangladesh are really complicated and some places are reachable only by footpaths. The map is not something that can easily be done remotely. Leveraging lessons from my "Global Sourcing and Open Innovation" course, taught by Professor
Natalia Levina
, we've enlisted the help of a freelance mapmaker located in Bangladesh who is familiar with the local address system."
"This has been a challenging project but a great learning experience," she adds. "No one had done this before. We listened carefully to make sure we understood the spirit of what the Center was trying to accomplish and then we figured out the right tools to get there."
"Our key deliverable is to plot all of the known factories on a map by the second anniversary of Rana Plaza at the end of April," Sarah says. "The Center will use the map as the basis for a physical survey that will identify unregistered facilities in hot spots of garment production around registered factories. This will allow the Center to estimate the true size of the export garment sector and to encourage companies and policymakers to adopt solutions that encompass the whole sector, not just those factories at the top." She continues, "It's easy to focus on the details and forget what's at stake here, but when we hear from our project advisor, Sarah Labowitz, about another senior-level person who wants to see the map, it reminds me how important this project is at a higher level. And it's personal to me as well: these factories are manufacturing clothing for well-known brands that we all wear. Our work is making a real impact."  
---