Stern Stories
Navigate Possible: MBA Students Head to West Point to Learn Leadership Lessons from Military Experts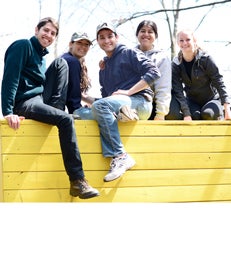 By getting out of the classroom and into a non-business context, we learned to challenge norms and to dismiss preconceived notions about business etiquette. --Diana Ruano
Leaving the classroom behind, a group of 55 first-year MBA students conducted an "orienteering mission" with the Thayer Leadership Development Group (TLDG) at West Point this spring as their capstone project in NYU Stern's
Leadership Development Initiative
(LDI). Students broke into small groups and were assigned "missions" in either a
Leadership Reaction Course
or a
Navigation Challenge
. For each mission, a member of the team was appointed team leader and he/she directed the group through the task at hand.
Read more about Stern's leadership capstone project in the Financial Times
.
Designed to simulate a stressful environment with time constraints, limited equipment, vocal harassment from observing teams and more, the
Leadership Reaction Course
gave students an opportunity to experience functional leadership, effective followership, group and individual problem-solving, and conflict recognition and resolution under the guidance of senior faculty in TLDG at West Point Leadership Academy. Similarly, students in the
Navigation Challenge
received only a compass and a map, and had to navigate their team from point-to-point as quickly as possible. At the same time, students were required to keep track of their position as compared to the starting point, to remain focused on predetermined goals and to negotiate a number of obstacles.
"In the beginning, I was afraid that I wouldn't be able to contribute," confessed MBA student Diana Ruano, who tackled the
Leadership Reaction Course
with her teammates. "Over the course of each exercise, though, I learned a lot about myself – I saw that I'm very comfortable taking direction and being at the forefront. Plus, I discovered that being a leader doesn't mean that you have all the answers. In fact, trusting in your team and being receptive to advice is a sign of good leadership."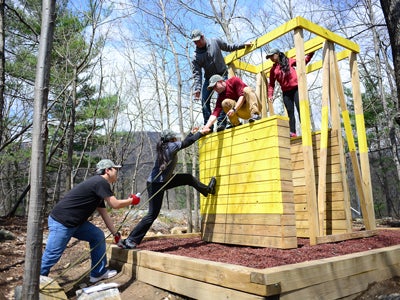 MBA student David Friedman, one of Diana's teammates, echoed her excitement about the experience: "What's great about an experience like this one is that you get to see the practical application of business principles." He also underscored the importance of effective communication in teamwork: "Being transparent with your team, in addition to having a high-level of comfort with your teammates, is key. This was particularly true at West Point where each mission required both mental and physical exertion."
"By getting out of the classroom and into a non-business context, we learned to challenge norms and to dismiss preconceived notions about business etiquette," Diana explained. "In these obstacles, we had to be open, share ideas, get to know the strengths and weaknesses of each team member, learn to trust and lean on one another, quite literally – all under severe time constraints – but that was the only way we could succeed." David also emphasized the importance of emotional intelligence in teamwork. "Just as in a business context, we saw the value of EQ throughout the obstacle course. Self-awareness and empathy are just two examples of EQ, but they are both critical to good leadership."
Diana, who is diversifying her background in finance by pursuing studies in luxury marketing, emphasized the appeal of Stern's LDI program: "I chose Stern because it has the top program in luxury marketing, and I like that the School provides a safe environment with access to mentors and coaches. I have leveraged all Stern has to offer to focus on developing my leadership approach in different situations." David came to Stern with an engineering background and wanted to develop his leadership skills and strengthen his skills in areas such as finance. "The fantastic classes and faculty at Stern, coupled with opportunities like this one at West Point, have really helped me build my business acumen
and
hone my personal leadership style."