Partner Possible
Five Stern MBAs partner with the World Wildlife Fund, McKinsey & Company and the Fujairah municipality to launch the first national park in the UAE.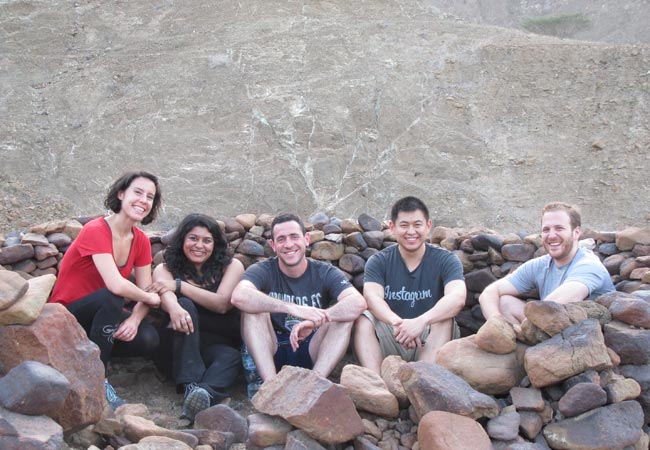 "National parks are typically thought of as a public good managed by the government, but we're imagining a new model for the 21st century that is financially self-sustaining and can be replicated in other developing countries with limited funding," says Laura Fox, a full-time MBA alumna who worked with four classmates during their final semester on a
Stern Signature Project
to develop a business plan for Wadi Wurayah National Park in the United Arab Emirate's Fujairah region. While MBA students, Joseph Ciraulo, Laura Fox, Kanika Jain, Jake Singer and Liang Zhang, advised by NYU Abu Dhabi Professor
Ramesh Jagannathan
, partnered with the World Wildlife Fund (WWF), McKinsey & Company and the Fujairah municipality on the project. In February, they traveled to the UAE to view the park land and meet with many of the project stakeholders.
"Wadi Wurayah offers a really unique landscape," Joe describes. "In a country that is mostly desert, you have wetlands, beautiful red rock mountains, unusual plants and UAE's national animal, the Tahr. Wadi Wurayah has been treasured by locals for a long time but over time it became damaged from overuse. The land has been rehabilitated and the Fujairah Municipality now wants to re-open it to the public as a national park." The Fujairah government first approached the WWF, who enlisted McKinsey's help, on a pro-bono basis, in developing a business plan for the park. The Stern MBAs, mentored by McKinsey, worked on this business plan.
"Our key challenge was that the park has to be financially self-sustaining. This means that instead of being fully government-funded, the park needs to produce revenue and secure private donations," Liang explains. "Our team's focus was on the initial phase of getting the park open, with the capital required to do so, and on the first two years of operation. We've built a financial model, conducted a stakeholder analysis, determined who the core visitors will be and developed a fundraising plan."
"We have a lot of stakeholders, so meeting everyone's needs has been a balancing act," Kanika notes. "Despite the challenges this posed, the different perspectives were very helpful. For example, we saw how the land is a point of pride for Fujairah. We met with government officials who enjoyed the land as children and want to allow future generations to enjoy it in the same way."
"The stakeholders have been extremely helpful in different ways," Joe notes. "Olivier Combreau at the WWF was a vital expert on conservation and national parks. Our advisor, Professor Jagannathan, who is based at NYU Abu Dhabi, showed us the value of NYU's global network. He helped us understand the culture and politics of the region, and provided numerous connections – for example, with important investors and someone who could help us with financial models."
"McKinsey was pivotal in helping us approach the analysis in the best way," Liang adds. "We had originally structured the project around milestones and deliverables, but our mentors encouraged us to frame the analysis around key questions, and to think deeply about what those questions should be. For example, what is the park trying to do and not do? What activities and experiences should be in the park by the time it's opened, and what is the budget that will fund these activities? This advice fundamentally changed how we structured the project and gave me a greater understanding of the value consultants can bring."
"This project didn't come with a lot of structure, so part of our learning experience was in shaping it," Jake adds. "We established three work streams: overall strategy, marketing strategy and financial model. We contributed to the work streams based on our individual areas of strength and learned from one another in addition to applying knowledge from our classes, such as modeling, strategy and advanced marketing, to solve a real-world problem."
"This project has been a great opportunity to look at how the public and private sectors and social enterprise can all work together," Laura says. "Part of the reason we're calling this a model of the 21st century park is that more and more social assets are having to rely on private funding. The project showed me that you can reimagine things that you think are set in stone."
"This process for thoughtfully preserving natural land in a developing country like the UAE can be a model for the region and world, especially in emerging economies where there is less government funding for a park system," says Jake. "Our hope is that our ideas can be replicated on a global scale."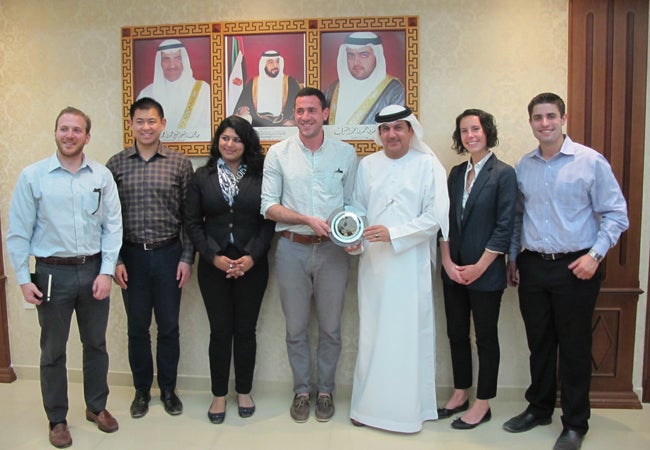 ---