Protect Possible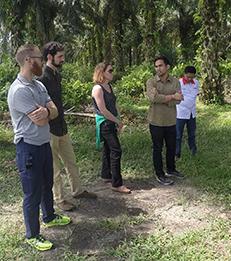 Smallholder farming is a tremendous opportunity for local communities to join the global economy and lift their families out of poverty, but, at the same time, there are significant social and environmental issues that are entangled in the palm oil business.
Through a new Stern Signature Project, a team of four MBAs worked with Golden-Agri Resources on an innovative financing program to address the sustainability, scalability and environmental impact of palm oil production.
From lipstick to laundry detergent, complex biofuels to common foods, palm oil is one of the most widely used products in consumer goods around the world. With the majority of the global supply produced in Indonesia and Malaysia, concerns over sustainability, scalability and environmental impact are rapidly growing among governments, financiers, producers and consumers alike. Partnering with the
NYU Stern Center for Sustainable Business
and
Golden Agri-Resources (GAR)
, one of the world's largest palm oil suppliers, a team of MBA students – Max Krasilovsky, Eliot Marcus, Nancy Van Way and Charles Walker – set out to better understand the complex issues inherent in this global agribusiness and propose new ways to help maintain production needs, preserve the livelihood of local farming communities and protect the environment through a
Stern Signature Project
focused on sustainable finance.
In Indonesia, smallholder farmers, on whom GAR relies to supplement its plantations' supply, are responsible for roughly 40% of all palm oil production, but their trees are often of poor quality, resulting in low and declining yields. For this reason, smallholders have begun expanding into the rainforest to meet their increasing supply demands, causing a rapid increase in deforestation. "Smallholder farming is a tremendous opportunity for local communities to join the global economy and lift their families out of poverty, but, at the same time, there are significant social and environmental issues that are entangled in the palm oil business," Nancy explained. "Our project looked at ways to finance a huge shift in how smallholders operate their farms – including replacement of their current crops with new, high-yielding seeds – so that they can be more sustainable and profitable in their practices."
"This issue is a big priority for the Indonesian government and for companies like GAR, so they want to figure out how to support replanting on these independent plots," added Eliot. "But smallholders often don't have the financial resources to hire specialized equipment to remove and replace their old trees, so significant financing will be required to facilitate the expansion." 
The team started with a benchmarking study, looking at ways non-governmental organizations (NGOs), governments and industries have approached these issues in the past as well as what other financial players have done to facilitate feasible loans for smallholder farmers. They then traveled to GAR's headquarters in Singapore and plantation in Sumatra to learn more about supply chain operations, witness the laborious process of seed plantation and harvesting and discuss different perspectives on the project with representatives from the Indonesian government, the banking sector, NGOs, international donors and smallholder farmers.
"Our trip was pivotal to really understanding the full scope of the project and the problem at hand," Charles noted. "It was an invaluable experience to meet so many of the key players to understand their priorities and the risks at stake. We're working on an issue that has been a challenge for everyone involved, and this experience honed our appreciation for the holistic partnerships required to develop solutions to these types of problems."
To help navigate this complicated set of challenges, the team sought guidance from Center Director and Professor
Tensie Whelan
. "Given her experience [as the former President of the Rainforest Alliance], Professor Whelan provided great mentorship to help steer our thinking and probe for other potential financial and scalability models," Max said. "She has seen and helped tackle many of these same challenges within other industries, and she offered insights about the type of research we should do, the types of questions to ask and the various pros and cons we should consider for each stakeholder."
Armed with their extensive research, the students developed an investor presentation to help pitch GAR's pilot innovative financing program to potential funding sources and proposed new programmatic elements to help increase the program's scale, involve more stakeholders and better embed sustainability. "We're thinking about ways to expand this and similar programs in the future by involving more players and creating partnerships – a variety of ways to institute new practices to continue working toward a more comprehensive solution," Max explained.
For the students, the project presented an opportunity to merge their professional backgrounds and interests in sustainable agriculture – ranging from supply chain operations to impact investing – with their in-class learning on a project focused on immediate, real-world impact for their clients, the farmers and the environment.
Nancy reflected, "As we worked on this project, there were so many factors we had to consider, including global financing, sustainability, the impact of news cycles on these initiatives, to name just a few. We, as a team, had to respond to those and then apply our knowledge to the project as it was moving. That kind of experience really solidifies the concepts you learn in the classroom and allows you to understand first-hand how business can create value in the world." 
---