Stern Stories
Revitalize Possible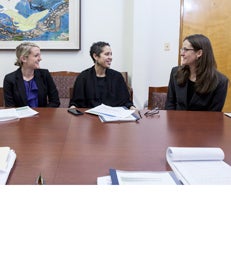 Working with NYU Stern was a great opportunity for both the City and the students and we look forward to collaborating together again.
The NYU
Stern Consulting Corps
partnered with the City of Jersey City in the fall of 2013 to undertake an innovative research project to inform the City's revitalization of its Economic Development Corporation (EDC). The mission of Jersey City's EDC had in previous years been guided by a focus on business strategy and development. With major cuts to the Urban Enterprise Zone program in 2010, the Jersey City EDC under the administration of Mayor Steven Fulop revisited its strategy through work with the Stern Consulting Corps and has broadened its mission to include community development, particularly through public-private partnerships, as well as branding, alongside its continued focus on local business strategy and support.
"Our project with Jersey City was very forward thinking," describes Langone MBA student Janessa Brown-Stonbraker, who worked with fellow MBA student Lillian Guidry on a Stern Consulting Corps (SCC) project with Jersey City Mayor and Stern alumnus Steven Fulop (MBA '07) during the Fall 2013 semester. "We were tasked with developing a plan for revitalizing Jersey City's Economic Development Corporation (EDC), which had suffered a loss in funding due to cuts by the State to the Urban Enterprise Zone program, the organization 's primary funding source, in 2010. However, Mayor Fulop is focused on moving ahead, addressing economic development and social issues to foster growth and a renewed sense of civic pride. His goal is to reinvigorate the EDC, and to do so we had to find new ways to use limited resources."
"When we realized the City was in the midst of a transformation, we saw our opportunity to think outside the box and think broadly," Janessa says. In addition to interviewing local stakeholders, including a local developer, the students looked at EDCs across the country, such as in Nashville, Denver and Dayton, to analyze what has worked in other locations.
"We secured a number of interviews with city-based leaders, such as with the head of community development and housing for the National League of Cities. Our affiliation as Stern students helped open doors for us," Lillian says.
As the students developed their proposal, "We found ourselves utilizing a lot of lessons from our MBA courses, particularly 'Leadership in Organizations,'" Janessa describes. "Additionally, last year, I took a 'Doing Business in…' course in Costa Rica which focused on the work of branding a country. Branding a city is similar task, so I was able to apply a lot of the same concepts that I learned in Costa Rica to the needs of Jersey City."
The students' final proposal included three main areas. Lillian describes, "We included a new vision and mission, which included some traditional EDC activities but with a focus on social projects. Essentially it brought the private sector into the public mission to improve the state of Jersey City. We included advice on structure, how the EDC should interact with the Mayor's office and a strategic plan for the next 18 months. Finally, we made recommendations for projects that could be taken up by subsequent SCC teams."
Janessa adds, "Public/private initiatives are relatively new. If you want to make a city a better place for people to build their lives, you need money to do that, and we were trying to find new ways to utilize finite resources. This proposal gives Jersey City a good path to start thinking about doing things differently."
"We are working to develop Jersey City into the best mid-size city in America and economic development and branding the city are key components of that," said Mayor Fulop. "Working with NYU Stern was a great opportunity for both the City and the students and we look forward to collaborating together again."