Score Possible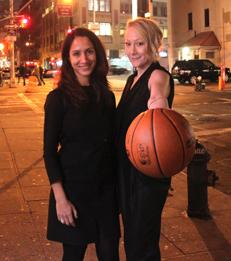 ...a business problem need not be complex or the analytics solution sophisticated for the project to be successful and have impact. In fact, a simpler and easily adoptable solution is much preferred.
Master of Science in Business Analytics graduates Lisa Prosser and Nil Simsek take their education onto the basketball court, applying data and analytics to the NBA's decision-making process for their capstone project.
How do you combine an interest in basketball with an education in business analytics? Lisa Prosser, Nil Simsek and three classmates in NYU Stern's
MS in Business Analytics
(MSBA) program joined forces with the San Antonio Spurs to explore the current use and future implementation of data and analytics into the NBA.  
While Lisa and Nil came to Stern with different backgrounds – Lisa in sales operations and Nil in engineering – both were drawn to Stern's MSBA program.  "The fact that the MSBA program was offered in a business school, and had the Stern brand behind it, I felt that it would definitely have the business focus I was looking for," notes Nil.  
Another similarity between the women was their interest in basketball.  Lisa pitched the capstone idea to her group based on her experience at summer camp playing the sport under Chip Engelland, now the assistant coach for the San Antonio Spurs.  Nil, who played basketball competitively in college, became immediately interested in the topic.  Lisa reached out to Engelland for guidance, who then put her in touch with Spurs Head of Basketball Analytics, Gabe Farkas.  
Partnering with the San Antonio Spurs, the focus of Lisa and Nil's analysis was centered on two areas of importance to the team: the desire for continued success and the fact that one of their star players was also one of the oldest players in the league. These factors helped Lisa and Nil narrow the focus of their investigation to two key areas: evaluating which games are optimal to rest older players and identifying which games were most important in terms of star players being at their best.  
"Our project focused on applying analytics to streamline the decision-making process. In essence, we aimed at substituting the 'one part science and two parts intuition' formula coaches often employ with a fully analytical one," explains Nil.  As Lisa notes, "Having a business analytics skillset made our analysis not only more thorough but also repeatable, which is critical when looking at problems in sports that provide you with new data on a daily basis."  
Lisa and Nil reached two conclusions concerning the state of analytics in the NBA: information must be communicated in a way that a nontechnical audience will be able to absorb; and domain expertise is critical in the success of a team's analytics department.  Lisa and Nil also created a web application that provided real-time summaries, trends and analytics that could be used for scouting purposes, along with a calculator designed to provide decision-making support to the coaching staff. By addressing the two areas identified as most important by the Spurs, Lisa and Nil received positive feedback from the team.  
The biggest takeaway from the project, notes Lisa and Nil, was learning how to effectively communicate solutions to a non-technical audience.  Reflecting on the topic, Nil says that, "a business problem need not be complex or the analytics solution sophisticated for the project to be successful and have impact. In fact, a simpler and easily adoptable solution is much preferred."  
Both Lisa and Nil agree that the MSBA program had a massive impact on their career paths.  Nil currently works at Citi as a Vice President in the area of credit card customer acquisitions and line management analytics, and Lisa is vice president of the data and analytics group at Athena Art Finance.  Notes Nil, "The program was instrumental in the opportunities presented to me as well as the skills I am now able to bring to the table in my role."  
---