Stern Stories
Support Possible - Dean Peter Henry Visits the White House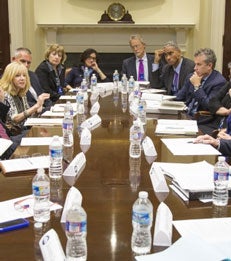 White House senior economic advisors invited Dean Peter Henry to participate in a roundtable on April 16 in the Roosevelt Room with a select group of peer school deans to discuss best practices for a 21st century workplace that meets the needs of women and working families.
As reported on The White House blog:
"As part of the lead up to the White House Summit on Working Families, we have been seeking input from a wide variety of stakeholders to identify best practices for developing workplaces that work for all Americans and better meet the needs of women and working families. We did not think this goal could be achieved without thinking of the business leaders of tomorrow, and that is why today, we met with a group of deans from our nation's leading business schools to discuss best practices for business schools that can better prepare their students for the increasing importance of women in the labor force and the prevalence of employees with families where all parents work."
Read The White House blog
In a
Wall Street Journal
interview after the roundtable, Dean Henry:
"…lamented the 'big, structural impediments' in workplaces that restrict accommodations for working families. Though part of [our] task is to train leaders who can eventually tear down those barriers, he said, schools must also create 'short-term, tactical solutions' that will foster women's advancement right away."