Stern Stories
Jared Cohen, Director of Google Ideas, Inspires Students to Use Technology to Address Global Issues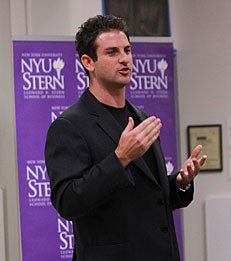 There is no greater driver for innovation than necessity.
As one of the youngest members of the State Department, Jared Cohen (
@JaredCohen
) served for four years as a member of the policy planning staff under both Secretaries of State Condoleezza Rice and Hillary Clinton, and is credited for introducing technology as a way to tackle key challenges, foster diplomacy and alter foreign policy.
Today as the Director of Google Ideas, a think/do tank, Cohen is doing similar work in the private sector, using technology to confront some of the world's most pressing issues. On March 26, he spoke to NYU Stern MBA students, sharing his story in the first Stern Signature Series event, a student-designed speaker series.
Cohen said that he is frequently asked about going from the State Department to Google and that "it doesn't matter" where he is--both places offer opportunities to continue his passion of focusing on global issues. Cohen spoke about his time in Iran witnessing the role that technology played in the lives of the youth, and later in 2009, the role it played in the country's Green Revolution. "There is no greater driver for innovation than necessity," he said.
Now at Google Ideas, Cohen and his team focus on learning about, and disrupting, illicit networks. In 2011, Cohen convened the Summit Against Violent Extremism, which brought together former members of gangs, jihadists, nationalists and fascists, to encourage communication and cooperation to work to counter violent extremism.
In addition to leading Google Ideas, Cohen is an adjunct Senior Fellow at the Council on Foreign Relations and author of the books
Children of Jihad: A Young American's Travels Among the Youth of the Middle East
and
One Hundred Days of Silence: America and the Rwanda Genocide.