Stern Stories
Transform Possible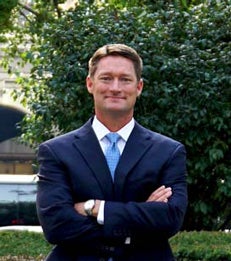 Executive MBA student Ryan Sparks reflects on how his time in the military and his experience at Stern shaped his personal and professional growth
I'm eager to take the skills that I gained in the military and at Stern to pay it forward and help transform the lives of others.
Executive MBA student Ryan Sparks reflects on how his time in the military and his experience at Stern shaped his personal and professional growth
"I think it's important for people to make transitions in life. It's necessary to go through a metamorphosis, and an MBA program forces you to do just that," says Ryan Sparks (MBA '17). From his time in the Marine Corps to his current role as an executive director in strategy and process improvement at JPMorgan Chase & Co., Ryan, a member of Stern's
Executive MBA (EMBA) program
, has undergone his own transformation.
As a decorated combat veteran, Ryan sees his MBA as complementary to his existing skillset and as preparation for the next chapter in his career and life. Before his professional business career, Ryan commanded Marines for 16 years as an infantry and reconnaissance officer. "In the military, I saw firsthand the value and importance of lifelong learning," says Ryan. "Personal discovery and study is a growth experience and formal education is where you come back to examine and develop those core principles."
Ryan was drawn to Stern because of its reputation, location and access to renowned faculty. "Among the population of top-tier MBA programs, Stern is the only one that is walking distance to Wall Street," notes Ryan. "Plus, with Stern's campus located in the heart of Washington Square, the intersection of cultures is one-of-a-kind." Ryan also recognized the value of the MBA straight away. He applies course concepts in his current role, noting that classes in accounting and finance were immediately directly applicable. Similarly, a recruiter identified Ryan as a prime candidate for growth in the firm, in part because he was pursuing his MBA. Ryan was able to leverage his MBA skills to pivot from a role in operations at a small tech start-up to his position at JPMorgan.
Ryan's favorite moments at Stern include a lot of "firsts": his first days at orientation at a conference center in upstate New York with new classmates; his first weekend at the Washington Square campus; and his first few days studying abroad on two Global Study Tours -- one to Argentina and Brazil and a second to South Korea and Japan. These "firsts" gave Ryan the opportunity to gain perspective on how different worldviews come into play on a business level.
Reflecting on his experience at Stern, Ryan says the immersive community has left a lasting impression. "My EMBA classmates and I came into the program wanting to change our lives in significant ways; the amount of growth we have experienced is something you typically feel when you're younger," he says. Ryan also notes that the diversity of backgrounds within his cohort - from finance professionals to medical practitioners - only added value to his own experience within the program.
Equipped with his military background and his degree, Ryan is excited for what lies ahead. "On a macro level, the finance industry is facing a period of significant disruption. My experiences have given me a very different point of view to approaching and solving problems," he says. "The MBA is a great foundation and I'm already seeing how it will accelerate my professional growth in today's dynamic market."
In addition to his career accomplishments, Ryan also volunteers with The Headstrong Project, a nonprofit dedicated to providing free mental healthcare to Afghanistan and Iraq war vets. "I've been lucky enough to transform myself on more than one occasion. I'm eager to take the skills that I gained in the military and at Stern to pay it forward and help transform the lives of others."