Stern Stories
Value Possible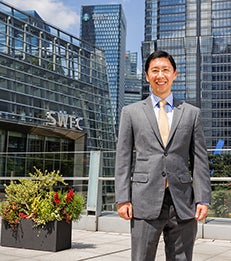 MSGF Alumnus Han Lin takes a unique path to an international banking career in Shanghai, after tours of duty in the US Marine Corps and the Peace Corps
Banking is ultimately about understanding risk, and MSGF provided a robust framework for thinking about it in Asia – especially, for me, in China.
MSGF Alumnus Han Lin takes a unique path to an international banking career in Shanghai, after tours of duty in the US Marine Corps and the Peace Corps
Some might think it unusual to join the US Marine Corps and the Peace Corps, and still rarer for that same person to enter the upper strata of international banking, but the way Han Lin explains his career path makes a lot of sense. In his current incarnation at Wells Fargo, Han, a senior vice president, deputy general manager for the bank's Shanghai branch and senior relationship manager, is helping to expand the firm's commercial banking franchise in China. Like other
Master's in Global Finance
(MSGF) students and alumni with eclectic backgrounds, how he got there is an interesting tale.
Han grew up in Grand Rapids, Michigan, and pursued his undergraduate business degree at the University of Michigan while serving in the Marine Corps reserves. His studies were interrupted in 1990 by the Desert Shield operation in Iraq. "Ironically," Han recalls, "I never went to Iraq but was stationed in Asia instead as a young corporal. My most memorable experience was in the Philippines at Subic Naval Base where my infantry battalion was front and center in a humanitarian operation after the Mt. Pinatubo volcano eruption. We saved a lot of people in the aftermath. I still remember being buried under ash and not seeing the sun for four days due to the intensity of the eruption."
After his military service, Han resumed his studies at Michigan a changed man. "I joined the Marines initially for the adventure," he says, "but I learned the merits of teamwork and left having deep respect for some of the finest citizenry the US had to offer." Degree in hand, he joined General Electric, rotating through various divisions as part of its famed Financial Management Program. "GE's reputation as an elite management training ground is well deserved, and GE managers take their mentoring and training responsibilities seriously," he says.
Taking a detour
Here's where the story takes an unusual turn. Still deeply affected by his experience in the Philippines, Han decided to join the Peace Corps in a business development advisory role. He was assigned to Ukraine, then a newly independent country in a state of transition. The skills Han had acquired at GE were badly needed. "I came out with an appreciation for the cultural roots that shape the progress of a country's development, as well as developed a love of Ukraine and its people." After his Peace Corps tour, Han decided to stay on in Ukraine for a year as country director for Project Harmony International, a Vermont-based nongovernmental organization specializing in people-to-people initiatives such as professional education exchange programs.
After his overseas experiences in the service and in a transitional economy, Han's next move was to enroll at the Johns Hopkins School of Advanced International Studies (SAIS). "I was at a crossroads," Han explains. "Beyond an interest in international affairs, I wasn't clear about my career direction. At SAIS I could keep in touch with international studies while exploring finance as a career." As it turned out, Wachovia Bank (later acquired by Wells Fargo) had just started an 18-month international banking training program and accepted him. Upon completion in 2006, his first assignment was in China, where he has remained.
A perfect program
At Wells Fargo, Han is part of the China expansion effort that includes supporting the China subsidiaries of the bank's US corporate customers and building relations with select China corporations investing in the US where Wells Fargo might support their US subsidiaries. As the 2008-2009 global economic crises affected Asia, Han felt a need to deepen his core financial knowledge, particularly in risk management. He found The Hong Kong University of Science and Technology (HKUST)-NYU Stern
Master of Science in Global Finance
(MSGF) program. "The program was perfectly structured in terms of content quality, delivery and required time commitments," he says. "The most valuable aspects were my classmates, superb professors and the onsite concentrated course delivery over a weekend period, which ensured I could focus exclusively on the material."
The MSGF program exceeded Han's expectations. "My favorite courses were the ones on corporate valuation, but those most immediately practical were about risk management, especially operational/financial risk," he says. "Banking is ultimately about understanding risk, and MSGF provided a robust framework for thinking about it in Asia – especially, for me, in China."
Since receiving his degree, Han says he keeps in touch with classmates through the alumni networks of both NYU Stern and HKUST, as friends and also as sources of insight on developments in Asia's financial markets. He adds: "As Wells Fargo prudently expands in Asia, I know who to talk to for perspectives."
A Kung Fu expert and proud father of two young daughters, Han notes that both he and his younger brother have returned to the land of their heritage to live and work: "This second-generation full circle back to China is quite a common cultural and career thread."