NYU Social Entrepreneurship Panel & Mixer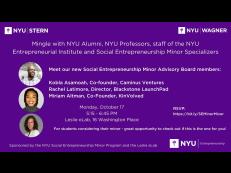 Considering the Undergraduate Minor in Social Entrepreneurship offered jointly by NYU Wagner and NYU Stern? Join us for a panel discussion, and the opportunity to mingle with NYU faculty, alumni, staff of the NYU Entrepreneurial Institute and current Social Entrepreneurship Minor Specializers. 
We'll have a brief panel featuring alumni in social entrepreneurship: 
Kobla Asamoah, Co-founder, Caminus Ventures
Rachel Latimore, Director, Blackstone LaunchPad
Miriam Altman, Co-Founder, KinVolved
You'll also have a chance to learn more about the Leslie eLab, and mingle with fellow guests and speakers. Light refreshments will be served.
Date: Monday, October 17
Time: 5:15-6:45 pm
Location: Leslie eLab, 16 Washington Place (at Greene St). 
RSVP:
here