Books Worth Reading
Faculty Releases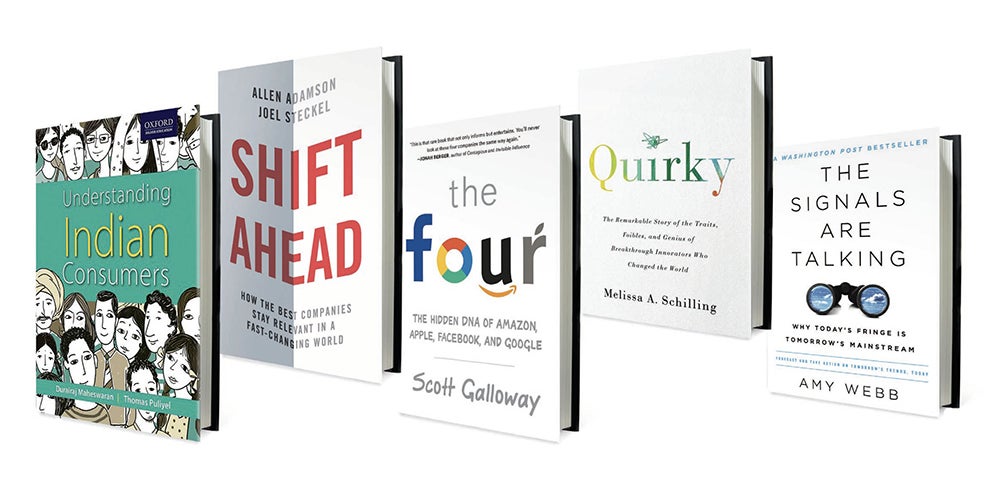 Understanding Indian Consumers
Durairaj Maheswaran, Paganelli Bull Professor of International Business, and Thomas Puliyel, adjunct professor, SP Jain Institute of Management & Research
A compilation of articles blending practical marketing insights with theoretical frameworks about luxury and rural consumers, youth, and women, and identifying trends in advertising and digital communications.

Shift Ahead: How the Best Companies Stay Relevant in a Fast-Changing World
Allen Adamson, adjunct associate professor, and Joel Steckel, professor of marketing and vice dean, doctoral programs
Covering success stories and cautionary tales, this book explains how to spot warning signs, overcome obstacles, maintain authenticity, execute a bold change, and stay competitive. 

The Four: The Hidden DNA of Amazon, Apple, Facebook, and Google
Scott Galloway, professor of marketing
A deconstruction of how these four influential companies have created their images and advice on how to apply the lessons of their ascent to your own business or career.   
Quirky: The Remarkable Story of the Traits, Foibles, and Genius of Breakthrough Innovators Who Changed the World
Melissa Schilling, Herzog Family Professor of Management
Quirky delves into the lives of eight serial innovators, from Ben Franklin to Elon Musk and Steve Jobs, to understand how these insights can be applied to ourselves, our work, our children, and society's challenges.   
The Signals Are Talking: Why Today's Fringe is Tomorrow's Mainstream
Amy Webb, adjunct associate professor of marketing
A methodology for learning how to think like a futurist and understand which trends will last and how they will affect people, businesses, and workplaces.   
---
Check out this fall's Author Lecture Series lineup.