Dean Menon Reflects: A Look Back
Read this article on mobile

I Am Global. I Am NYC. I Am NYU. I Am Stern.
As Dean Menon prepares to hand over the reins of the Undergraduate College, she reflects on the School's accomplishments during her eight years
Since joining NYU in 1990, I've seen this university transform from a regional institution into a global powerhouse, with our torch casting a distinctly violet hue across six continents around the world. Over the time I've been here, I have worn many different hats: professor, researcher, doctoral student mentor, marketing department chair, NYU parent, and most recently, a Dean. And these roles have given me a unique perspective on NYU and Stern, and have deepened my appreciation for this extraordinary place. When I began my role as Dean of the NYU Stern Undergraduate College in 2011, I quickly realized how grateful I was to the deans who had come before me for all they had done to build a strong foundation. That, together with our unparalleled locational endowment (I often say that NYU Stern is in the best part of the best city in the world!), the academic excellence of our faculty and students, the unique global perspective provided by NYU's global network, and our diverse and vibrant community, provide us with all the ingredients for a top-ranked premier business program. And that's exactly what we have accomplished in the last few years! As I forge ahead in my eighth year as Dean, I am incredibly proud of all that we have accomplished since I took the helm in 2011. We broke ground in many areas, including:
Ranking as one of the top business undergraduate programs in the world (5th in US News & World Report and 8th in Poets & Quants).
Setting admissions records every year, culminating in 2018 with 12,450 applications for 600 spots (up from 6,993 in 2011), an 8 percent admit rate (down from 21 percent in 2011, and the first time ever in single digits), and a 60 percent yield rate (up from 36 percent in 2011).
Engaging nearly 500 students and 100 faculty members through our 2012 innovation, the Stern Program for Undergraduate Research (SPUR); several students were admitted to top PhD programs.
Being recognized by Poets & Quants as the best undergraduate program for global academic opportunities.
Solidifying demand for Stern undergraduate talent with the launch of the UC Office of Student Engagement (OSE), achieving in 2018 a 98 percent placement rate, and the fifth highest salary among undergraduate business programs.
Building school pride among thousands of students, parents, and alumni with the #IAmStern and #WeAreStern campaign.
These are all great reasons to believe that the NYU Stern Undergraduate College is poised to continue to build on its strengths in the years to come, and to keep soaring to ever greater heights. Reflecting on my time as Dean, it has been my honor and privilege to be the official champion of the Undergraduate College and lead it onward, upward, and forward on behalf of our community of undergraduates, faculty, staff, alumni, corporate partners, parents, and friends of the School. I know that when I pass the torch to my colleagues in June 2019, they will continue to build upon the strong legacy of the Undergraduate College.
I am looking forward to re-engaging in my research and teaching full time as a part of the marketing department, which has been my home since 1990. So while I will no longer be in the Dean's office, I will still be an unofficial cheerleader. After all, as I often say, #IAmStern and there's no other place I'd rather be!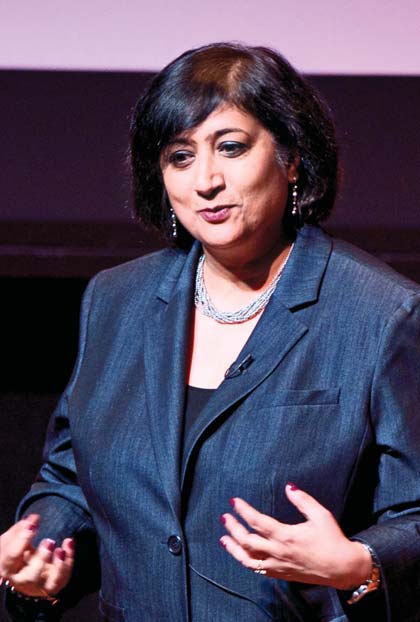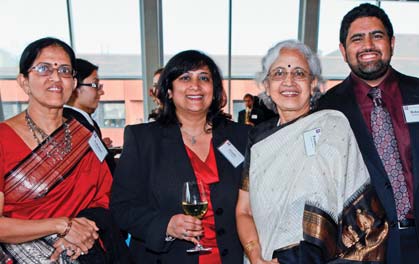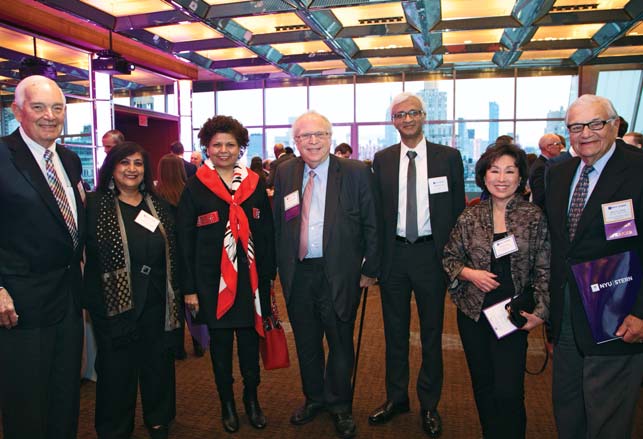 ---
What others say as they look back on Dean Menon's tenure:
"Geeta Menon has been an outstanding Dean of Stern's Undergraduate College. Her tenure has been marked by—and will be remembered for— increased selectivity, expanded research opportunities for students, greater global engagement, and excellent student outcomes. In addition to all she has done to strengthen Stern's Undergraduate College, Geeta has been a wonderful colleague and a valued member of the University's senior leadership team." —Andrew Hamilton, President, NYU
"Dean Menon has created a brilliant undergraduate experience for students at Stern, and brought the School to a level of competitiveness and excellence that is a huge credit to the University as a whole." —Katherine E. Fleming, Provost, NYU
"Since assuming this role in July 2011, Geeta advanced the UC—a flagship program for Stern—into the very top echelons of undergraduate programs in the country, and indeed, the world... We are all very deeply indebted to Geeta for her superlative leadership of the Undergraduate College these past seven years." —Raghu Sundaram, Dean, NYU Stern
"Stern is fortunate to have had Geeta's steadfast leadership over the nearly eight years she has served as the Dean of the Undergraduate College. She leaves a wonderful legacy of accomplishments at the School, which will endure in the lives of its students." —Alison Mass, Chair, Board of Overseers, NYU Stern; Global Head, Chair, Financial and Strategic Investors Group in the Investment Banking Division, Goldman Sachs & Co.
"Geeta has been an inspirational leader of the Stern UC, and her enthusiasm has been contagious. With her tireless commitment to the students, she has guided the School to new heights both inside and outside the classroom." —Robert Whitelaw, Vice Dean of the Undergraduate College, NYU Stern
"I credit her with my pride in my school, the friends that I love, and the reputation that I have cultivated under her mentorship. Dean Menon is a key reason and inspiration for why I choose to be a leader in my community, my workplace, and in the world." —Bill Tsai (BS '18), President, Undergraduate College Student Council 2017-2018, NYU Stern