Mission: Possible


How

Dean Peter Henry

embraced a changing business landscape and championed the role of the business school as a powerful force for good
BY TED PRZYBOCKI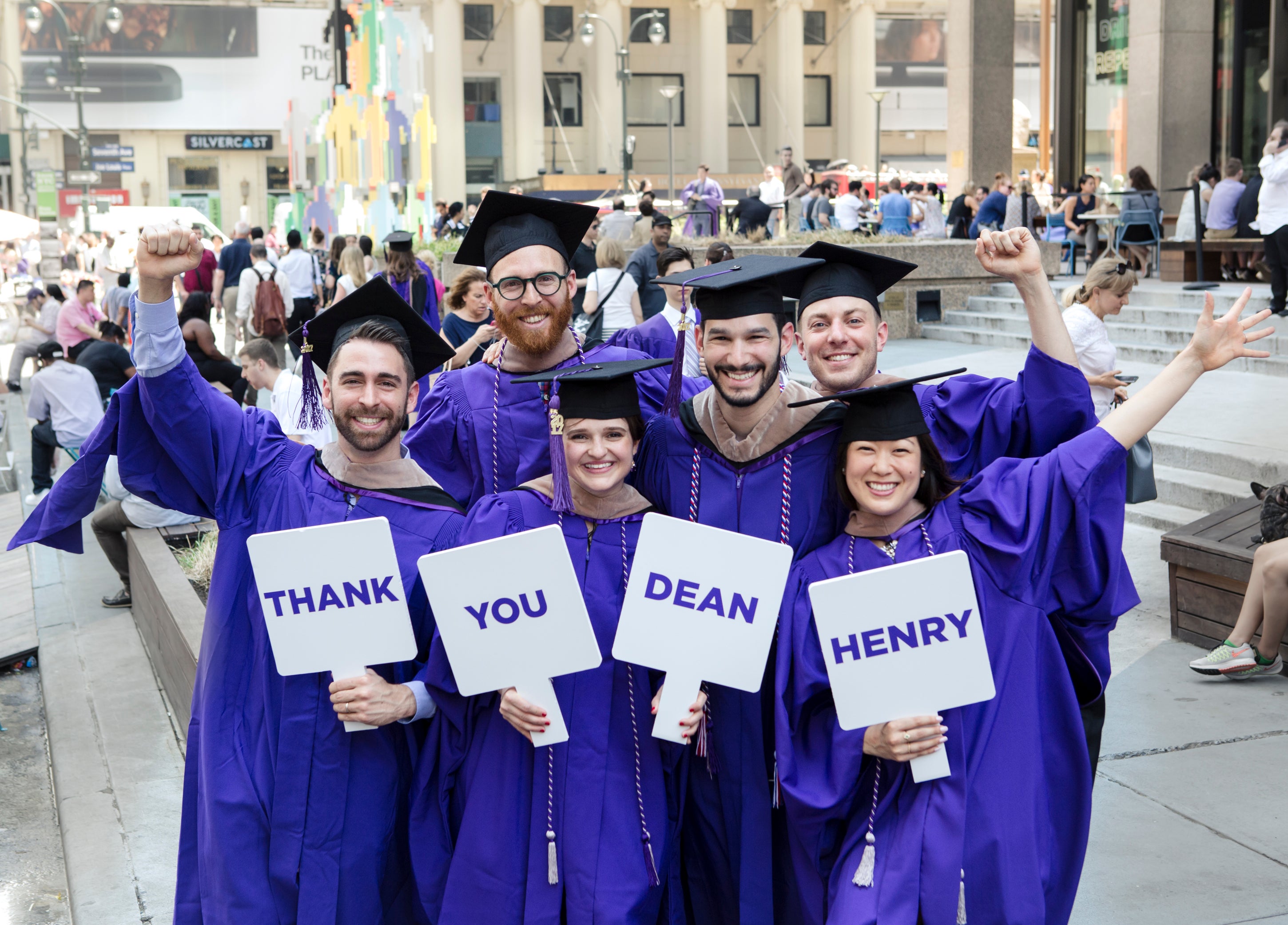 In late 2009, Peter Henry was living in California, where he'd been working for the past 12 years as an economics professor at Stanford. A Rhodes Scholar with degrees from UNC and Oxford, plus a PhD from MIT, Henry also served on President Obama's transition team in 2008, leading the review of international lending agencies such as the International Monetary Fund and the World Bank.
Even without the work in Washington, Henry had a full plate given his professorship, various fellowships, publishing activity, and participation on several committees. "Honestly, I wasn't looking to do anything different," remembered Henry. "I had a five-minute walking commute. I enjoyed perfect weather and fruit trees. I didn't apply for the deanship. It applied for me."
It's true that the climate in New York, particularly surrounding Wall Street in the aftermath of the financial crisis, was less sunny. The crisis had threatened the perception of business—and by extension, business schools.
NYU Stern had responded swiftly. Its top minds published historic research and thought leadership designed to inform policy and to help restore financial stability. But with the slow pace of recovery, a dour public mood prevailed.
As an accomplished macroeconomist with a policy research background, Henry's broader, more optimistic point of view provided an important contrast. And the possibilities of teaming up with Stern in a time of economic change intrigued Henry. "I saw it as a 'big ideas' job," he said. "With Stern's solid foundation in finance and an entrepreneurial culture, I believed we could do great things together." Henry was named Stern's ninth dean two days before his 40th birthday and assumed the deanship in January 2010.
Henry has a core belief in business as a force for good, where highly trained people and great ideas converge to create value for shareholders and society. That unwavering belief has guided his approach throughout his tenure as Dean.
Profit and principle must coexist. Citizens and consumers around the globe demand—and deserve—both."
New Building Blocks on a Solid Foundation
Henry's time as Dean of NYU Stern tells a story of expansion, of preserving and enhancing Stern's traditional strengths in finance while broadening the School's spectrum of academic excellence.
"In my mind, this was an opportunity to help increase the role of an elite business school in overcoming significant issues by transforming them into opportunities," he said. "A business school disciplined enough to be great in areas where the world needs you to be great can have a serious impact."
Under Henry's leadership, Stern immediately began to deepen and diversify its excellence: the School established new research centers and recruited additional faculty—among them Nobel Laureate A. Michael Spence, who joined in September 2010, and Paul Romer, who came to Stern to launch the NYU Stern Urbanization Project in 2011. Their pioneering, integrative work on emerging markets and cities formed, in Henry's view, a natural complement to Stern's already stellar finance and economics departments.
"Dean Henry is passing the torch along with an incredible list of accomplishments over the past eight years."

—ALISON MASS (BS '80, MBA '81) chair, Stern Board of Overseers
A series of diverse and innovative initiatives followed: NYU Stern's Center for Real Estate Finance Research, under Director Stijn Van Nieuwerburgh; the Center for Global Economy and Business, under Director Kim Schoenholtz; and the Center for Business Analytics, under Director Anindya Ghose, all launched in 2012.
In 2013, Michael Posner (who once served as Assistant Secretary of State for the Bureau of Democracy, Human Rights and Labor at the State Department during the Obama administration) joined Stern to establish and run the Center for Business and Human Rights, a first of its kind among top-tier business schools.
In 2014, Stern recruited Professor Pankaj Ghemawat, a leading expert on corporate global strategy, to direct the new Center for the Globalization of Education and Management and share its findings with educators, businesses, and policymakers. Later that same year, Stern expanded its research capability into China with the inauguration of a satellite Volatility Institute at NYU Shanghai, which partners with the original in NYC, created and directed by Nobel Laureate Robert Engle.
Most recently, in 2016, Stern launched the Center for Sustainable Business under Director Tensie Whelan. The goal: connect current and future business leaders with the knowledge and skills needed to address environmental and social challenges, thereby reducing risk and creating competitive advantage through innovation.
Broadening Minds for a Complex Business World
Integral to Henry's view of leadership in higher education, as well as success in the business world, is the idea that "EQ matters at least as much as IQ." Personal transformation forms a key part of the educational experience, and at Stern that means broadening students' mindsets and collaborative skills to prepare them for doing business in an environment of rapid change and diversity.
For incoming MBAs since 2011, that transformation begins with "LAUNCH" (or "Langone Lab" for Stern's part-time students), a new type of orientation program that challenges students to think more boldly from day one.
The intellectual summit was designed by a group of faculty, students, and administrators led by Stern Professor Adam Brandenburger, and it exposes students to some of the most intractable issues of the day through the experiences of industry leaders. Prominent figures such as Ajay Banga, CEO of Mastercard; Prashant Gandhi, head of digital payments at JPMorgan Chase; and Sallie Krawcheck, CEO and co-founder of Ellevest, are just a few who have participated in LAUNCH events.
"LAUNCH is a powerful kick-start in the transformation process," said Conor Grennan (MBA '10), dean of students. "It sets a tone that we place a high value on agile problem solvers who are unafraid to tackle big issues. In the process, we send the message that they can make a more significant impact in their careers."
Exposure to big ideas continues throughout a student's educational experience, which Stern increasingly delivers through academic programs that are themselves evolving to keep pace with business. In terms of using innovation to turn today's challenges into opportunities for the future, Stern leads by example.
During Henry's tenure, Stern was the was the first top-tier business school to offer a Master of Science in Business Analytics, a program uniquely designed for senior-level professionals and aligned with the increasing importance of data science in all areas of business. The School also pioneered the MBA specialization in Luxury and Retail, and also became the first top business school to announce a Fintech specialization for MBA students.
And just this past May, Stern announced two new one-year MBA programs focused on Tech and on Fashion and Luxury. Other initiatives include online learning and the launch of the Executive MBA Program program in Washington, D.C. Stern's innovative approach to business education and its commitment to community impact have garnered attention and enthusiasm from business leaders across important sectors, some of whom eagerly sought w ays to support Henry's vision and help guide the School's efforts through the formation of strategic advisory boards.
"Industry leaders like Dan Schulman (MBA '86), president and CEO of PayPal, were interested because they see big challenges ahead, and nobody has all the resources they need," said Henry. "Having him and others like him on board changes the conversation. Our relationships are a game changer."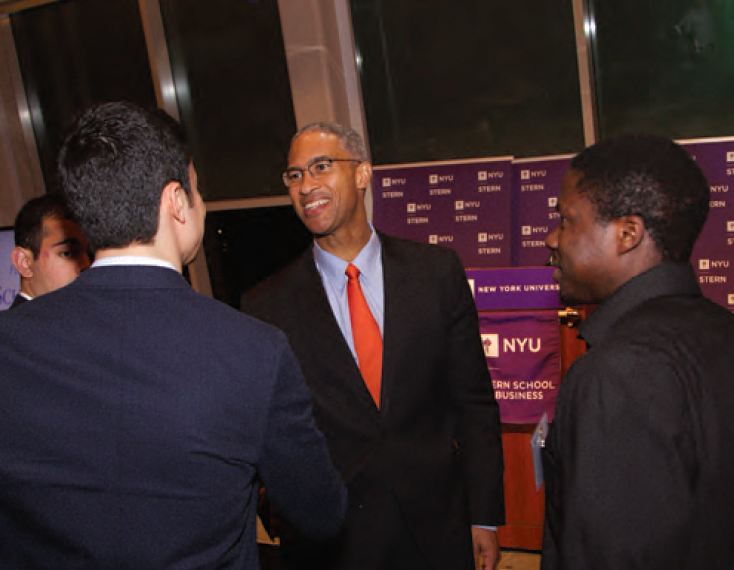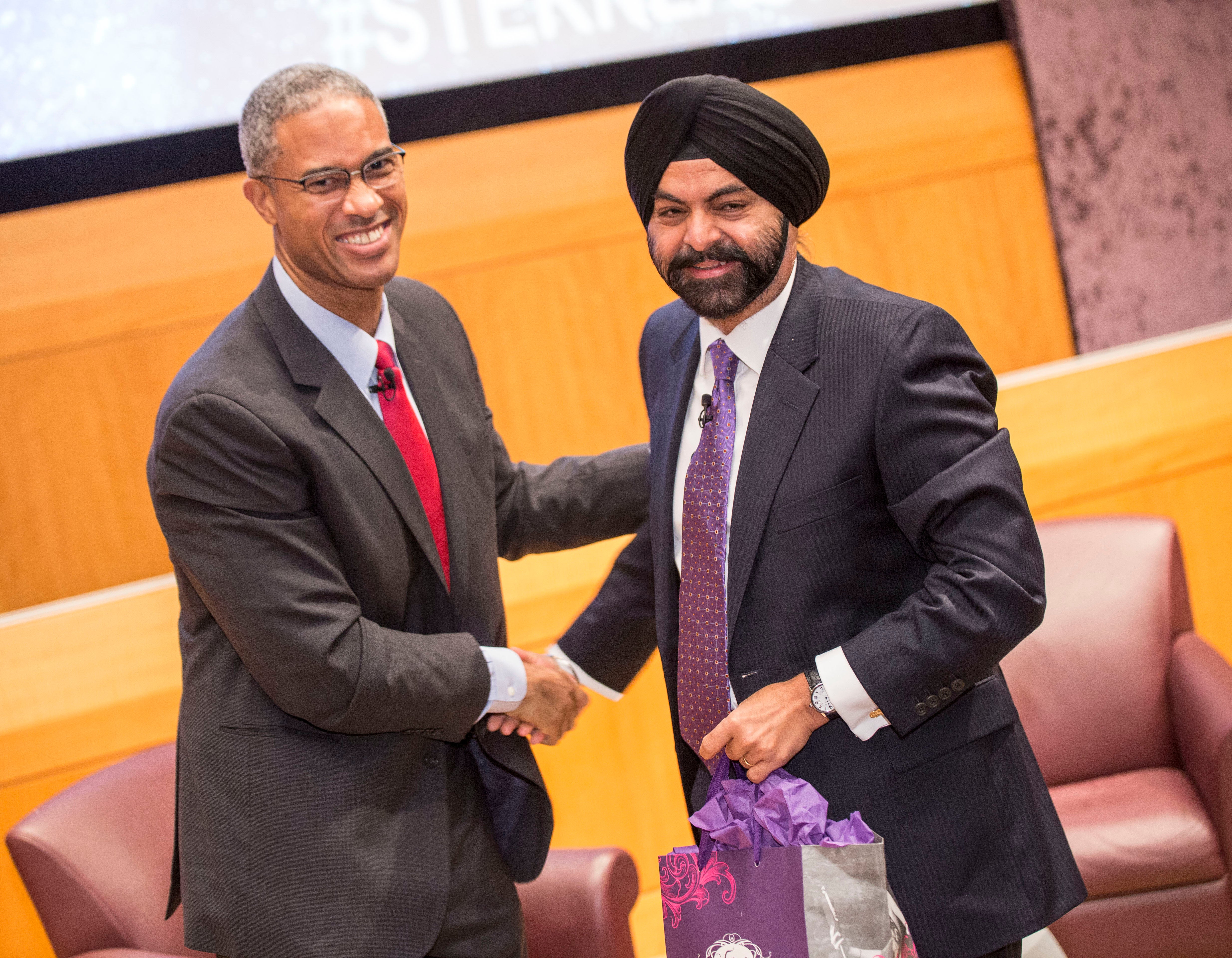 Greater Possibilities Through Partnership
Relationship building is another hallmark of Henry's deanship. Throughout his tenure, he has used his role to further integrate Stern into the global business hub found in the School's backyard, focusing on the value that Stern can bring to its business and alumni communities and, in a symbiotic relationship, gaining more support in terms of fundraising and active engagement.
"Ours is a global institution, but physical proximity also matters," said Henry. "It matters that we can have ongoing conversations, in real time, about the challenges that businesses are facing all over the world. It gives us an incredible advantage."
Provocative conversations indeed take place at Stern. Henry has built on the School's tradition of bringing thought leaders to campus who share and debate ideas on business and policy. Speakers have included Chairman and CEO of GE, Jeff Immelt; former US Secretary of the Treasury, Timothy Geithner; UN Secretary-General, António Guterres; Vice Chairman and Managing Director at Morgan Stanley, Carla Harris; former President of Givenchy U.S., Devon Pike, and the Executive Chairman of Alphabet, Inc. Eric Schmidt, to name a few.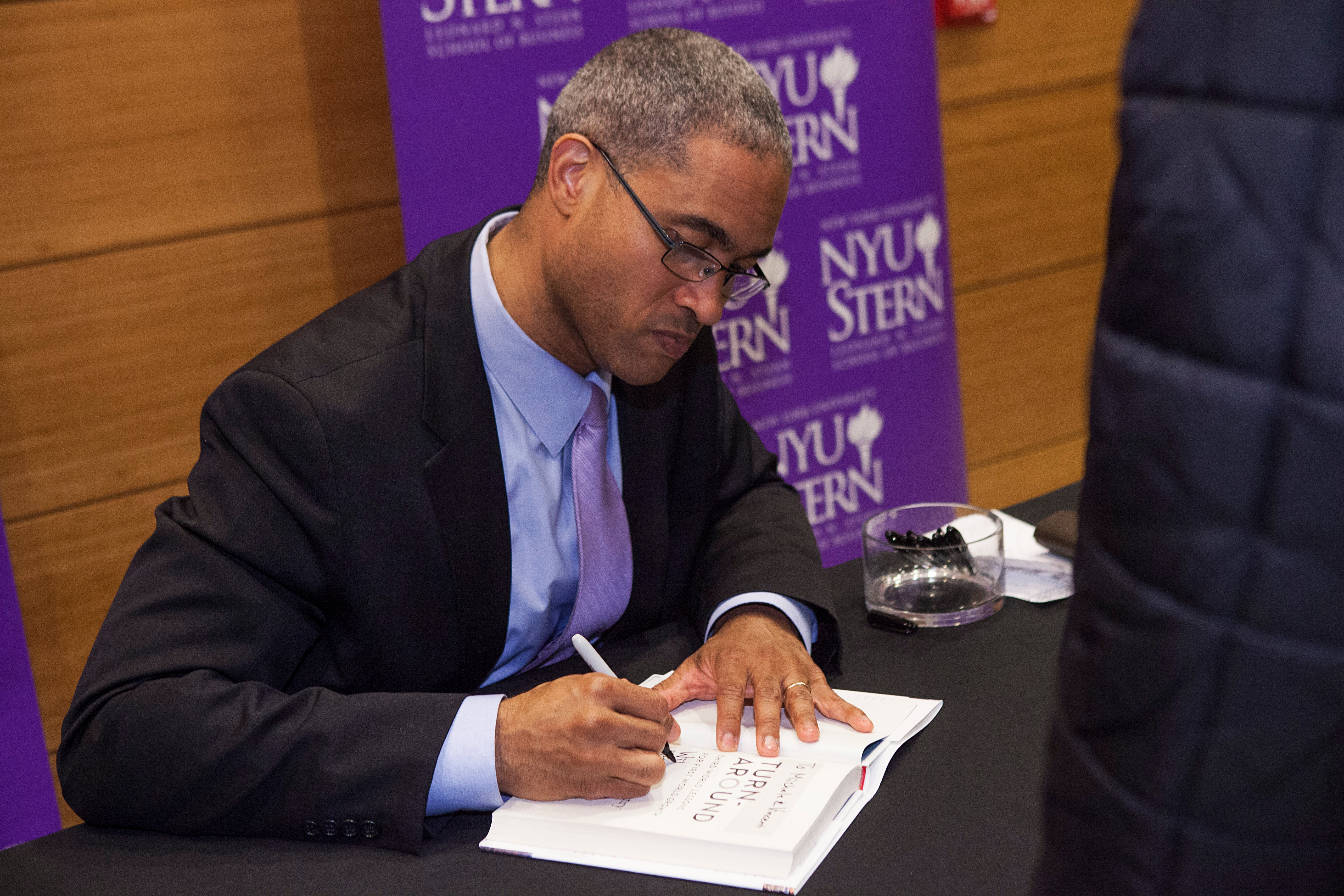 Relationships, old and new, have driven Stern's focus on experiential learning—partnering students with companies and organizations to accomplish real project work that takes place under the banner of "Stern Solutions." Now more than ever, Stern leverages its geographical endowment, pairing faculty and students to work with organizations such as JetBlue, Ralph Lauren and Citi Ventures to address a relevant business challenge they are facing.
While building external relationships to deepen the School's industry ties, Henry also has had landmark success deepening Stern's alumni relationships. Support from the Stern community has never been stronger. The School has raised more money under Henry's leadership (more than $250 million) than under any prior Dean, including an all-time high of $54.6 million in 2016.
Alumni gifts have funded important upgrades to Stern's campus, including renovations to classrooms and rotunda lounges, and the modernization of the Henry Kaufman Management Center lobby thanks to the generosity of Board Overseer and alumnus Andre J.L. Koo (MBA '94). And while some alumni have shown support by investing in Stern's physical infrastructure, giving occurs at many levels and takes many forms.
"There are countless ways to engage," says Henry, "but what remains true on every level is how critical our alumni are to the lifecycle of our institution, and how much gratitude I feel toward them. No gift of time, experience, or financial resources is too small."
Creating Value Through New Sources of Future Leaders
Nowhere, perhaps, have alumni contributions been in greater evidence than in service to the School's mission to transform today's talent into tomorrow's leaders, irrespective of their (or their families') ability to fund their education. Indeed, with nearly 85 percent of fundraising going toward financial aid, Henry has created another Stern milestone: full scholarships.
Much has been written about the fact that Henry started life in Jamaica, the son of two scientists who immigrated to the US when he was eight years old in order to provide better opportunities for their children. That move, and the power of education through scholarships, set a career in motion. Today, Henry believes that scholarships are an economic imperative: solving society's toughest issues requires the diverse perspectives of those who understand the issues best.
The journey toward greater financial support for MBA students took a giant step forward in 2013, when former Board of Overseers Chairman William R. Berkley (BS '66), now chair of the NYU Board of Trustees, gave $10 million to establish the William R. Berkley Scholarship Program, designed to assist the most promising college graduates who wish to begin their MBAs immediately, but who may already be saddled with debt.
"We create value for business and society when we unlock potential through scholarships. We also diversify the student body, with benefits for the quality of everyone's education."

—DEAN PETER HENRY
Since the Berkley gift, the MBA scholarship agenda has continued to make strides with two important programs: the Fertitta Veterans Program, made possible as of 2016 with a $15 million gift from brothers Lorenzo Fertitta (MBA '93) and Frank J. Fertitta III and believed to be the only program of its kind at a US business school; and the creation of the Advancing Women in Business Scholarship for fulltime MBA students in the spring of 2017.
In addition, Henry has had great success with the drive to increase the affordability of an undergraduate education. Despite the fact that 20 percent of NYU undergraduates come from Pell Grant-eligible families, when Henry arrived in 2010, there were no full scholarships available. In 2014, Stern launched the Access Initiative, its first scholarship program for high-achieving, low-income and often first-generation college students. The first full scholarships were established in February 2015, with a gift from Leonard N. Stern. Including the Stern Scholars, there now are over 50 undergraduates on full scholarship.
Henry feels particularly proud of the Access Initiative. He believes that by removing the financial barrier for talented and deserving students, Stern casts a wider net for next-generation business leaders of the highest potential.
Recent studies show that nearly one-fifth of all high school seniors in the US who score in the top 10th percentile on standardized tests used for college admissions come from the bottom quartile of the US income distribution. Add to that the fact that children born into the bottom quartile have only an 8 percent chance of going to college as compared to an 85 percent chance for those born into the top quartile.
"This means society is underutilizing its top talent," said Henry. "We create value for business and society when we unlock potential through scholarships. We also diversify the student body, with benefits for the quality of everyone's education."
Indeed, the Access Initiative has validated Henry's belief that for the right mission, non-alumni are also willing to support the school. In March 2016, Stern announced a $1.8 million gift from the Marie-Josée and Henry R. Kravis Foundation to support scholarships for high-achieving, low-income students admitted to Stern's Undergraduate College.
About the transformative nature of education, Henry added, "If you teach someone to fish, you create a longer-term solution. Our mission at Stern is to produce people who can overcome the world's biggest challenges in the 21st century. Teaching kids to fish has been a top priority in achieving that goal."
Without a doubt, it's been an intense eight years for Henry. In addition to recruiting, launching new research centers, working with faculty to develop new academic programs, and working with alumni on expanding opportunities for students, Henry also published his first book: Turnaround: Third World Lessons for First World Growth (Basic Books, March 2013).
Drawing from his life's work in economic research, Turnaround illustrates vital lessons for developed and developing nations in search of stability and growth. Two years after its publication, Henry received the Foreign Policy Association Medal, the highest honor bestowed by the organization. In 2016, he was honored as one of the Carnegie Corporation's Great Immigrants.
Turning the Page on a Strong Chapter in Stern History
With an impressive set of new building blocks in place, Henry prepares to leave the deanship on firm footing, excelling in ways most important to students, the School, its alumni, and the global business community. Among the measures:
Full-time MBA applications increased 4 percent for the most recent admissions cycle (Class of 2019).
94 percent of 2016 full-time MBA graduates received job offers within three months of graduation.
Undergraduate placement is at 98 percent within six months of graduation (Class of 2016).
For technology/telecom, placement rates have tripled since 2005 and will be close to 16% for the Class of 2017.
Social Science Research Network rates Stern first among the top 1,000 US business schools for new downloads of research within the past 12 months (as of May 2017). Stern is ranked third in the world for its research productivity.
NYU President Andrew Hamilton commented recently on Henry's successes as he reflected on the Dean's journey. "Peter arrived at Stern in the immediate aftermath of the global financial crisis," he wrote. "True to Stern's mission, however, Peter embraced these challenges and has turned them into opportunities to increase the excellence, affordability, and relevance of a Stern education."
At the convocation for his final graduating class last May, Alison Mass (BS '80, MBA '81), chair of the Stern Board of Overseers, also took time to reflect on Henry's accomplishments. "Dean Henry is passing the torch along with an incredible list of accomplishments over the past eight years," said Mass, "strengthening the school's reputation and creating a renewed sense of momentum into the future."
Henry, who lives in New York City with his wife of 22 years and their four sons, officially steps down on January 1, 2018, to resume a research and teaching role at Stern. His goals, in typical Henry fashion, are both lofty and grounded in real possibility for enabling positive change.
"I think my skills are best deployed against some of the major challenges facing the world right now," said Henry. "In particular, understanding how globalization can move humanity forward and how to articulate that in a way that inspires people and moves them to action."
Henry is as optimistic about Stern's trajectory now as he was the first day he arrived on campus.
"If I were writing about this chapter of our history," said Henry, "I would say that we believed passionately in the possibilities of improving the world. We believed that enabling greater access to education and creating deeper engagement with alumni and business would transform our students, and, in the process, our School. We believed, rightly, that we could be as relevant to the new economy as we continue to be to Wall Street."
Henry first shared his vision with students in a letter back in 2010, promising to help transform them into leaders who grasp the big picture and who can balance the quest for profit with the public good in a complex business world.
"It's for others to judge the results," he said recently, "but I believe the seeds we plant today will bear fruit. Stern creates leaders who are uniquely able to help solve some of the world's most pressing problems and create economic opportunity in the process. The possibilities are limitless."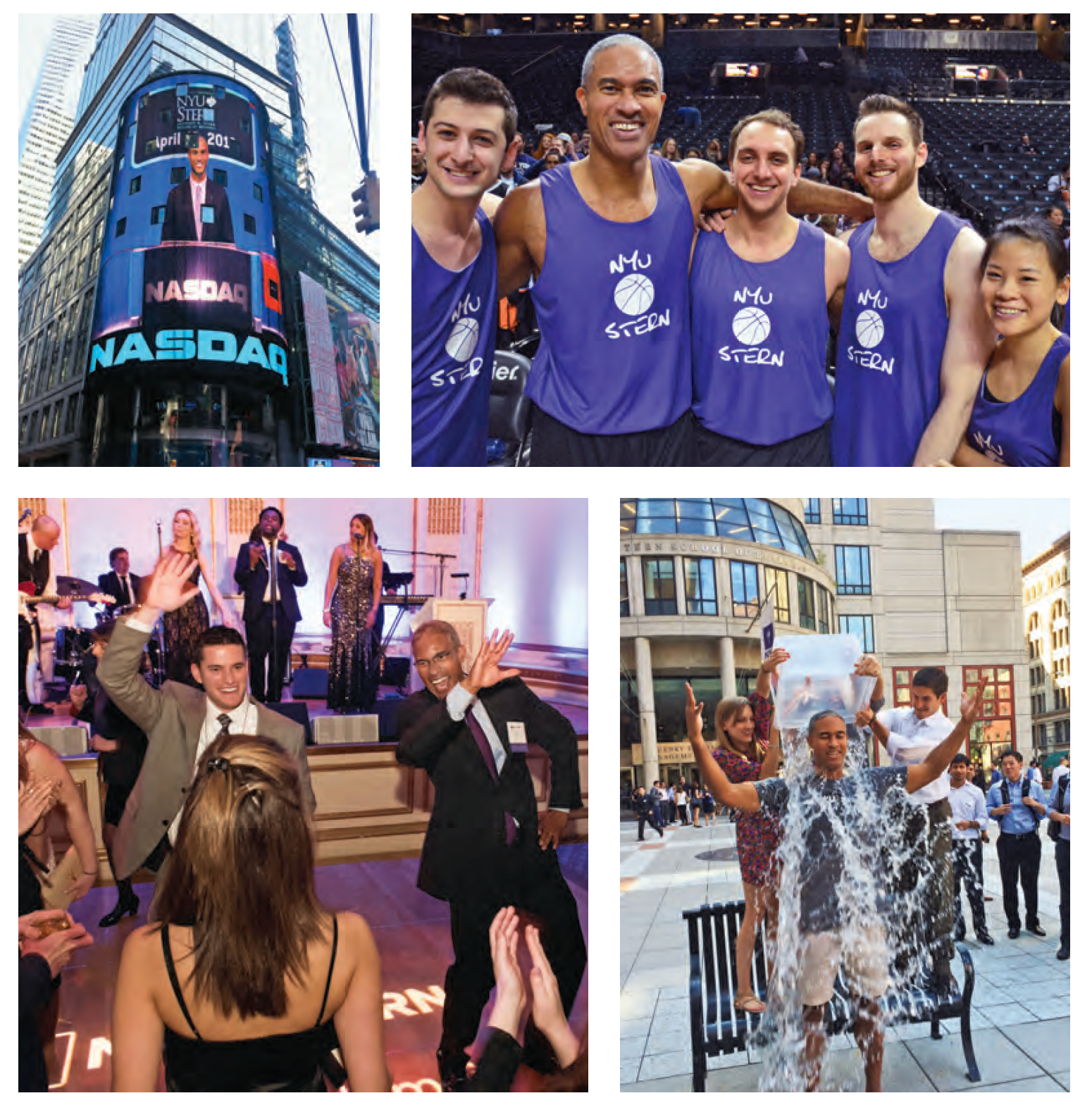 A Dean Who Keeps His Cool
DESPITE A HECTIC EIGHT YEARS, HENRY HAS MADE IT A PRIORITY TO REMAIN ACCESSIBLE TO STUDENTS EVEN WITH HIS MANY RESPONSIBILITIES. "SPENDING TIME WITH OUR STUDENTS HAS MADE ME A BETTER LEADER, AND I WILL KEEP CLOSE THE MANY MOMENTS I SHARED WITH THEM," HE SAID.
THE YOUNGEST PERSON APPOINTED TO THE POSITION IN STERN HISTORY, HENRY IS KNOWN AROUND CAMPUS AS A "COOL" DEAN: A GOOD LISTENER WHO TAKES TIME TO WALK THE HALLWAYS, VISIT CLASSROOMS, HOLD OPEN OFFICE HOURS, AND SHOOT HOOPS WITH STUDENTS. HE'S ALSO BEEN SEEN HANDING OUT HALLOWEEN CANDY DRESSED AS GANDALF FROM LORD OF THE RINGS; DOING THE "ICE BUCKET CHALLENGE" IN A STERN T-SHIRT; WALKING THE RUNWAY AT THE "THINK SOCIAL, DRINK LOCAL" FASHION SHOW; TAKING THE FLOOR AS A STARTER AT THE COLUMBIA RIVALRY BASKETBALL GAME; AND RINGING THE NASDAQ BELL WITH STUDENTS, LIVE ON THE TIMES SQUARE VIDEO TOWER.