[no-title]

By Marilyn Harris

The best way to get to Carnegie Hall, as the old joke goes, is practice, practice, practice. For Seth Brodie (BS '09), who was raised in greater Los Angeles, the best way to get to Hollywood was to attend NYU Stern.
Brodie is currently vice president for finance and strategic planning at Amblin Partners, where he plays a key role in shaping studio strategy. He is responsible for projecting film and TV slates, analyzing film and TV deals, and keeping tabs on the company's cash position and capital sources to finance operations and films, TV, and digital. He is also charged with thinking strategically about creating value and how the company goes about producing and distributing content of all shapes and sizes to consumers globally.
A summer internship at Sony Pictures Entertainment during high school convinced Brodie his future lay in the entertainment business. "After observing Sony's Spider-Man 2, a film with a budget exceeding $200 million, earn $150 million at the domestic box office in only five days, I was hooked by the unpredictable and capital-intensive nature of the industry," he recalled. "My internship enabled me to learn and see firsthand the inner workings of a major Hollywood studio."
His mentor at Sony laid out a path to building a career in finance and strategic planning in the movie business. "He told me I needed to attend a strong undergraduate program, follow it with foundational experience in investment banking, and, only then, return to the entertainment industry."
As a junior-year transfer from the University of Denver business school, Brodie arrived at Stern with a mission. "I was seeking both the camaraderie of other focused students and a rock-solid business program where I could learn most aspects of how to run a business. I chose Stern because of its emphasis in entertainment, media, and technology (EMT). I ended up with majors in both finance and marketing, and a certificate in EMT."
Brodie's time at Stern solidified his intentions and prepared him to pursue his dream. "Professor Al Lieberman ignited a passion in me for the entertainment industry," he recalled, "and Professors Stephen Finkel and Philip Grovit taught me how trends in the entertainment industry affect deal-making." An international study project in Hong Kong gave Brodie a bird's eye view into China's rapid growth – insight that serves him today, as US studios, including Amblin, look to make inroads into the Chinese film market. The Stern course in Entertainment and Media Industries, he added, "inspired me to dig deeper into film and TV and lay a groundwork for my career path."
---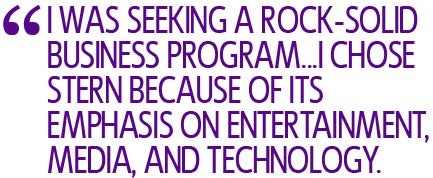 ---
From Stern, Brodie followed his old mentor's advice to a tee, working as an analyst in leveraged finance at Oppenheimer & Co. and as an analyst in M&A at Lazard. After four years, he found himself at a crossroads: "I could be a numbers guy or learn a business – the movie business – from the ground up. I decided to chase my dream."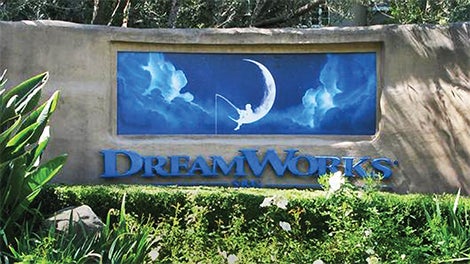 Brodie's solid background in finance served as a springboard, attracting the interest of the CFO of DreamWorks Studios (Steven Spielberg's live-action film production company), now Amblin Partners, who recruited him to work in the executive office. "When working on a deal at Amblin, I am on the opposite side of the table than I was in investment banking," Brodie said. "That gives me a great perspective on the core drivers of deal-making. On the corporate end, for instance, I have collaborated with senior management and legal and financial advisors on the formation of Amblin Partners, and also worked on our strategic pact with Alibaba Pictures, furthering Amblin's entrance into the Chinese marketplace."
While on the West Coast, Stern still looms large in Brodie's life. He acts as a liaison for the Stern & Tisch Entertainment Business Association (STEBA), and the Alumni EMT Committee, mentoring MBAs who are preparing to launch careers in entertainment, and he annually hosts Stern MBAs at Amblin for an onsite lecture/Q&A. He also helps out
with the LA Regional Alumni Group. "I've gotten so much out of Stern," he said. "It prepared me to challenge myself in pursuing my career and gave me an amazing network around the world. I am also very proud of being a part of the solid Stern brand."
Living in SoCal, Brodie enjoys year-round golf, beach biking, and hiking in the Hollywood Hills, yet he misses the unique high energy of Manhattan, as well as Stern. He believes the entertainment capital of the world is the best place right now to chase his dream of becoming the CFO of a movie and TV studio or joining an entertainment focused startup in a strategic and financial capacity.
---