Alice Colarusso, MBA '07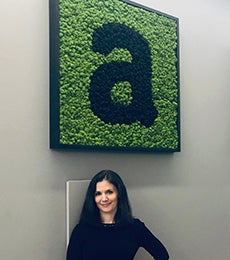 In everything you do, focus on how you make human beings feel—customers, employees, colleagues, and clients. If it feels good and meets human needs, it is the right thing to do.
Digital and Media Marketing Executive
NYU Stern Program: Full-Time MBA Program
Industry: Tech
Company: Amazon

Alice shares her journey from financial services to tech, as well as lessons on pivoting and prioritization.

Tell us a little about the work you do at Amazon.

I work with different companies across industries to help them advertise their products and services through Amazon's many touch points with customers: on Fire Tablets, Fire TVs, Amazon.com, on Amazon boxes/bags, to name a few examples.

You were at AMEX for about a decade. How did you make the pivot from financial services to a tech company?

I built my career on pivoting—change one thing, keep another constant that allows you to add value. Know your power alley. My whole career I have taken risks to grow. I led Digital Marketing at Amex where I had a large budget and invested in media advertisers. At Amazon Advertising I now work with advertisers just like Amex to help them think through how media can help their businesses grow. I sit in a different seat at the table now with business leaders, which has allowed me to move into digital tech seamlessly.

Proudest career accomplishment?

My greatest accomplishment was leading a customer-first movement at Amex by working with colleagues across the company in a true team effort.

Best career advice you've received?

In everything you do, focus on how you make human beings feel—customers, employees, colleagues, and clients. Whether it's your marketing creative or the digital experience you design, if it feels good and meets human needs, it is the right thing to do.

How have you been able to balance your career growth with being a mother?

It has been a struggle. I am ambitious. I love to work. I love the people I work with and the customers I work for. I am also a mother of three kids ages 7, 5 and 3. As my family grew, I continued to get promoted. I learned that ruthless prioritization is the only way and the kids always come first. So far it hasn't been an issue for my career and has paid off at home. I am also lucky to have a supportive partner and teammate, and couldn't do it without him. I will continue to grow and sustain a satisfying career over time. It's a marathon.

What were your most valuable Stern experiences that prepared you for your career?

Stern was an invaluable two years for me. I was an English and Spanish double major at Bowdoin College (liberal arts). I took one very light math class in college. I was planning to become a novelist. Through a series of internships and work experiences I found myself in business school and Stern taught me everything I needed to know to transform into a successful business woman. The professors are amazing—Galloway and Damodaran and Menon, to name just a few. The marketing classes were outstanding and the career/networking prep enabled me to land my internship at American Express, a moment that redefined my path.

Favorite Stern memories?

So many—the Graduate Marketing Association, the friends, late night study group and the peers who helped me any time all the time, beer blast, and pub crawls, of course.

How do you stay connected to Stern?

I used to do recruiting, but with the kids I had to step back. Now I mostly see my friends and attend the alumni reunions.

What is your favorite place to grab lunch?

The Granola Bar in Rye, where I live now.

Last place you went for vacation?

Steamboat, Colorado, for family Christmas with 14 family members... my father-in-law rented a 15-person white van and we had the best time.

Favorite podcast?

Janine the Machine, a Broken Body Isn't a Broken Person. It is a Ted Talk and life lesson in perspective, perseverance, and how exquisite even the tiniest parts of life are.