Allison Moss, MBA '09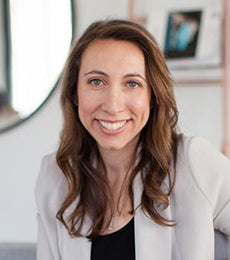 It has been critical to our success to seek advice especially from those who have different experience than me, or come from a different vantage point.
We caught up with Allison Moss, MBA '09, founder of type:A, a clean beauty brand featuring natural deodorant. Allison transitioned from a career in beauty marketing to entrepreneurship, finding a way to align her passion for clean products with her professional endeavors. She describes the aha moment that led to her creating type:A, and highlights the experiences – and Stern courses – that have helped guide her success.

You are the founder of type:A brands. Can you tell us a little bit about your career path and entrepreneurial journey?
As I look back, my career in beauty marketing and the transition to becoming an entrepreneur have evolved naturally over the last 18+ years. At the start of my career, I was managing marketing communications such as PR, events, and other trade marketing tactics for beauty brands including Estee Lauder, MAC Cosmetics, and Lancome.

Taking part in the Stern Langone part-time program allowed me to maintain my career momentum while also transitioning into more of a strategic, brand management career path.

More recently, I've aligned my professional endeavors with my personal passion for clean, safe products as I helped build successful indie beauty business for Jurlique skincare and Beautycounter. When I made the switch away from antiperspirants, I had tried dozens of natural deodorants. Having spent my career trained to evaluate products from every angle, I started to see patterns in the way natural deodorants were formulated and also in the user experience (texture, packaging, etc).

One day after putting on the natural deodorant of the moment that I was tolerating but didn't love, I had one of those aha moments that you often hear about. I remember it clearly. I had saved all of the deodorants that I had already tried. I took out the best of the sad bunch and immediately saw how things could be done differently. From this aha moment, I fine-tuned the concept, engaged a freelance green chemist, took a leap of faith, and I never looked back.

It has been critical to our success to seek advice especially from those who have different experience than me, or come from a different vantage point. I have continually reached out to former classmates and colleagues in my network who have expertise different from my own, or in some places similar to my own. Seeking advice at every stage of this process and truly listening to what people had to say has been critical to our early success at type:A.

You studied Marketing and International Business at Stern. Can you share how you've applied class insights to starting a company?
My business, leadership, and brand building experiences in my career to date have given me the confidence to take a leap of faith and bring type:A Deodorant to the market. On a daily basis I draw on the lessons I've learned on the job as well as in the classroom during my MBA program (those Stern finance and accounting classes are coming in handy!).

When it comes to functions where I have had less on-the-job experience like accounting, finance, and economics, I hire those subject matter experts to do that work (better than I could). But understanding the fundamentals behind each practice allows me to understand, interpret, and direct their work in the most productive manner. When it comes to my areas of focus at Stern, two classes that stand out for me and that I have reflected on while building type:A were Consumer Behavior and Professor Scott Galloway's Brand Strategy course.

When considering our product development for type:A Deodorant, we leveraged quantitative data on US consumer behavior and purchase patterns, blended with influence from international markets, to define our packaging choice. Our deodorant comes in a tube with a unique 'button' applicator that makes it quick and easy to swipe on the deodorant cream. The US consumer insight is that the majority of American consumers use a stick solid deodorant and strongly prefer that format for applying their deodorant. What they love about a stick is that it's simple and fast to apply. The global influence is found in a tube with an applicator on the end used in Europe and South America. This package actually mimics what the US consumer loves about a stick. It also happens to be the ideal container to dispense our dry, lightweight deodorant cream.

From Professor Galloway's Brand Strategy class, one lesson that has stuck with me over the last decade related to a litmus test of sorts for whether a brand or product offering can be successful in the market. It has to pass three hurdles – it must be relevant, differentiated, and sustainable/defensible. When I answered yes to all three of these with type:A Deodorant, I knew I had a business and felt more confident in bringing this product to market.

Type:A is already getting rave reviews. What do you find most rewarding in this phase of growth?
This phase of growth has been exceptionally rewarding because we really hit the ground running. After investing 1.5 years of hard work into developing the product and creating a brand that shined a light on the innovation inside the tube, it's been gratifying and exhilarating to see customers fall in love with type:A Deodorant. For the nine months leading up to the launch, I had tested the formula and seeded plenty of product samples. As a result, by the time we went live there was already demand, and sales took off. This meant that from the minute we went live, bloggers, influencers, and media started to pick-up on type:A, and the adventure began.

What were you involved at while at Stern? Any favorite Stern memories?
Because I was in the part-time program, I wasn't able to get as involved within Stern as I would have liked. I did make it out to more Beer Blasts than I missed. And I attended the PTLF retreat at the start of the fall semester two years in a row. In fact, I met my husband at the retreat! I also partnered with PTLF to organize an overnight ski trip to Killington, which was a blast. My favorite memories at Stern were connecting with new friends over a beer, and geeking out over b-school 'stuff' (dissecting a marketing campaign from a well-known brand, editing business plans for an entrepreneurial venture, imagining our future career paths).

What is your favorite way to spend your free time?
I spend every spare minute of free time with my family. I have two young kids – 2 years old and 4 years old. When I'm at work, I'm hyper-focused on building this business and bringing a safe, healthy, no-sacrifice deodorant to as many people as possible. It's a mission that I'm obsessively passionate about. But when I'm not at work, I'm relishing every minute with my kids. Because it all goes by way too fast and they're too dang cute! We go to the park, zoo, museums, the beach. We're fortunate to live in Santa Monica and have so much to explore right here at our doorstep.

Where did you go for your last vacation and why?
For our last vacation, my husband and I left the kids with my parents and went to Provence, France for a good friend's wedding. It was stunning, magical, relaxing, delicious … and I doubt we'll have another chance to do that again for a long while.