Amy Tsai, MBA/MPA '17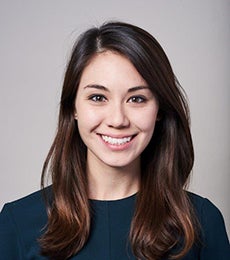 Corporate responsibility professionals are often willing to collaborate on new initiatives. There is an appetite for sharing best practices and achieving shared 'wins.'
Manager, Corporate Responsibility
NYU Stern Program: Dual Degree: MBA/MPA
Industry: Fashion/Luxury
Company: PVH Corp.

Amy shares her path in corporate responsibility and how her MBA/MPA prepared her for work in the social impact space.

Tell us about your career path and how you landed your current job.

Prior to Stern, I worked at an organization in Hong Kong seeking to transform the lives of the underprivileged by connecting resources from multinational corporations, churches, and government agencies with existing non-profits in the city. One focus area was to develop employee engagement opportunities and corporate responsibility strategies for some of the international banks. I became increasingly interested in aligning corporate responsibility initiatives with companies' core competencies and decided to pursue my MBA to learn how to drive more sustainable change.

After arriving at Stern, I was connected with a driven second year student working with PVH's Corporate Responsibility team. She encouraged me to interview for a graduate fellowship with the team, which I continued throughout my time in the MBA program. This was an incredible opportunity because it not only gave me exposure to working with a committed corporate responsibility team, but also allowed me to explore different functions within the space. After graduating from Stern, I was grateful to transition into a full time role at PVH Corp.

What drew you to corporate responsibility within the luxury retail industry?

Many of the individuals from low-income households that I worked with in Hong Kong were ex-factory workers from mainland China who had immigrated to Hong Kong to pursue better-paying jobs and educational opportunities for their children. I gained awareness of the intense working conditions they had endured and residual effects on both their physical and psychological well-being. Following these encounters, I researched more about the apparel industry and learned that one in six workers are employed through the garment supply chain and that there are substantial environmental costs from clothing production. Apparel is also a product that people from all walks of life consume so there is extreme potential for change. For these reasons, I was drawn to the retail industry, recognizing that transformation within the garment supply chain has widespread impacts.

What do you enjoy most about your work?

I enjoy that corporate responsibility professionals are often willing to collaborate on new initiatives. We recognize that sustainable change is furthered through the establishment of industry standards and clear expectations for suppliers. There is an appetite for sharing best practices and achieving shared "wins."

Why did you decide to pursue an MBA at Stern?

When exploring MBA programs, I was seeking a learning environment that was relevant and interactive. Stern's emphasis on hands-on projects and the School's ability to connect students with leaders in New York City made the School very attractive in advancing my career path. Given that I came from a nonprofit career, I was also encouraged by the diversity of students enrolled in the program from different professional backgrounds.

How did the MBA and MPA at NYU Wagner complement each other and prepare you for your career?

I was very fortunate to pursue the dual MBA-MPA degree at a time when there was substantial dialogue about the cross-functional work required to achieve social impact. The coursework across the programs emphasized different problem solving strategies and organizational frameworks. It stretched me to continuously adopt different lenses and question the status quo. I also appreciated that my classmates in both programs had experience across a wide range of industries and that some were pursuing unconventional career paths.

What was your greatest learning curve in your first job after Stern?

My greatest learning curve after graduating from Stern was realizing that new ideas are not always adopted in the workplace as quickly as they are in the classroom environment. While there is a drive for process improvements and change, there are many approvals required in the "real world" to execute and explore new ideas.

How do you stay connected to Stern?

My main connection to Stern is through the incredible friendships I made while in the program. I also have participated in several alumni panels at Stern and Wagner to share more about careers in the social impact space.

Favorite Stern memory?

My favorite Stern memory was Passport Day, which celebrated cultural diversity of the student body through food, traditional apparel, and dance performances. It highlighted aspects of everyone's lives that were not always expressed in the classroom setting and allowed people to gain a deeper appreciation for the unique mix of extraordinary individuals that we interacted with on a daily basis.

Where was your last vacation?

During my last vacation, I traveled with family to Osaka and Kyoto, Japan. We feasted on incredible food ranging from katsu to ramen, stayed overnight in a traditional ryokan, and fed wild deer in Nara Park.

What's your favorite lunch spot?

My favorite lunch spot near Stern is Court Street Grocers on LaGuardia Place. They have a wide variety of sandwiches with unique combinations of ingredients.