Andrew O. Wong, BS '03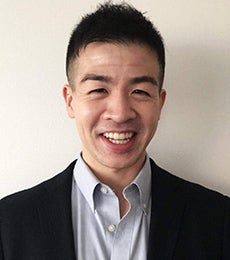 While leadership "tools" will evolve, the key task of leadership will never change—which is to create that relationship of mutual confidence; a task that is not easy when managing across countries and cultures.
Head of Japan Marketing (Growth Group)

Industry
: Technology
Company
: Liquid Group (Quoine), Japan and Asia
Andrew shares lessons from his career path that took him from investment banking to Yahoo and head of marketing at a startup in Japan and Asia.
Tell us about your most recent role as head of marketing at Liquid Group (Quoine)
Currently, I am responsible for the consumer marketing investment, marketing planning decisions, affiliate partnerships, segmentation and customer enablement at Liquid (by Quoine). We are one of the largest Japanese licensed digital currency exchange and block chain technology services firm, with a global presence around the world. This is a challenging space for a marketer; but it is an industry with definable technology. We take great pride in manifesting our deep financial and technology experiences in creating amazing products/services for our customers around the world.
How did you get started in the tech space and what led to your current position at a startup?
I started in investment banking and mastered the fundamentals of corporate finance and valuations, but eventually wanted a more operating facing role—which led me to Yahoo where I spent 11 years in leadership roles within the B2B/ad product marketing discipline across Yahoo! Japan, Yahoo! Asia, and Yahoo! Inc in Silicon Valley and Los Angeles.
In 2016, I moved into a venture backed startup environment with an emphasis on consumer marketing/growth for our mobile investors (70% of which are millennials). In Asia-Pacific, the macro/micro-challenges are fundamentally different from the USA; most notably, you are operating in a different regulatory environment which governs your business and corporate actions. That said, part of my desire to move to Asia was to make a conscious effort to push myself outside the comfort zone and to experience as much as I can.
Part of my desire to move into a startup was to have the latitude to take on responsibilities—both "wide and deep" and to create an even heightened level of accelerated learning without the typical 'span and layers' of politics that can exist in larger organizations. Being in an agile environment at Liquid (Quoine) is an amazing experience. For example, we can respond to user feedback within weeks, which in larger organizations could take months.
Can you share a professional highlight during your time at Yahoo that you're most proud?
Creating a high-performance organization at Yahoo! Asia which anchored itself on both trust, humility, and diversity across 10 countries. While leadership "tools" will evolve, the key task of leadership will never change—which is to create that relationship of mutual confidence; a task that is not easy when managing across countries and cultures. These factors create the conditions for diversity of opinion and ensures that the solution/outcome is the most thoughtful one. This was essential at Yahoo where both advertisers/agencies and users expected you to dictate the pace of innovation and define the future narrative; not play fast-follower…
When you moved from Silicon Valley to Japan, what was the adjustment like?
Silicon Valley is my hometown; I grew up in a place where technology was THE primarily if not ONLY topic being discussed in social circles, school, soccer Saturdays, Stanford football games, etc.
I moved to Japan/Asia-Pacific during the height of the global financial crisis. To succeed in new cultural environments, you need to take an intellectual and moral humility approach to how you manage your life, and be willing to listen to another person's opinion because you can learn from them.
In what ways did Stern help prepare you for the work you do?
The academic rigor of an Stern education gave me the tool kit needed to creatively analyze business issues and to develop recommendations and proposals that made people feel smart in the process.
What are your favorite Stern memories?
My first marketing class. Seeing the rudiments of marketing and realizing how much it mapped toward where I wanted to take my career.
How do you stay in touch with Stern?
Via the Pan Asia NYU Alumni Association and social media.
What activities do you like to pursue in your free time?
Outdoor activities and playing piano
Where did you go for your last vacation?
Silcon Valley