Catherine Cantave, MBA '10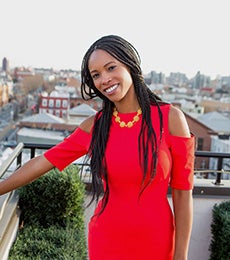 The ability to gain real working experience in the industry, while also taking classes at Stern, was by far the most valuable aspect for me.
Co-founder
NYU Stern Program: Full-Time MBA Program
Industry: Marketing/Advertising/Branding
Company: Soapbox Strategists, a digital media agency

Catherine shares how she started her own digital media agency and the lessons she has learned as a co-founder.

Tell us about your career path in marketing and what led you to start your own digital media agency?

While at Stern, I focused on digital marketing because I was attracted to the creativity and disruption within the industry. I'm fascinated by shifts in consumer behavior, including how people communicate and discover through technology.

After my MBA, I worked the agency side with various fashion, beauty, and luxury lifestyle brands, which helped me gain the experience and confidence needed to branch out on my own.

I founded Soapbox Strategists in 2014 with my business partner, Hope Greenberg. It's very empowering, as women, to successfully own and operate our own business. We believe that good storytelling is the springboard for great marketing that's both measurable AND memorable — and we use this lens when approaching or collaborating with any clients.

What lessons have you learned as a co-founder of a marketing company? What were the steepest learning curves?

Within the last five years, I've learned to wear multiple hats. I have been everything from a tech consultant, project manager, event coordinator — but that is the beauty of what I do. I've learned that my own effectiveness lies in keeping up with daily challenges, client and industry changes, and to keep learning all the time.

What type of brands do you focus on?

Soapbox develops memorable content coupled with transformative growth strategies for lifestyle and luxury brands. We specialize in beauty, fashion, jewelry, art, real estate, home furnishings — with clients such as Waterworks, Sotheby's, and Architectural Digest Design Show.

What's your favorite part about the work you do?

No day is the same. There's much less bureaucracy. There's also a great sense of pride in creating ideas and being able to implement.

What was your most valuable Stern experience?

The ability to gain real working experience in the industry, while also taking classes at Stern, was by far the most valuable aspect for me. I was able to apply learning from class in the workplace the next day, which really helped me get a head start on gaining digital experience and also making industry connections.

Do you have favorite Stern memories?

I will never forget Professor Glenn Okun's class, 'Managing Growing Companies.' His teaching style is brutally honest and the class provides you with what you really need to know when it comes to starting and leading a business. To this day, I still refer to my course book from Okun's class!

What's your favorite lunch spot?

I am a creature of habit. Every single day I go to Just Salad and recreate the Chicken Avocado Salad from Pret A Manager (it's cheaper at Just Salad). Everyone that works there knows my exact order—including my favorite flavor of La Croix (Pamplemousse).

Where did you go for your last vacation?

My husband, 8 month old son, and I went to the South of France to visit family over the holidays. This wasn't my first trip to the Cote D'azur—however, this time we planned a New Year's Eve stay in Aix-en-Provence. We were able to visit the Atelier Cézanne, a studio in Aix where Paul Cézanne created the majority of his works. This, combined with a sunset visit to the lavender fields in Provence, made it a truly memorable vacation.

Who inspires you professionally?

A quote from Jack Dorsey has always stuck with me: "You don't have to start from scratch to do something interesting." Innovation comes in many forms and variations. Some people think of innovation as a new product, device or something that has never been done before. But I believe innovation can also come in the form of just thinking differently.

How do you stay involved with Stern?

NYU Stern has been a great resource in terms of recruiting experienced freelancers and interns for my business. 90% of Soapbox's talent has come from NYU, which I am very proud of. I find that Stern students are very open to exploring new, different career paths and experiences—and our agency is always making time to meet current students/recent graduates to discuss what we do.

Stern also puts together informative industry conferences, I find them to be like mini "ted-talks"—where you can get in-depth access to industry, brands, and experts. I recently attended the 12th Annual Luxury & Retail Club Conference—the highlight for me was listening to Bulgari's CEO Daniel Paltridge discuss how the historical luxury Italian brand stays true to their heritage but also current in their social media strategy.