Courtney Reagan, MBA '13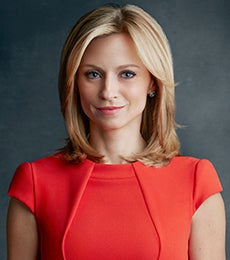 "Business and economics news impacts everyone, every day, everywhere. I love figuring out how to make complicated topics more digestible for a broader audience. It's a big responsibility that I don't take lightly."
We caught up with Courtney Reagan, MBA '13, CNBC Retail Reporter, general assignment reporter for CNBC's Business Day programming, and contributor to NBC's "TODAY," "NBC Nightly News," and "Nightly Business Report," along with CNBC.com. At Stern, Reagan specialized in Economics, Luxury Marketing, and Entertainment, Media & Technology and was involved in Stern Women in Business and the Media, Entertainment and Sports Association. She shares insights as a journalist and highlights from her time at Stern.

You've said finding your niche as CNBC's Retail Reporter felt a bit like starting a company. Can you elaborate on how an entrepreneurial spirit can be leveraged in a more traditional industry?
In my experience, beyond my undergraduate major in mass communications, much of journalism is learning on the go, and teaching yourself to network to find your sources. There isn't really any on-the-job-training that happens.

Any reporter is only as good as their sources, whether they are named or unnamed. Folks will often think I'm the expert, but that's not the case; I am the voice for experts, I tell their stories. But, I have to find the data and the experts, and weed through PR pitches to determine which elements move the story forward and teach the viewers/listeners/readers something they didn't know before.

You earned your MBA at Stern while still working full time at CNBC. Can you share how you applied some of your class learnings to your work?
While I'm a journalist, and not a business-person per say, my MBA education certainly helped me THINK like someone in or running a business, particularly when it comes to strategy. That informs my reporting to ask better questions and see the links more clearly and quickly.

In your role, you make important and complex information accessible to the public. What inspired you to want to do this type of storytelling and what advice do you have for Sternies with similar aspirations?
At first blush, business and economic news may seem niche, but it's not. It impacts everyone, every day, everywhere. But, because of the perception of many that it's niche, it's intimidating to many (who don't work in what's considered "wall street" type work) to dive in and consume business news, and I don't want that to be the case! I love figuring out how to make complicated topics more digestible for a broader audience, but it is a big responsibility and I don't take it lightly, particularly with all the criticism of the press that has swelled in the current political environment. It hasn't discouraged me or any of my colleagues at all, but it does further justify how critical it is to be firm and confident in sourcing and dissemination of information.

As for advice: if you want to be a great reporter, you have to be a great listener. You would think for TV, it's all about talking; however, it's really about listening to find smart stories, angles, experts and opinions. While there is great skill required in being a general assignment reporter, I have more expertise when it comes to being a beat reporter (which basically means I'm a journalistic "expert" focused on one specific area.) As a beat reporter, you want people in the industry that you cover to specifically seek you out when they have stories to tell. It's a symbiotic relationship, but as the reporter, you have to establish credibility, trust, fairness and intellect and that establishes the best relationships. It takes TIME. I am still begging people to talk to me.

In the end, I want to be viewed as fair and accurate. Those are the most important characteristics to me. Speed is important in this world where there are many ways to get news; however, few people ultimately remember who was first with the story, and instead remember who was wrong and who was right.

You started out interested in finance and business and narrowed your focus toward retail. What is exciting to you about the retail space and what is most fun about reporting on it?
CNBC in general tackles business and economic news, but most of our reporters have a specialty, or "beat" within that space. Retail is something that is a part of our daily lives and powers the U.S. economy – 70% of our GDP is consumer spending. I think there are many misconceptions when it comes to retail right now, and I'm trying to tell more informed stories and show that retail ISN'T dead, it's changing. What's most fun is that it's changing rapidly; most predict retail will change more in the next 5 years than it has in the last 50+.

What are a couple of your favorite Stern memories?
In my job, everything hinges on the people I speak to, and at Stern, it was the same: the people. I didn't expect to leave Stern with so many close friends that I will have for life. I really looked at the main payoff as the education (which, certainly is the reason I went and I did gain extensive knowledge) but the best surprise has been all my dear friends from Stern.

Specific memories…I can remember several group projects that we all worked on into delirium (and tons of laughter and inside jokes that have lasted for years) booking study rooms at Stern on Friday nights because it was the only time we could get a group of 6 of us together that all had full-time jobs.

The Vermont ski trips and Beer Blasts are certainly fond bonding memories, too!

You were very involved while at Stern (despite working full time and training for marathons!). How have you been able to stay involved with Stern since graduation?
I try to accept as many invitations to speak at events at Stern as I can! From orientation for the new MBA class to the Luxury summits, and more. Most recently, I answered questions for one of the undergrad retail classes, taught by someone I have interviewed in the past for luxury commentary.

What is your favorite family routine or tradition?
I love this question, it makes me smile. As much as I am doing my dream job, I miss my family terribly. There's nothing I love more than Christmas with my family in the Midwest. Even though I'm the retail reporter now and that means works is really stressful during that time, I try really, really hard to still enjoy the season and all the many, many traditions that go with it for me. If I had to pick one….I think it's going to pick out and cut down our Christmas Tree in Ohio (where I'm from and where most of my family is) at "Country Pines" and taking our family picture under the same sign. But super sadly, the family that runs that farm just retired from selling trees…so we need to find a new place!! My husband and I asked if the farm itself was for sale…but it's not. I really want a Christmas Tree farm of my own!!

Where did you go for your last vacation and why?
I JUST got back from Northern California with my (in-law) family (8 adults, 2 kids!) One of my sister-in-laws and her husband live in London, while the rest of (that) family lives in Illinois and we are in NYC. The last 2 years we have gone abroad, so it was time for the London-based family to come to the U.S.!

Anything else you'd like to add that we didn't ask?
If you're out there reading this, and you have something to teach me, or business news audiences, let me know!