Eric Berger, MBA '08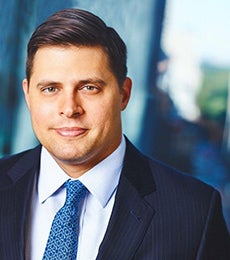 A key insight for me has been that diversity is good for business and not just because it's the right thing to do. Diversity can actually drive the bottom line.
We got a chance to catch up with Eric Berger, MBA '08, about his career in wealth management and the path that led him to launch the UBS InsightShares LGBT Employment Equality exchange-traded fund. Having graduated also from GSAS with a master's degree in politics and international relations, Berger blends his strengths to make a greater social impact.
Tell us about your current role, and the path you followed to get there.
I am a financial advisor and planner at UBS in the international branch. I work with high-net-worth clients throughout the United States and the world on their holistic wealth management needs. I started as an advisor at Credit Suisse after completing my MBA in finance and MA in politics from NYU (Stern and GSAS). I moved my business and team to UBS at the end of 2015.
Can you share the work you're doing with SRIs and how you came to ring the New York Stock Exchange market bell?
The ringing of the bell of the New York Stock Exchange was a symbolic moment, in which years of culminated effort resulted in the launch of a powerful tool for investors. We launched the InsightShares LGBT Employment Equality ETF (Ticker: PRID). Our ETF is a mechanism by which investors can make social change through their wallets, by investing in LGBT-friendly companies. This fund creates a way to leverage capital markets to shape corporate policy and behavior. These global footprint corporations set precedent and drive policy internally and externally toward a place of full LGBT equality.
Our fund leverages the intellectual property of the Human Rights Campaign (HRC), and scores companies, in terms of how constructive their policies are for members of the lesbian, gay, bisexual, and transgender communities. An example of such a scoring item would be whether a company maintains equitable company benefits for LGBT workers and families.
Starting in 2011, I began to explore the concept of how businesses invest in LGBT (through policies, employee support, and customer retention and growth) and how company policies, as they pertain to LGBT persons, are created and championed throughout an organization. As an up-and-coming advisor, my business had an emphasis on planning for same-sex couples. I realized at the time that there were no public market products or methods whereby one could invest in pro-LGBT companies. After some digging around, I begin to think about the companies that were known to have pro-LGBT policies versus those that did not. I formed my hypothesis that companies with a commitment to inclusive LGBT policy and benefits have an edge when it comes to innovation. There was not much data on this at the time. There is more now, in terms of productivity and inclusivity at firms, but we still need to learn more.
You earned your MBA at Stern and your MA in Politics/International Relations at NYU's Graduate School of Arts and Sciences. What drew you to these areas, and how has your dual-degree education shaped the way you work?
Stern was a life-changer for me, as I was looking to re-invent myself. Having come from a background in consulting and marketing, I did not want to be tied to a specific product any longer. My hope was to focus on strategy work but be able to work with clients in a broader capacity. I was also interested in financial services. This is what led me to wealth management. From my standpoint, wealth management has great job fulfilment, in that I am able to work with individuals, families, and small entities on their holistic financial needs. I get to see goals planned for and met and learn a tremendous amount about the people with whom I work.
Politics has always been a fascination of mine. Perhaps it's the history or the strategy, or the creation of working systems that meld with social dynamics. Adding on the politics MA was in one part just out of personal interest, and—additionally-- I appreciated the political science approach to economics. My thesis work at GSAS is directly related to the thinking that I had around the LGBT product suite, in the early days. My paper was on political economy and the differences in innovation between coordinated and liberal market economies. I applied this thinking to diversity in workforces and developed the hypothesis that pro-LGBT companies, as a function of having more diverse work forces, may be better positioned to radically innovate in their respective spaces.
In 2013, you spearheaded the Credit Suisse LGBT Impact Investing Initiative, leading to the creation of the first-ever LGBT equality index and portfolio. Can you share a bit about the initiative and insights from your experience working on it?
Just after completing my studies at NYU, I began in wealth management at Credit Suisse. In 2008, when I graduated and started on my new wealth management career path, same-sex marriage was not the law of the land. Same-sex couples had idiosyncratic needs when it came to financial planning. This demographic was a significant focus of my new and developing business. I engaged with our LGBT employee resource group and was in charge of business development. My first year or so was focused on bringing in wealth management clients. Newly minted MBAs seeking careers in wealth management had/have very low success rates. I saw my focus on the LGBT space as a differentiator and spoke with LGBT leaders, community members, and prospective clients throughout the country. In the course of my work and conversations, I learned that no LGBT impact product existed. During this period, I began to brainstorm as to the possibility of an LGBT-themed investment product.
At Credit Suisse, I was lucky to have a perfect constellation of people, wherewithal, and will power amongst my colleagues to focus on the development of an LGBT product. It was truly a partnership, and we were able to drive it through the employee resource group.
Through a key collaborator on the index trading team, we began some back-of-envelope work on companies that scored highly as per the Human Rights Campaign Corporate Equality Index. The Credit Suisse index traders would screen the companies from the HRC scoring system that were law firms or that were not publicly-traded. We saw promising patterns of back tested out performance and got comfortable with how companies were added and subtracted to the index. We noted that the companies that were constituents of this index did at least as well as their peers (See:
https://hbr.org/2014/07/whats-the-effect-of-pro-lgbt-policies-on-stock-p...
). We also had an investment thesis that these companies did better than their peers, given that they had more diverse workforces and probably were more cutting-edge due to their progressive policies.
We then approached the Human Rights Campaign about a prospective partnership using their data. Though this information is freely available, I was interested in having another angle of the impact investment, in that a portion of our proceeds/future revenues would go back into the LGBT community. Thus, by donating a portion of the revenues to the Human Rights Campaign—a major LGBT advocacy non-profit organization—we could benefit the LGBT community even further.
The Human Rights Campaign was a fantastic collaborator, and – years later—I was able to move the partnership to UBS, with the launch of our new UBS Insightshares LGBT Employment Equality Exchange-Traded Fund (Ticker: PRID).
In the design of the fund initially, we encountered some obstacles when it came to the use of a pure LGBT screen. Some stakeholders wanted us to have multiple diversity filters. Whereas we were pro-diversity, we wanted an LGBT-specific filter. This made the investment thesis and the product construct straight-forward and easy to understand. We also had an established qualitative data set, in the Corporate Equality Index of the Human Rights Campaign.
A key insight for me has been that diversity is good for business not just because it's the right thing to do; diversity can actually drive the bottom line.
In addition to your role as SVP and Financial Advisor at UBS, you serve on the Founders Council of the Williams Institute. Can you share a bit about your role and the work of the Council?
It's been an honor to serve on the Founder's Council of the Williams Institute (WI) for the past eight years. I was asked to serve by the founder, Mr. Chuck Williams, who was a visionary in the founding of an LGBT think tank that is housed within the law school of UCLA. WI produces much of the research and empirical data pertaining to the LGBT community. Before its inception, there was not much in the way of information about the lives of the lesbian, gay, bisexual, and transgender persons—other than what we were anecdotally exposed to in our day-to-day lives.
Williams has been a force in bringing to light information on many LGBT-specific themes, including equality in the workplace, marriage equality, LGBT youth, poverty, public perception, state-specific non-discrimination laws, population numbers, and international LGBT laws—just to name a few areas of concentration. The work of Williams is not designed to be advocacy work; it's designed to be academically rigorous and unapologetically fact-based. Notably, their research was cited multiple times throughout the landmark supreme court cases that ultimately resulted in full marriage equality. The organization has been absolutely imperative in improving the lives of many LGBT people in the U.S. and abroad.
You were involved with OutClass while at Stern. What initiatives/events did you work on through that club?
My time in OutClass was very rewarding, and I made several friends—most of whom I am still in regular and close contact with today. I was a VP charged with "external relations" so one my favorite initiatives was creating a closer tie and several mutual events with Cluster Q at Columbia. I also worked on our Reaching Out MBA (ROMBA) presence and participation.
What are your favorite Stern memories?
They are actually some of the day-to-day, more quaint memories. I would not have admitted this while attending Stern but actually the group work. I came to make some of my best friends in these groups. Also, Wall Street and being a financial advisor can feel very solo when one is starting out. I think the group training and teaming dynamics helped me to reach out and help build teams within my space. Of course, I loved the "Doing Business In" program and did a few weeks in Argentina, which was a blast.
How have you stayed connected to Stern since graduating?
Stern was and has always been about its community. My tie to Stern since graduation continues to be my engagement with the community. Stern's also good about events and lectures and keeping alumni engaged. I recently attended part of my 10-year reunion, which was a fabulous combination of continued learning and social engagements.
What do enjoy doing in your free time?
I love outdoors, including hiking, backpacking, and fishing. I also like to cook, read, and I find myself frequently at the theater.
What's the next vacation you'd like to take and why?
My husband and I are heading to Europe in October on a "Back to Our Roots" tour, where we hope to have some R&R as well as some familiarization with heritage places, in Germany, Poland and Austria.