Nishant Roy, MBA '13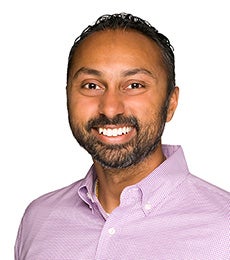 To be a great leader, you must first be a great follower. Followers get things done, are humble, loyal, and lift others up around them
Chief of Staff
NYU Stern Program: Executive MBA Program
Industry: Packaged Food
Company: Chobani

Nishant shares his dynamic career path, the leadership qualities he values the most, how he stays connected to Stern, and where in NYC he likes to grab lunch (when he's not eating at Chobani Cafe).

You've had an eclectic career ranging from military service, to the Clinton Foundation, Goldman Sachs, a political appointment by President Obama, and now Chobani. Walk us through your career path.

The common thread that ties all these varied experiences together is teamwork, operational efficiency, and working on something beyond just me.

I started my professional career as an Airman in the United States Air Force, serving with the Security Forces and deploying to Iraq and Afghanistan. Upon my honorable discharge, I joined the Clinton Foundation working in a Harlem community to analyze their business practices and to equip them with tools to cater to gentrifying markets, while also completing college. Upon graduation, I joined Goldman Sachs to develop skills that I could later use in the public sector. After two years, I received a call from a former colleague at the Clinton Foundation who was now working for President Obama asking me to consider utilizing my military and financial skills to focus on National Security. For five years I served in the US Government traveling to over 40 countries promoting trade, economic development, and increased commerce for US businesses while building livelihoods overseas. I was fortunate enough to work on two major Presidential initiatives, Feed the Future, which raised 23.4 million people out of poverty and Power Africa, which provided electricity to 12.5 million homes and businesses for the first time.

As the Obama administration was ending, I sought the private sector and found Hamdi Ulukaya, the Founder and CEO of Chobani. I received an in-mail message on LinkedIn from the HR department at Chobani and I could not believe that an organization I had never interacted with, whose core mission is to make yogurt, wanted me to join at a senior capacity. I believe Chobani's Founder and CEO was drawn to my background because of my commitment to public service, integrity, and the attention to detail I have brought to the projects I have led. That aside, my Linkedin profile is not really that special.

The Chief of Staff role at Chobani combines aspects of each of my previous roles. I work with Hamdi on managing and growing Chobani, his philanthropic interests in supporting refugees, and his personal wealth management.

What qualities do think leaders need to have today? What defines great leadership?

To be a great leader, you must first be a great follower. Followers get things done, are humble, loyal, and lift others up around them. The qualities I believe separate the strongest leaders from the pack include:

● Integrity – If you can't be trusted to do the right thing, then you cannot be trusted to execute on your mission by your peers and leaders.

● Continuous improvement – The competitive landscape is constantly changing, and it is important to stay abreast of the latest issues, solutions, and news to improve.

● Reading – Industry publications, news, and biographies teach us about new strategies, tools and tactics others have used to solve problems — hopefully saving a lot of heartache, pain and money by learning from others who were in a similar position of responsibility.

● Authenticity – Communicate clearly and concisely with your team. Your team will appreciate and respect your authenticity and will invest further in the company initiatives.

● Initiative – Great leaders walk the walk and take the time, energy, and effort to work with a team to troubleshoot problems shoulder to shoulder.

● Optimism – It is extremely easy for you to feel down about a process or project not going as planned. However, remaining positive and persevering through challenges is what separates the professionals from the amateurs. It is important to maintain perspective.

What does a typical day at Chobani look like for you?

No day is like the other. I start my days reviewing on average 40-50 emails while eating my favorite low-sugar, hi-protein Chobani yogurt. Daily, we work to manage three businesses, estate planning, and the Founder's personal philanthropy. Following breakfast, I meet the CEO to go over the day's schedule, discuss daily/weekly objectives and track progress against our goals. We then attend a day of meetings followed by calls and paperwork to cap the day.

You graduated from the EMBA program in 2013. What drew you to the program?

Throughout my career I developed a robust and thoughtful network and learned how to work in teams. I was drawn to the EMBA program for a variety of reasons:

● NYC is the financial capital of the world, and NYU consistently ranked high among the MBA programs in the US.

● The average age of the class was 38 and I was 28. I learned more about life in two years than I could learn in any classroom in America.

● Visiting the school, I met a diverse, worldly, and thoughtful student body that was connected to an alumni base full of leaders in the business world.

What was your most valuable Stern experience?

The professors are world class and truly take an investment in the development of students. They consistently apply a variety of theoretical models to real world problems to create practical applications and solutions. If that was not valuable enough, I was fortunate enough to have met four Nobel prize winning professors on staff either in the classroom or through lectures.

How do you stay connected to Stern?

I attend the Stern-sponsored events such as the EMBA boat cruise and lectures. I enjoy the Stern Career Center for Working Professionals sessions. The team always invites really interesting alumni and student speakers who transitioned from one-career field to another and it continues to be interesting for me to hear how folks make career transitions.

What's your favorite place to go for lunch?

Aside from the Chobani Café, I enjoy visiting Ramen Hood at SoHo's rotating pop-up space Chefs Club Counter. It's vegan ramen and really delicious.

Do you have any favorite shows on Netflix or Amazon?

The Kominsky Method, Crown, and Grace and Frankie. I also love light comedies like Arrested Development.

Where did you go for your last vacation?

We took our 8 month old daughter to London and Istanbul in August. It was definitely a new way to travel, but so fun to explore the world with her.

---
Nishant takes us on a tour of Chobani's Soho office and shares insights from his career: