Rajat Sharma, MBA/MFA '15
Director, Multiplatform Analytics at A+E Networks and Independent Film Producer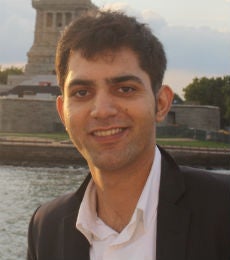 1. Why was it important to you to pursue the dual degree MBA/MFA program?
The dual degree program aligned well with both my long-term and short-term career goals in the entertainment industry. The program was also unique in its structure, giving a first-hand experience of both making programming content and the financial models used to produce it.

2. How has technological innovation impacted the career opportunities available to entertainment professionals?
Given the increased use of data-driven decision making in virtually every department, there are increased opportunities for students coming out of MBA programs, across the spectrum – from distribution to marketing and programming.

3. You served as a graduate teaching fellow and graduate ambassador at NYU. What are the most important skills that students aspiring to work in the entertainment industry should learn?
As clichéd as this sounds, the media industry is built on relationships. Therefore, developing strong people and public speaking skills is extremely important in this business. Learning the art of storytelling is also very useful as your peers and senior management may have come from a creative background, therefore a plain PowerPoint presentation filled with vanilla statistics may not be engaging. The media industry is more diverse with people from all professional backgrounds – bankers, consultants, lawyers, creatives – all under one roof, therefore the ability to navigate and work in teams is highly important. Also, it's valuable to stay up-to-date on industry-wide trends given the rate of change we've been seeing.

4. How do you balance your priorities both at A&E and as a producer? How do these different work areas inform each other?
I believe the dual degree program was a good rehearsal for this role – creating Excel spreadsheets during the day and working on productions at nights or weekends. Being a part of the research group at A&E provides insights on what kind of content works on which platforms and overall audience trends. However, given the sensitivity of the information that I handle at A&E, I keep a healthy distance between the two roles.

5. Can you talk about how your short film, Quedate, for HBO, came to be acquired?
Quedate was developed by my MFA classmate, Bradley Bixler, as a pre-thesis film at NYU Tisch. I produced the film during my 2nd year of the dual degree program and upon its completion the film had a successful festival run playing at the Cannes Short Film Corner, Berlin Film Märkt, Trinidad & Tobago Film Festival amongst others. In my final semester at Stern, I took Advertising Management with Prof. Dan Cohen. Last summer, Prof Cohen introduced me to his wife, Leslie Cohen (also a Stern alumnus) who is VP, Film Programming at HBO. Coincidentally, she also acquired Spanish language content for HBO and Quedate was my most successful Spanish film, so I shared it with her. It was a great example of the strength of the NYU network within the media industry.

6. What is your favorite memory from your time at Stern?
This is hard, given that I spent three years at NYU! There was the Cannes trip, the Preview weekend, multiple beer blasts and social outings. But, I believe the most impactful one was actually my last class at Stern - with Prof. Galloway. He is open about scoring in his class and shares weekly rankings with everyone. In the last class, which happened to be the last class of my program, my group was ranked last ("by far the last" in his own words). Stern students are used to hearing great things about their work, so it was uncomfortable yet humbling to go through that experience. It was a timely reminder before I stepped into the "real world" that just because we have been among the brightest so far, does not mean that the road ahead would be easy.

7. How do you stay connected to the Stern community?
Community has always been one of the strengths of the NYU Stern program and I think our class has been no different. Some of my best friends in New York are my classmates from NYU and we schedule reunions over brunches, dinners and weddings! Kiril Popov and Sikandar Atiq from the 2014 class put together a weekly newsletter that provides updates about my classmates all around the world. I was also part of a panel at the recent MBA Media & Entertainment Conference and have volunteered for speaking at other EMTA events, along with organizing visits at A&E for current students.