Rebecca Messner, MBA '18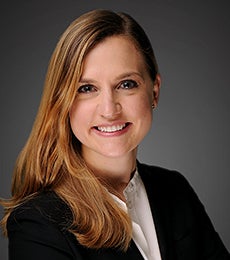 Ultimately I wanted to combine my creative experience as a filmmaker with my new understanding of finance to pursue a career at a major media company in finance or strategy, and I felt that Stern was the best place to do that.
Associate, Content Strategy & Analysis
NYU Stern Program: Full-Time MBA Program
Industry: Entertainment
Company: Netflix

Rebecca shares how she leverages her filmmaking background and finance education in her role at Netflix.

Can you describe your career path and how you landed your current role at Netflix?

As a writing major in undergrad, I started my career on the creative side, working in journalism and independent documentary filmmaking for about six years. The more I worked in filmmaking, the more drawn I became to the business side of the industry, and the more interested I became in learning how huge businesses can be built around the production of creative content. This led me to pursue a major career shift to finance, where I joined my family's business in investment management. This was an amazing opportunity I'm incredibly thankful for - I covered the media industry as an equities analyst and was able to learn how the creative industry works from the top down, studying companies like Netflix, Disney, and Viacom.

I focused my time at Stern on understanding the valuation of creative assets and finance in the context of the entertainment industry, and had internships at FilmNation Entertainment in distribution, Walt Disney Animation Studios in financial planning and analytics, and at Archer Grey as a venture capital analyst focused on media and entertainment startups. The MBA recruiting process for entertainment and media is a constant networking hustle, which ultimately led me to the Content Strategy & Analysis team at Netflix.

You studied writing as an undergraduate, what led you to pursue an MBA at Stern?

Stern was in many ways a perfect fit for me, given its strength and legacy in finance and valuation, and its overlap with the media & entertainment world. While I loved working as an equities analyst, I felt that I was still on the "outside" of the industry I wanted to be a part of. Ultimately I wanted to combine my creative experience as a filmmaker with my new understanding of finance to pursue a career at a major media company in finance or strategy, and I felt that Stern was the best place to do that.

In what ways did Stern help prepare you for the work you do?

In addition to the amazing classes I took (my favorites were Strategy with Marciano, Corporate Finance with Damodaran, and Dealmaking and Business Development with Walker), Stern taught me so much about the elements of working at a large company like Netflix that I had never really considered before. For instance, what information you're presenting is obviously important, but the way that information is presented and communicated can sometimes be just as if not more important.

What do you enjoy most about your job?

First, Netflix is an incredibly exciting place to work, and it took me a while at first to not totally geek out in every meeting where I heard all the inside info about my favorite shows. The Content Strategy & Analysis team acts as a kind of internal consulting group for the content executives - it's our job to analyze and present data on performance and valuation that allow the content teams to make better decisions for the business. My favorite part of the job is how much interaction we have with the creative side. We have such a valuable amount of data on how content is consumed that many creatives are excited to understand how to use it to create global hits.

How do you stay connected to Stern as a recent alumna?

Group texts with friends and social media definitely help! I love following what's been happening in the student clubs I was a part of (SWIB, EMSA) via newsletters, and it was great to host a group of Sternies on the LA trek this January - if a little surreal, since it felt like yesterday that I was in their shoes!

What is your favorite show in Netflix?

This changes a lot, since we release so much new content every week. My recent favorite has been the original doc "FYRE: The Greatest Party that Never Happened," because it created (along with with the Hulu doc, but I'm definitely biased) a real "water-cooler moment" of meta commentary on this weird period of history we find ourselves in. My all-time favorite original is "The Crown," and though I'll miss Claire Foy I'm so excited for Olivia Colman to be our new Queen.

Do you have a favorite lunch spot?

In NYC: Court Street Grocers. I think about it every day.
In LA: We are extremely fortunate at Netflix to have a cafeteria that has an insane amount of free lunch options every day, and I'm definitely not jaded enough yet to be tired of this.