Rupa Mehta, MBA '05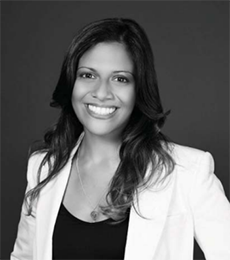 There can be fluidity to my goals – meaning, what I define as success now may change – and that's ok.
Founder and Director of NaliniKIDS, Founder and Fitness Instructor at Nalini Method
Industry
: Fitness & Wellbeing
Company
: Nalini Method
Rupa Mehta, MBA '05, founded the Nalini Method and NaliniKIDS. She shares what inspires her as she leads.
Tell us a bit about your career path and your entrepreneurial journey.
I am a teacher, fitness entrepreneur, author and founder of a nonprofit. The thread through all these roles is that I want to help people become healthier individuals that are involved in their communities.
After attending Stern, I opened a fitness studio on the Upper West Side, called Nalini Method. Nalini Method was a leader in the burgeoning boutique fitness scene and is now a stalwart that stands out because of our emphasis on prizing a fitness community that emanates the feeling I have around my mom, Nalini Mehta,― a feeling of being accepted, encouraged, nurtured, and challenged.
My experience as a fitness professional led me to write my first book, Connect to Your One. In 2009, I started integrating a Connect to Your One "book club" into the physical fitness classes I was teaching in public schools as a volunteer. Shortly after, the nonprofit NaliniKIDS was born. We teach students how to make a healthy physical and emotional connection to themselves, so they can be engaged in learning and positively impacting their community. Working with students was a huge creative spark for me, and I've since written 40 books that serve as the basis for our NaliniKIDS curriculum. I'm so proud that in partnership with the New York City Department of Education, we've now reached over 75,000 students and are expanding nationally.
How did you become interested in this life-enhancing exercise method?
It began with me thinking about, 'what makes a person healthy?' After years of teaching fitness in NYC and reflecting on and appreciating my own upbringing (mentioned above), I saw an enormous void in the fitness world. I wanted to develop a simple, highly accessible, preventive wellness system with great personalization and effectiveness–a workout that is as active emotionally as it is physically. It was important to me to create a system with long-lasting effects: results that can be felt outside of your workout time and spill into your relationships and life. It tackles emotional and physical weight head-on and places an even degree of importance on both.
You emphasize connectivity and emotional wellness in your work. What are some simple steps you regularly take to optimize your connections and wellbeing?
Every morning, I have an emotional-check in with myself. I think of it sort of like brushing my teeth, a simple habit that positively impacts my health. During this time, I label how I am feeling and file thoughts/worries away as either short-term or long-term.
I also make a conscious effort to have person-to-person conversations, complete with eye contact (no phone calls or text), with my clients and coworkers.
You earned your MBA at NYU Stern. Can you share a little bit about how your Stern education has shaped your career? What are your favorite memories?
My Stern education taught me how to calculate risk and trust my gut. After graduation, I felt more confident in my abilities.
One of my best memories is Richard Hendler's business law class. He is such a great professor and made the combination of business and law so interesting to me. One day, I will go to law school because of the impact his class has on me!
Is there any piece of advice, inspiration, or a guiding value that drives the way you work?
There are three main things that really drive the way I work:
I take full accountability in my business and nonprofit results.
Advice my dad gave me that "the truth is always floating." I interpret this to mean that there can be fluidity to my goals – meaning, what I define as success now may change–and that's ok.
"Just do the work." I take a lot of pride in my work ethic and also find comfort in it, as it is the only thing I can truly control.