Sally Poblete, BS '94
Founder and CEO, Wellthie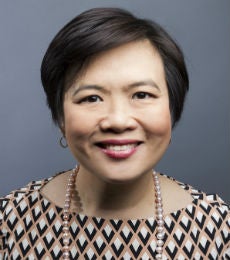 Founder and CEO of Wellthie, a company providing innovative solutions that help insurers and brokers navigate the retail health insurance market
1. Can you tell us what prompted you to start Wellthie?
After spending nearly 20 years working within the health insurance industry, both at a large national health insurance carrier and at several healthcare start-ups, I witnessed first hand the need and thirst for innovation in the industry. The passage of the Affordable Care Act provided an opportunity to help transform the health insurance landscape and educate consumers and small businesses on their health insurance options.
2. What was it like to start a business?
I've always been an entrepreneur at heart. Before Wellthie, I ran a long-term healthcare business and wore leadership hats at several healthcare start-ups. But starting my own wasn't easy: For us, it's always about enjoying the process because the highs and lows occur every day. The challenges of fundraising and recruiting are balanced with the thrills of working with satisfied customers and launching products. It takes passion and a supportive team that shares that passion to make it work.
3. How do you see the health insurance industry evolving for consumers?
The health insurance industry has finally realized that they need to meet consumers where they are (online or offline) and engage them if they want a lasting relationship. The future looks a lot like consumers becoming as savvy at shopping for health insurance as they are at shopping for retail. Health insurance should not be a foreign language any longer. We see people becoming more educated on the aspects of health insurance coverage and for health literacy to be much more fluent than it is today.
4. What advice would you give to aspiring entrepreneurs?
Resilience is a vital trait. In any career, we are faced with change and challenges on a daily basis. I've learned that successful people are not necessarily the most brilliant or highly educated people, but those who didn't give up or lose their heads despite the onslaught of challenges. Enjoy the process because there are going to be bumps and bruises along the way. Look to those hurdles as opportunities for learning and growing.
5. How did your Stern education shape your career path?
My Stern education shaped my career and life in innumerable ways. Not only did I get a solid business foundation in the classroom, but I also benefitted from being a student in NYC. We had business leaders drop by to meet with students and share their journeys – one of them was Michael Bloomberg when he was a CEO. I remember his talk vividly about how his start as an entrepreneur stemmed from a "failure" at his investment banking job. Another entrepreneur, Doug Mellinger, taught me about the importance of building relationships and networking. While at Stern, I joined and then later became President of both the Stern Student Council and the Entrepreneur's Club – both provided an early start in lifelong learning in leadership.
6. How do you stay connected to the Stern community?
As a resident of downtown Manhattan, we stay connected to the broader NYU community by being physically a part of it. I love seeing NYU graduates walking around Washington Square Park in May. I attend entrepreneurship events and alumni events. NYU students and alums are a great source of talent for our company – we have team members who graduated from NYU.
7. What is your favorite place to go for vacation?
I love traveling to new places. We recently went on a family trip to Japan where I was inspired by the culture's attention to detail and workmanship in every aspect – trains, engineering, food and retail. As a family, we enjoy walking and eating our way through different cities in the US and abroad.
8. You sound pretty busy, but in your free time what do you like to do?
In nice weather, you can usually find me in a nearby park or playground with my husband and kids. Or, we are at home making pancakes for breakfast or baking something yummy.