Samir Ibrahim, BS '11
Co-Founder and CEO, SunCulture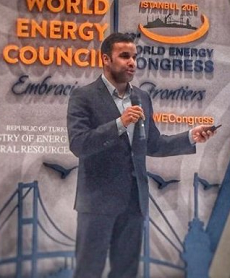 Samir Ibrahim is the Co-Founder and CEO of
SunCulture
, based in Kenya. While at NYU Stern, he studied finance and international business and joined PwC's Financial Services, Structured Products, and Real Estate Group in 2011. During that time, his friend and co-founder Charlie approached him with the idea for SunCulture, and they signed up for the
Social Ventures Competition
at NYU Stern as an opportunity to have their concept critiqued and improved upon. Not long after, Samir moved to Nairobi, Kenya to launch the business. He was recently named to the 2017 Forbes 30 Under 30 list, and took a moment to share what he's learned over the last five years and reflect on his time at Stern.
Tell us about SunCulture and the AgroSolar Irrigation Kit?
I think it's much easier to understand SunCulture by telling the story of our farmers. Most farmers in Sub-Saharan Africa live on their small farms with their families. They live off-grid without power and they live outside of cities. To eat and earn a living, they wait for the rain to grow low-value crops like maize and potatoes. These farming families make an average of $600 per acre per year. It's frustratingly sad.
The biggest reason farmers aren't able to grow high-value crops like onions and cabbages to sell for more money is because those crops need irrigation, they need water moved from a water source to the crops. Unfortunately, the cost of fuel a farmer needs to use to fill her water pump is $5-15/day. That's way too expensive for them.
SunCulture's technology, the AgroSolar Irrigation Kit, combines the cost effectiveness of solar-powered water pumping with the efficiency of drip irrigation. It pumps water to an elevated tank using the power of the sun, and uses gravity to release water through drip irrigation, delivering water directly to crop roots, resulting in yield increases of up to 300% and water savings of up to 80%.
We also realized that farmers need services that compliment the products they're purchasing, so we do the installation, training, after-sales support, and agronomy support in house, giving a farmer what she needs to be successful.
With our solution, our farmers are making up to $23,000 per acre per year. We're really proud of this.
Why did you decide to start the company? What steps did you take to get it off the ground?
My friend Charlie and I decided to start the company because we saw a big unmet opportunity. Plus, we were young, naive, and had the support of friends and family. He approached me with this idea and we decided to enter the NYU Stern Social Venture Competition. It's not a coincidence that Charlie asked me to work on this with him, as I went to Stern. And that's how the process started.
What were your key learnings as an entrepreneur?
Find the perfect co-founder. Don't settle for anything less than perfect.
Raise enough money, which is more than you think you need at the beginning.
Be comfortable with always being uncomfortable.
What would you do differently if you could go back in time?
I would set up our first demonstration farm somewhere closer than a four-hour drive from where we lived.
Is the AgroSolar Kit available elsewhere?
SunCulture products are available across East Africa and will be available in West Africa next year.
What has been your greatest success with SunCulture so far?
Our greatest success has been and always will be the success of our farmers. We're lucky to have played a role in improving the livelihoods of thousands of people across East Africa.
You were part of the Social Ventures Competition at Stern and won the Audience Choice award. What did you learn from that experience?
The first thing we learned is that not getting first place is a big motivator. One of the best things about going through a business plan competition is that you get access to lots of resources, and through the Stern Social Ventures Competition we truly learned the value of working with the best and the brightest.
What is your favorite memory of your time at Stern as an undergraduate student?
Shanghai 2009. Shoutout to World Studies!
How do you stay engaged with Stern? Are you able to keep in touch with professors or fellow Sternies?
Most of the people I keep in touch with back in the U.S. are my fellow Sternies. Although I haven't been able to make them in a while, we have regular Friendsgivings, random weekend meet ups when I'm back in town, and group chats.
Where did you go for your last vacation and why?
Zanzibar. My parents and sister came to visit me last week and that's where my family entered East Africa in 1850!
What's your favorite food to have for lunch?
If I'm back in the U.S., a buffalo ranch sub from Publix. It's amazing.