Suma Swaminathan, MBA '15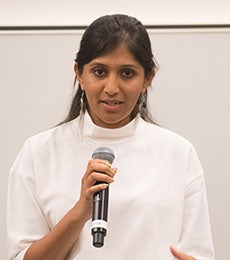 It is fascinating to be part of an industry that is scaling and changing and to be privy to the opportunities and growing pains.
Private Equity at Developing World Markets
Industry: Impact Investing
Company: Developing World Markets

Suma Swaminathan, MBA '15, who works in private equity at Developing World Markets, shares her varied career path and what led her to impact investing.

Tell us a bit about your career path and what you find most fulfilling about working in sustainable investing.
My career arc has been quite varied and yet, each step has helped build on my prior experiences. I am an engineer by education and started my career in data analysis at Infosys Limited. After working in technology for a few years, I decided to use my analytical skills towards the development sector and worked in the handloom industry in India. With my experience across both the corporate and non-profit world, I realized that the theory of developmental impact at scale resonated with my philosophy for financially sustainable social outcomes. I was naturally drawn to impact investing and was interested in better understanding the approach to some of the world's most challenging problems through catalyzing private capital. That led me to NYU Stern to pursue an MBA with the intention of learning about the world of finance from some of the best academics in the space and eventually moving into a role in impact investing. After business school, I worked in business valuation and then moved to the Private Equity team at Developing World Markets, an impact investing firm focused on emerging and frontier markets.

It is fascinating to be part of an industry that is scaling and changing and to be privy to the opportunities and growing pains. In my role, the most useful skills right now are creativity and adaptability, two words not typically associated with finance. I find the process of developing instruments, incentives and structures that can systematically drive positive impact to be challenging and fulfilling. What makes it even more so is the ability to graduate the idea through to execution and delivery of impact from the concept stage.

You earned your MBA at NYU Stern. Can you share a little bit about how your Stern education has shaped your career? What are your favorite memories?
I had the good fortune to be admitted to the MBA program at NYU Stern as a Faculty Scholar for Social Enterprise. It would not be an exaggeration to say that without that support and ecosystem, it would have been much harder to transition into the industry. The best parts about studying at Stern were the people, the faculty (especially in finance) and the city – all three of which I took advantage of during my time there. All my favorite memories without a doubt involve the people at Stern, many of whom remain my close friends. It defies the stereotype of a competitive business school environment while maintaining strong connections and networks. So whether it was the weekly ritual of beer blast or trips across the world, my favorite memories with my classmates at Stern are intertwined in my mind with my MBA experience.

Is there any piece of advice, inspiration, or a guiding value that drives the way you work?
I have found it very helpful to visualize a long-term goal, however broad, and work backwards from there to make career decisions keeping that higher-level perspective in mind. The underlying current has always been to identify my passion and work towards it in incremental steps while re-assessing and re-prioritizing, if needed. That has also meant learning to balance priorities in both life and work. I was fortunate to realize fairly early what I was passionate about so if that isn't obvious yet, my advice would always be to start with that and then map out the road to get there.