Tammy Kwan, MBA '15
Founder, Cognitive ToyBox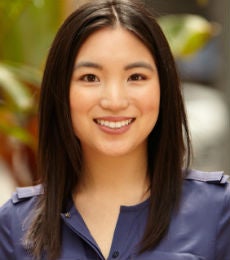 1. Describe your experience as a Summer Startup Fellow, a program through Stern's Office of Student Engagement and the WR Berkley Innovation Lab. How did this help you start your company?
I was fortunate to be part of the inaugural class of
Summer Startup Fellows
. The fellowship greatly accelerated the progress of my company; it enabled me to spend three months full-time between the first and second year of my MBA to better develop the business plan and work with my teammates to develop our first product. The fellowship, as well as my classmates and professors, helped inspire me to forgo other job opportunities and pursue
Cognitive ToyBox
full-time after I graduated Stern.
2. Tell us about Cognitive ToyBox. What does it do?
Cognitive ToyBox develops apps to assess and accelerate a child's learning curves. We partner with academics to productize cognitive development research into the form of engaging iPad games. As of June 2016, we have released one iPad app:
First Words Checklist
is available in the App Store in English, Spanish, and Chinese, with additional languages planned. The app helps parents and teachers to better understand a 2-3 year old child's language development.
3. What inspired you to focus on early language learning and development?
Early language experiences have long-term impacts. As someone who studied psychology in college and worked as a tech product manager before business school, I saw an opportunity to bridge the gap between cutting-edge academic research and early childhood apps. I want to raise the bar on early childhood apps, so that young children get the best resources from science during this critical developmental period. My company is fortunate to have support to help us fulfill this mission, including I-Corps and SBIR Phase I grants from the National Science Foundation.
4. What are your thoughts on screen time in early childhood?
TV is often conflated with "screen time" but shouldn't be. TV's passive nature is very different from "new" screens like computers and tablets, which are interactive. I think interactive apps have the potential to provide quality learning experiences. For example, a 2014 study shows toddlers learn new words from Skype as easily as they do in-person, which is great news for parents who travel for work but still want to play an active role in their child's development.
Research with touchscreen devices is still limited but promising. Cognitive ToyBox is hoping to be the first to provide apps with proven developmental benefits for early childhood.
5. Walk us through the process of starting a company as a student! What were some of the unique challenges you faced?
There is an inherent tension between starting a business and being a student – is the company or school the first priority? I was determined to prioritize both, and although I did make some trade-offs during particularly busy times, I also benefitted from doing both simultaneously. I could apply class takeaways directly to my company and take advantage of the generous resources that Stern has to offer to student entrepreneurs.
6. You're a recent graduate, can you talk about the things you miss most about Stern?
I miss seeing my vibrant, warm community of classmates on a daily basis.
7. Where did you go on your last vacation and why?
My last vacation was to Colorado. I wanted a change of pace from New York City. It turns out that some quality outdoor time in the Rocky Mountains was just what I needed!
8. What was your favorite place to grab lunch around campus as a student?
Kiin Thai – I had the opportunity to travel with a number of Stern students to Thailand during my MBA. Post-trip, we had reunion lunches at Kiin since it was the closest thing we could find to Bangkok!
9. What do you do in your free time for fun?
One of my favorite things about NYC is the diversity in culture. In my free time, I enjoy exploring new neighborhoods in NYC and trying different cuisines.