Tanner Hackett, MBA '11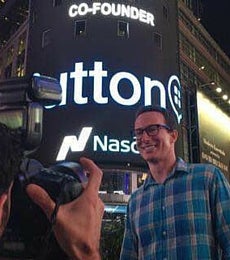 Co-Founder of Button, which helps consumers discover and engage with digital commerce companies such as Uber, Opentable, and Ticketmaster on mobile devices. Button was recently ranked #1 on Crain's Best Places to Work in NYC.
1. Describe a typical day at the office.
I am fortunate to work with arguably some of the most talented and ambitious people in technology. Every day brings new challenges that stretch us to grow and work together. Being the first person in the office gives me some rare moments of peace to set my day and respond to emails. The remainder of the day is dedicated to partner meetings, performance analysis, and product discussions.
2. You have been on the ground floor of multiple ventures. Do you have any advice for students interested in entrepreneurship?
Take risks and have conviction, but don't blind yourself from what the market is telling you - whether that feedback comes from from existing partners, prospective customers, or competition.
3. Do you have a favorite memory from your time at Stern? How have you stayed involved in the Stern community after graduation?
Traveling across the globe with friends from nearly every continent - including the spring treks, which were some of the most inspiring, educational, and exciting weeks of my life.
The professors at Stern, including Arun Sundararajan, Foster Provost, and Dianne Lennard, have continued to be incredible sounding boards with my business ventures. Arun even joined a panel at
a conference
that we hosted in October. I am also hoping that we can hire our second Sternie at Button soon! (
open positions here
)
4. What do you do in your spare time?
I like to ride a bike around the city or run across the Williamsburg Bridge.
5. Where did you go on your last vacation?
Brazil – such an incredible country that offers a fresh perspective on work and life.