2014 Ashok C. Sani Distinguished Scholar-in-Residence Lecture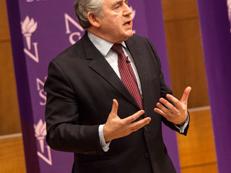 Introduced by Undergraduate College Dean Geeta Menon, The Right Honorable Gordon Brown, former Prime Minister of the United Kingdom, addressed an audience of students and alumni in NYU Stern's Paulson auditorium on April 8. He delivered the 2014 Ashok Sani (BS '74) Distinguished Scholar Lecture, entitled, "Current Trends in the World Economy," in honor of Ashok Sani, an Undergraduate College alumnus who had served on the School's Board of Overseers. 

Brown examined trends in the world economy in the period between the financial crisis of 2008 and 2014, and observed that blame for lower growth, higher unemployment and lower living standards had been ascribed to politicians, and as a result, many leaders of the G-20 countries had been thrown out since 2008. He noted that leaders are not willing to act unless they have the assurance that they are not acting alone. He cautioned that if leaders are not able to think beyond their own national borders, the world will continue to be deprived of higher levels of growth. He called for a "Declaration of Interdependence" that would foster more cooperation among countries to tackle large issues that affect the global economy, such as trade and climate change. 

He acknowledged that a country has an obligation to protect its own citizens, but advocated the return of the concept of a "just war." He enumerated five conditions for a "just war": it is precipitated by a most serious problem, such as a crime against humanity; the intention of the war needs to be consistent with addressing that problem and the response proportional to it; the action taken provides more benefit than the cost of it; and the action is taken only as a last resort, after diplomatic avenues have been exhausted. 

Following his remarks, Brown answered questions from the audience, many of whom were undergraduate students in Professor Bruce Buchanan's Professional Responsibility class.