Business as Usual Is Not an Option: Supply Chains & Sourcing after Rana Plaza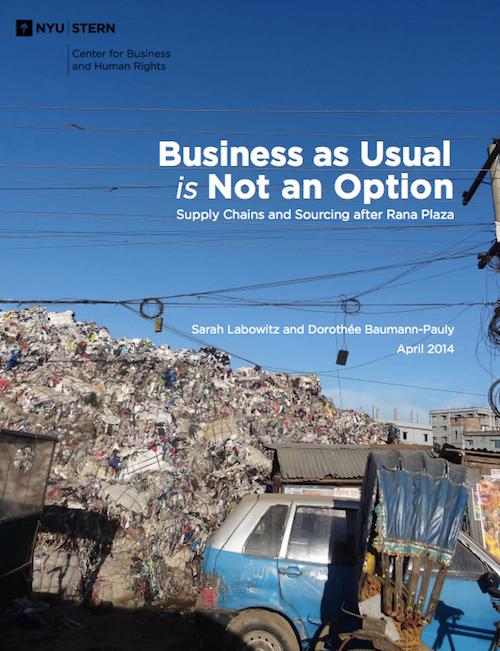 Read our new report and view our presentation and discussion given on Monday, April 21, 2014 by clicking
here.
The collapse of Rana Plaza in April of 2013 thrust the issue of working conditions in global supply chains back into the spotlight. Over the past year, the Center for Business and Human Rights at NYU Stern School of Business has conducted original research on business strategies in the apparel supply chain and their effect on working conditions, culminating in the release of a new report titled
Business As Usual Is Not an Option: Supply Chains and Sourcing after Rana Plaza
. The report discusses business practices, governance, and infrastructure development as key elements of sustainability of the garment sector. It provides new insights about the nature of indirect sourcing strategies in the supply chain and their effect on working conditions. Sarah Labowitz and Dr. Dorothée Baumann-Pauly are co-authors of the report, with contributions from Ray Bonner, Auret van Heerden, Sara Hossain, Syed Sultan Ahmed, and Bishawjit Das.
This is the Center for Business and Human Rights' first major report since Peter Henry, dean of Stern, launched the center in March 2013. The report builds on two research missions to Bangladesh and the center's first high-level convening in New York in September 2013 that brought together factory owners, international buyers and other stakeholders for open conversation about business practices in the supply chain. The center is now convening a second summit to continue that conversation in Dhaka from April 27 - 29, 2014.
Below is a summary of the Center's efforts in Bangladesh to date.  
First convening on the garment sector in Bangladesh – NYU Stern, September 2013
From September 9 - 11, 2013, the Center convened a three-day meeting at NYU Stern's Kaufman Management Center that brought together factory owners from Bangladesh and international buyers, along with a wide range of other stakeholders to share experiences and perspectives about how to maintain the competitiveness of Bangladesh's export garment industry while enhancing workplace safety and respect for workers' rights.
The central premise of the meeting was that issues of working conditions are fundamentally related to the structure of the supply chain itself, and that ensuring the sustainability of the Bangladesh export garment sector will require a comprehensive look not only at fire and building safety, but the relationships among regulators, buyers, suppliers, and workers. More than 70 individuals participated in the meeting. Dean Peter Henry and Board Chair William Berkley opened the event.
Two research missions to Bangladesh - Dhaka, Bangladesh, July 2013 and February 2014
Sarah Labowitz, the Center's co-director and a research scholar in Business and Society at Stern, conducted two research missions in Dhaka over three weeks in the last year. She visited a range of factories, from some of the largest groups in the country to the smallest operators. She also met with political and government officials, factory owners, brand representatives, agents, workers, unions, civil society leaders, journalists, banking professionals, and academics. See photos of her work.
Second summit on the garment sector in Bangladesh - Dhaka, Bangladesh
,
April 2014
The Center will conclude its year-long effort on business practices and working conditions in the garment sector in Bangladesh with a second summit in Dhaka from April 27 - 29, 2014. The event builds on the Center's first convening in New York and will again bring together a wide range of stakeholders from across the supply chain for a business-oriented discussion of working conditions and labor rights. The Center is partnering with BRAC University Business School's Centre for Entrepreneurship Development as conveners of the event.
Public advocacy and writing
The Center has been an active participant in the debate about working conditions in the supply chain.
- Over the year, the Center has hosted a number of events for the NYU Stern community, including a panel titled "From Brooklyn to Bangladesh: Ethical Fashion in a Globalized World"; a presentation to all freshman undergraduate students on "Business and Its Publics"; and a report launch event for "Business As Usual Is Not an Option: Supply Chains and Sourcing after Rana Plaza".
- In November, Sarah Labowitz spoke at a Ford Foundation Mary Robinson Speaker Series event titled "
The Rana Plaza Disaster in Bangladesh: Taking Stock Half a Year On
" alongside representatives from the Business & Human Rights Resource Centre, International Labor Rights Forum, BSR, and Boston Common Asset Management.
- On the media side, Sarah Labowitz penned two op-eds for The Atlantic's Quartz on
commitments to Bangladesh
and
H&M's decision to pay workers a living wage
. Michael Posner contributed to The New York Times'
Room for Debate
on Disney's decision to halt manufacturing in Bangladesh.
- In March, the Center contributed a
Written Submission
to the U.S. Senate Committee on Foreign Relations Hearing on Prospects for Democratic Reconciliation and Workers' Rights in Bangladesh with its analysis on the situation.

About the Center: Dean Henry launched the Center for Business and Human Rights in March 2013 with a strong belief in the power of business to create positive change in society. In that spirit, the Center's mission is to challenge and empower businesses to make practical progress on human rights in their own operations. It is the first center to focus on human rights as an integral part of a business school.
Report on Workplace Safety: