Aesthetics and Style in Strategy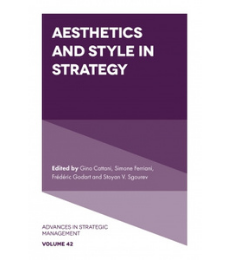 By Gino Cattani, Simone Ferriani, Frédéric Godar, Stoyan Sgourev
Scholarship in management and strategy is paying increasing attention to the domain of aesthetics. Companies routinely make aesthetic choices and there is growing recognition that aesthetic considerations are fundamental for successful performance in competitive markets. Stylistically sophisticated products may appeal to demanding customers, yielding higher profit margins. Style and beauty can also be applied toward enriching organizational cultures, informing leadership visions or motivating employees to defy conventions in designing new products.
Aesthetics and Style in Strategy,
by Professor
Gino Cattani
and co-authors, Simone Ferriani, Frédéric Godar and Stoyan Sgourev, constitutes the first systematic survey of the interface between the aesthetic and strategic domains. Motivated by the rise of aestheticism in contemporary culture, it lays the foundations for an aesthetic turn in strategy, which interrogates the use of aesthetic features as a source of competitive advantage and provides examples of connecting design and engineering, style and technology. The aesthetic turn is not simply about creating value, but about sharing value among employees and infusing organizational activities with a purpose that transcends principles of efficiency.
To learn more, visit
Amazon
.
---