Beyond Bitcoin: Economics of Digital Currencies and Blockchain Technologies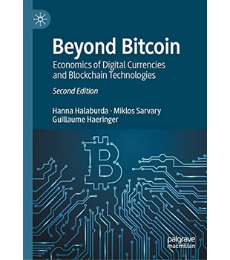 By Hanna Halaburda, Miklos Sarvary, and Guillaume Haeringer
Over the last few years, we have witnessed an upsurge of enthusiasm about cryptocurrencies and, more generally, the so-called blockchain technology. In this new and updated edition, Professor Hanna Halaburda and co-authors explore what exactly these new technologies entail and promise. The authors argue that to understand the potential challenges and further developments in the market, one needs to develop an understanding of what needs these innovations fulfill and what business models are consistent with their use. For that, we need to sufficiently understand both the technology and how it affects the economic forces at play.

This book goes beyond the headlines that say "blockchain will decentralize everything" and provides in-depth, rigorous analysis of what can be effectively decentralized and how this decentralization will work. The book draws not only on the general knowledge of digital currencies and blockchain technologies, but also on recent academic research on the topic. Featuring a fully updated chapter on cryptocurrencies and new chapters on smart contracts and enterprise blockchains, this book is critical reading for those interested in how technology developments impact business and society.

To learn more, visit Amazon.
---