Research Highlights
Faculty Awards & Accolades – April/May 2015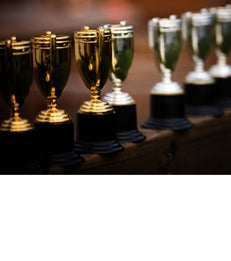 Professors
Adam Alter
and
Deepak Hegde
were recently featured in a list of "
The World's Best 40 Under 40 Business School Professors
" on Poets & Quants, a primary resource for prospective business school students.
Adjunct Professor
Louis Cohen
has been named one of Marketing EDGE's
2015 Rising Stars
. The award recognizes direct or interactive marketing professionals 40 years of age and under who demonstrate "superior leadership abilities, including a strong track record of outstanding results and a stellar reputation for 'giving back' through direct marketing education."
Professor
Anindya Ghose
and Stern alumna
Beibei Li (PhD '12)
of Carnegie Mellon University recently won an Adobe Faculty Research Award, which promotes the understanding and use of data science techniques in the area of digital marketing. Professor Ghose's research, in collaboration with Adobe's data-science team, will help companies in the US, China and South Korea design newer kinds of mobile advertising techniques and examine their effectiveness. Professor Ghose was also awarded an NYC Media Lab award, which will help him build statistical and predictive models to collaborate with CBS/SHOWTIME® using their media consumption data.
Professor
Jason Greenberg
was selected as a 2015 Kauffman Junior Faculty Fellow, receiving a $35,000 fellowship grant award. He will be honored, along with six other recipients, during the
Academy of Management annual meeting
in Vancouver, Canada, on August 7-11.
Professor
Deepak Hegde
won a $20,000 research grant from the National Bureau of Economic Research's (NBER) Innovation Policy Working Group for his proposed work on patent disclosure with co-author Kyle Herkenhoff of the University of Minnesota.
As part of the Central Bank of Barbados's second annual
Caribbean Economic Forum
, Dean
Peter Henry
was interviewed by the bank's Governor Dr. DeLisle Worrell
on his book Turnaround
, and by broadcaster Julian Rogers on the contrast between Barbados and Jamaica, from his paper, "
Institutions Versus Policies: The Tale of Two Islands
." Dean Henry has been named the bank's second Distinguished Visiting Fellow.
Professor
Panos Ipeirotis
and NYU Poly PhD student Maria Christoforaki won a best paper award from the Association for the Advancement of Artificial Intelligence (AAAI) for their research, "STEP: A Scalable Testing and Evaluation Platform." The researchers presented the paper at AAAI's 2014 Conference on Human Computation and Crowdsourcing.
Professor
Gustavo Schwed
, who teaches Private Equity Finance, received the NYU Stern Professor of the Year Award, and Director of the Office of Student Engagement Diana Hyde received the NYU Stern Administrator of the Year Award for 2014-2015.
Professor
Arun Sundararajan
was included in Crowd Sourcing Week's "
#CROWD411: The Comprehensive Directory of Crowdsourcing Influencers
," and featured as one of
18 global leaders
in their first look.
Professor
Richard Sylla
has been appointed one of Phi Beta Kappa's 13 distinguished
Visiting Scholars
for 2015-2016. Over the course of the year, a Visiting Scholar makes two-day visits to eight of the 283 US colleges and universities with Phi Beta Kappa chapters to present a general lecture, participate in classroom and seminar discussions, and meet informally with students and faculty.
Professor
Robert Seamans
has received a one-year appointment to the President's Council of Economic Advisers as a Senior Economist for Technology and Industrial Organization Policy. He will work on areas including spectrum allocation, patents and a range of other policies.
Norway's Ministry of Finance has appointed Professor
Stijn Van Nieuwerburgh
as chair of an expert group tasked with investigating whether the country's $900 billion Government Pension Fund Global should be permitted to invest in unlisted infrastructure, including renewable energy infrastructure assets, and more generally to investigate the appropriateness of the fund's current 5% allocation to real estate investments.
Professor
Lawrence White
received the 2015 Distinguished Service Award from the Industrial Organization Society.