Opinion
Why Kerala Means Strong Women, Intermingling Cultures and Education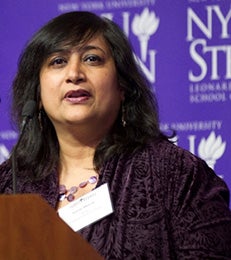 My wish for our students is to be intellectually curious, ethically sensitive, and global in thought.
Kerala to me is characterized by strong women, intermingling cultures, and an infallible dedication to education.
Strong Women
-- I grew up surrounded by women who were strong, independent and determined, each in her own way! This was something instilled in me as stories were shared at family gatherings of the various women freedom fighters in my family, many of whom chose prison over repression in the fight for independence. This strength is perpetuated in Kerala from the generations of women who came before me, who helped to shape the state's future trajectory through their strength in the face of adversity or their dedication to their family and their home.
Intermingling Cultures
-- With the confluence of religions and their resultant beliefs, I found in Kerala more than any other place that I lived in India, a level of not just acceptance, but a celebration of ideas and cultures as they converged in one place. Whether it is the Kozhikode chicken biryani, or the Kochi fish fry, or the Appams and stew, these are all embraced by anyone who lives in Kerala regardless of their background. Near my home in Kerala is a temple, a mosque and a church, all within a couple of blocks of each other. This cultural melting pot in so many ways reflects New York City with inhabitants who carry this same appreciation for cultures and diversity.
Dedication to Education
-- With the literacy rate in Kerala the highest of the Indian states, it is clear that education is revered by Keralites. But it does not stop there. There is a thirst for knowledge that is palpable. And there is a thirst to promote education, which is also evident. I witnessed this in my family growing up. Academia is in my blood. My grandfather, father and uncle have all been educators in law, defense and business respectively at different points in their lives. At the end of the day, I am indebted to both Kerala and my family for inspiring me to pursue a career as a researcher and scholar.
I have been at NYU Stern for almost 25 years. I found at NYU Stern an environment with similar ideals and culture as Kerala – progressive and dynamic, embracing of a variety of cultures and viewpoints (there is even a dosa cart 2 blocks from my office!), and located in the best part of the best city in the world! Today, as Dean of the Undergraduate College, I am passing on the ideals of education that I learned as I work with the faculty to educate tomorrow's business leaders. My wish for our students is to be intellectually curious, ethically sensitive, and global in thought.
It was from my background that I learned the importance of education and how it impacts society. I am proud to be helping today's young people – from all around the world – embrace education as a lifelong endeavor. To receive an award for this from the Kerala Center means a great deal, since it is clear that education is integral to the Center's mission.
So, perhaps one day, through all of our collective efforts, as we will all pass along this fundamental ideal of education, we will see 100% literacy not only in our home state of Kerala, but across India, and indeed, the world.
So, I will leave you with this thought, as Mahatma Gandhi said, "Live as if you were to die tomorrow. Learn as if you were to live forever." I wish for you all an ongoing life of learning. Thank you, all.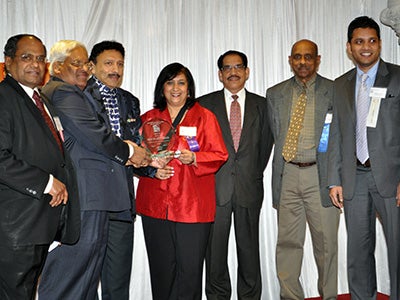 Geeta Menon is Dean of the Undergraduate College at NYU Stern. On November 15, The Indian American Kerala Cultural and Civic Center honored Dean Menon for her achievements in the field of education. The above is an excerpt from her keynote address.