Reminiscence and Rejuvenation: An MBA in Milan
MBA student Becky Malik blogs about her experience studying abroad in Milan.
It has been seven years since I last lived in Italy, and I am so thrilled to be back! After completing more than 45 credits in Greenwich Village as a Langone MBA student, I am now finishing my degree as a full-time student at SDA Bocconi School of Management in Milan. With my Italian language skills and my career in fashion, Bocconi was an easy choice to round out my luxury marketing and global business concentrations. Bocconi has a renowned luxury track that partners with LVMH and is the host of NYU Stern's "Doing Business in… Italy" course. Milan is one of the four fashion capitals of the world, the dominant center of Italy's commercial fashion operations and a worldwide hub for contemporary design. And, the timing could not be better: the city has undergone an extensive rejuvenation in preparation for hosting The EXPO Milano 2015 and was named
The New York Times
' top destination for this year.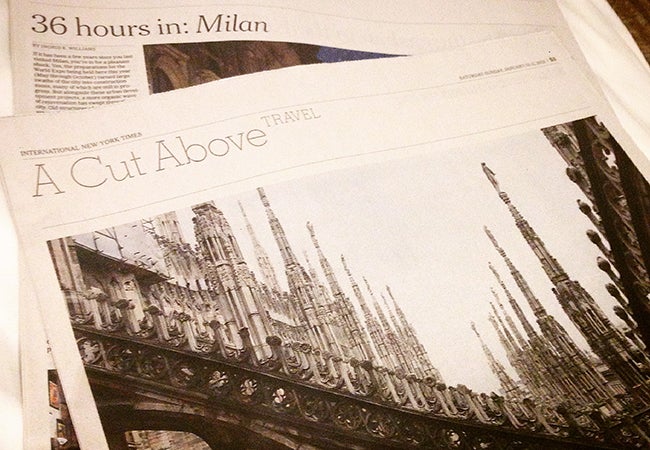 Reading The New York Times' articles on Milan, published January 2015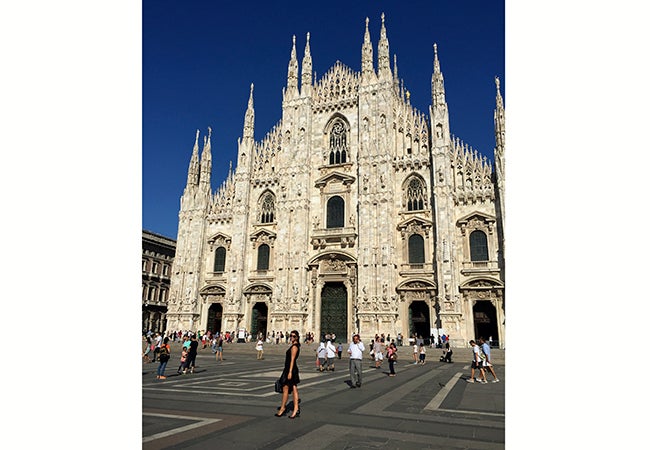 Standing in front of the Duomo di Milano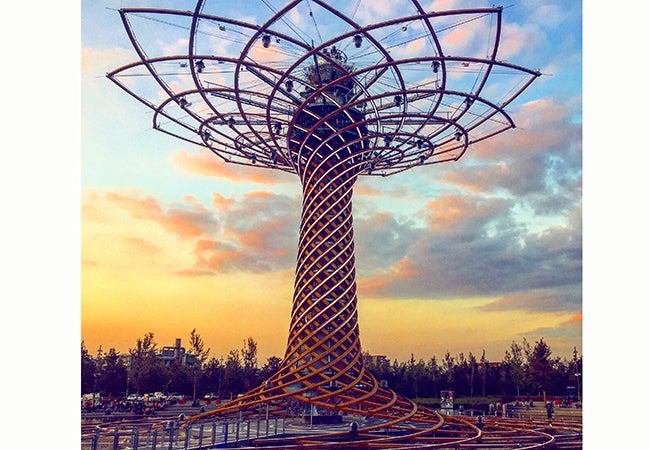 The EXPO's iconic "Albero della Vita," or "Tree of Life," at sunset
I arrived a couple of weeks before classes began in order to get settled into my new apartment and have time to travel to some of my favorite destinations in Italy. I took advantage of the lovely August weather to see Lake Como and Cinque Terre and had a wonderful weekend in Venice, the subject of my undergraduate thesis.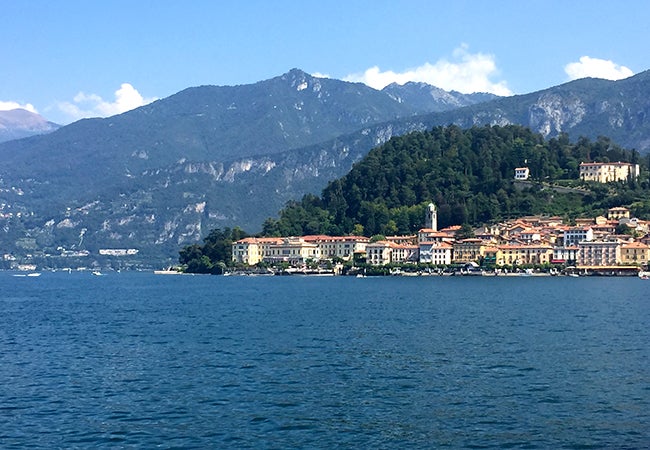 A view of Bellagio, Lake Como from the ferry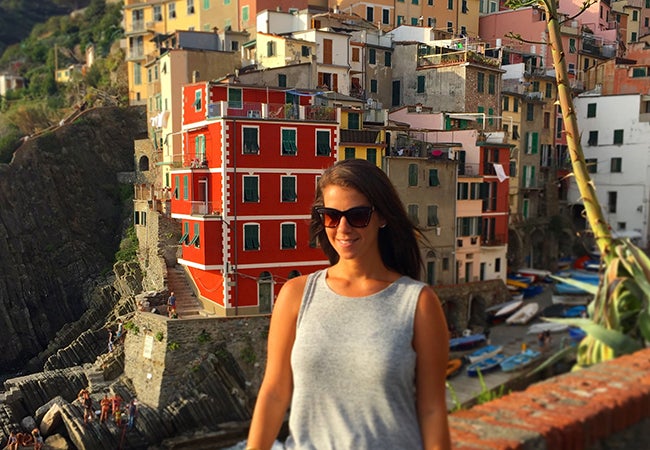 The port of Riomaggiore, Cinque Terre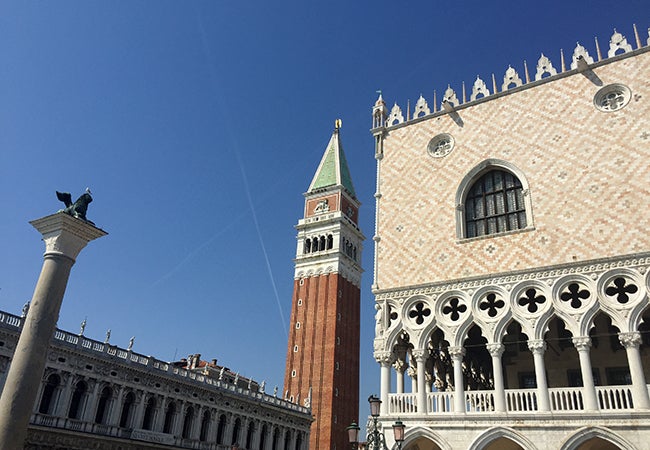 The Campanile and Palazzo Ducale in Venice
But the most nostalgic of my trips was the return to my former home of Bologna, only an hour away on the Frecciarossa, Italy's fastest high-speed train (reaching a speed of 180 miles per hour). While studying there as an undergraduate at Wesleyan University, I took classes at the Universita di Bologna and lived in a dormitory with Italian roommates. Much like Boston, a city dominated by its academic community with welcoming local charm, I had such a great time making my way to all of my favorite spots throughout the city (no map needed!) and remembering the fond memories I had of my days there. It was a great start to kick off this next adventure, and I can't wait to develop a similar fondness of and familiarity with Milan during this semester.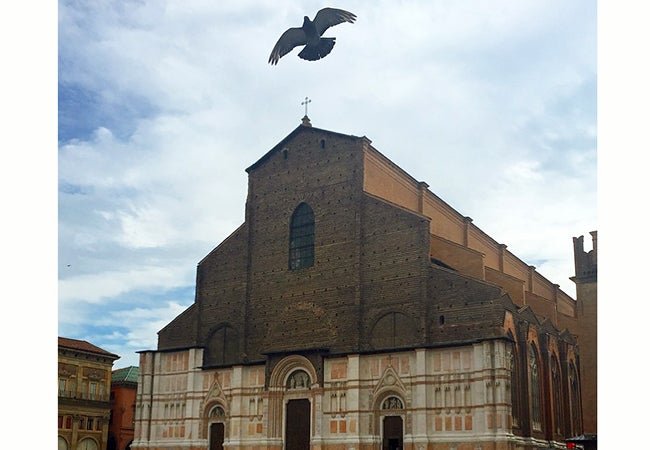 The unfinished façade of the Cattedrale di San Pietro in Piazza Maggiore, Bologna
That quick trip immediately highlighted the striking contrast between my previous and current experiences and how Milan is the right fit for me at this point in my education. Milan is a larger, buzzing, cosmopolitan city – much more like New York (although nothing can compare) – and I am now a working adult, living in the real world, not just switching campuses for a semester. My coursework is more applicable to my career, my schedule more flexible and my lifestyle more independent. My apartment is in the revived Navigli district, right off the Naviglio Grande, a cobblestone-lined canal with vibrant waterside nightlife. The area reminds me of the Meatpacking District: at any given time, you will see a mix of young and old, fashionable Milanese and tourists from around the world, enjoying a café, an aperitivo or a meal. It's not uncommon to hear conversations at the bar just below my window until 3 am, even on a Tuesday. There is artisanal gelato on every corner and fresh pizza available 24/7. And the church bells wake me up each morning, preparing me for the excitement of the day ahead.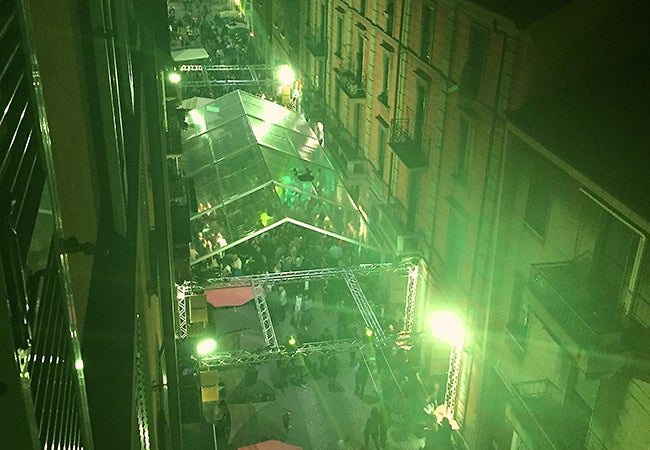 A typical block party, just below my window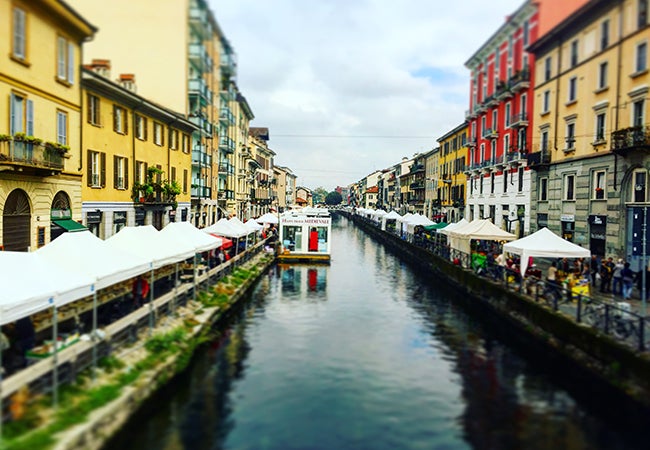 Markets lining the Navligo Grande on a Sunday
The view of Santa Maria delle Grazie al Naviglio from my bedroom
---
More posts by this author