Milano, Ti Amo
MBA student Becky Malik blogs about her experience studying abroad in Milan.
There could not have been a better year to live in Milan than 2015. The city is in the midst of experiencing its Golden Age, laying some solid foundations for its legacy while playing host to the EXPO. Although Milan has been an important industrial hub for the country's economy since the Second World War as well as the Italian center of fashion and design for the past forty years, the city has now successfully earned itself a spot as a venerable tourist destination in a country well known for its vibrant culture and diverse history.  With its earlier history all too often overshadowed by its contemporary roles – much like Rome experienced its heyday two thousand years ago as the seat of the Republic, Venice prospered and developed its unique style in the Middle Ages at the height of its sea trade with the Levant and Florence flourished as a center for the arts with the patronage of its wealthy elite during the Renaissance – Milan has arguably just reached the beginning stages of its maturity, with a fresh invigoration of architecture, culture and commerce noticeable throughout all corners the city.  Visitors to Milan this year were shocked to find a city with such a robust, cultured, intelligent, cosmopolitan and modern populace, poised for what is to come while still embracing the splendor of its rich past.
Outside of my school day routine, the city offered an abundance of exciting sights and flavors, from iconic landmarks to hidden treasures.  I was fortunate enough to have six visitors throughout my time abroad (which made it so much easier to combat any feelings of homesickness), and their arrivals gave me the chance to become a bit of a tour guide. I learned to prioritize activities for a one day to a one week trip and highlighted maps with points of interest for everyone from foodies to romantics, fashionistas to history buffs.  There is so much I could share, but here are just a few of my favorites.
For the foodie, no trip to Milan is complete without experiencing
aperitivo
. A Milanese concept, their happy hour starts at 6 PM and can extend until well past 10:30.  For as little as $6, you can dig into an all-you-can-eat hot bar with pizza, pasta, seafood and even fondue fountains.  Or if you'd rather save room for your meal, a generous plate of crudite, olives and bruschetta are another common option. Strolling through the streets at dusk and the early hours of the evening, you will undoubtedly see overcrowded tables of animated Italians.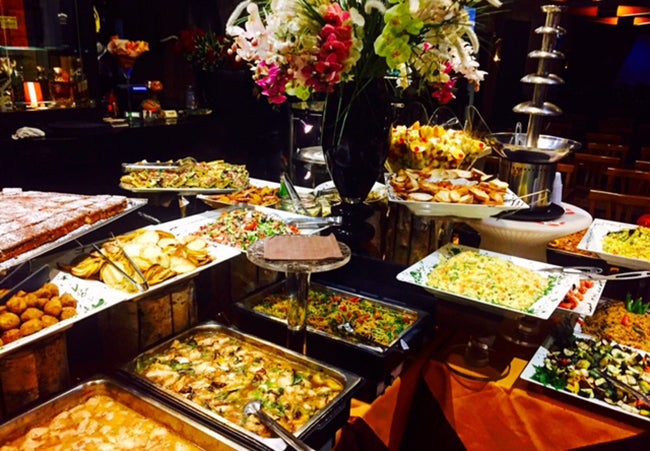 The hot buffet at my favorite spot for aperitivo, easily an inexpensive replacement for dinner
Milan also abounds with incredible snacks, my favorite being panzerotti from Luini.  Right in the heart of the city, it is not uncommon to see a ten-minute queue to get your hands on one of the piping hot pockets of dough filled with ricotta and spinach, prosciutto and salami or simply tomato and mozzarella.  A close second would be pizza from almost any local spot, extra thick and cut into squares to be eaten with a mini plastic fork.  And, on days I wouldn't allow myself to overload on the aforementioned carbs, I would indulge in gelato from one of the many artisanal spots near my apartment, with flavors ranging from coconut and hazelnut to the darkest chocolate and creamiest fior di latte.  There was even an incredible place right at my corner that offered gelato popsicles coated in chocolate and crushed pistachios, which were especially hard to resist...
And most importantly, the EXPO 2015 Milano offered flavors from around the world with its focus on food sustainability.  The pavilions and restaurant options were limitless – I visited three times and still didn't get to see everything.  I heard that attendance was capped at 200,000 people per day, but it felt like it easily could've exceeded that number while I was there: the lines to enter some pavilions were over two hours!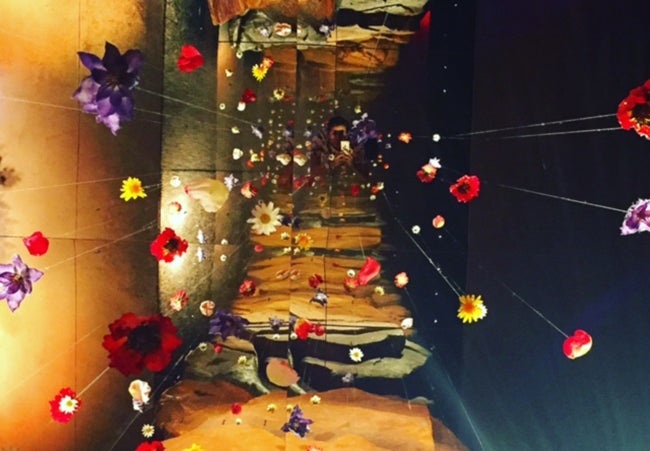 Inside the Morocco pavilion, one of the many beautiful cultural exhibitions at the EXPO
The Duomo, Milan's cathedral, is one of the largest in Europe and its facade has just been masterfully cleaned and restored, making its white textured marble surface glisten in the sun.  Taking over 600 years to complete, it is so enormous it can seat up to 40,000 people.  But the best part, and what I feel to be one of the most romantic things you can experience in the city, is visiting its terraces, or roof deck, at sunset.  Up amidst the gothic spires, hanging with the gargoyles, you can mingle with the contemporary art installations while overlooking the city's main piazza and the expanse of its skyline.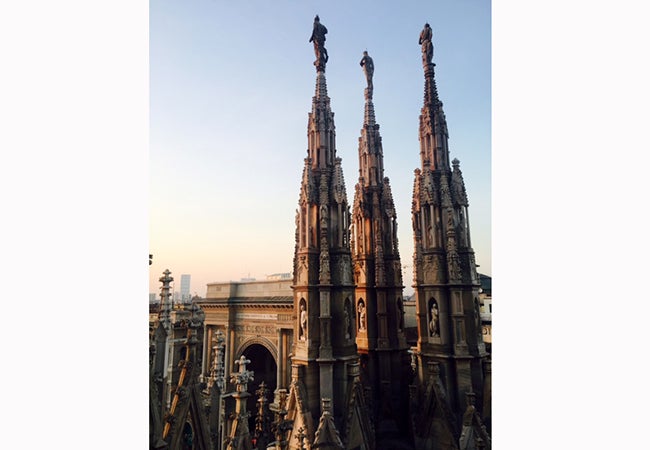 The view of the Galleria Vittorio Emanuele and the Duomo's gothic spires from its terraces
I was also fortunate enough to have an amazing night at the opera, seeing
La Boheme
from incredible box seats at La Scala.  Recently refurbished, complete with digital translations at every seat, the opera house is one of the finest in Europe (and I can compare it to those in Stockholm and Vienna, which I also saw on my trip).  The sets were beautifully crafted and dynamic – at one point, there must have been at least fifty actors on stage across three levels and my opera glasses darted around, taking in all the action.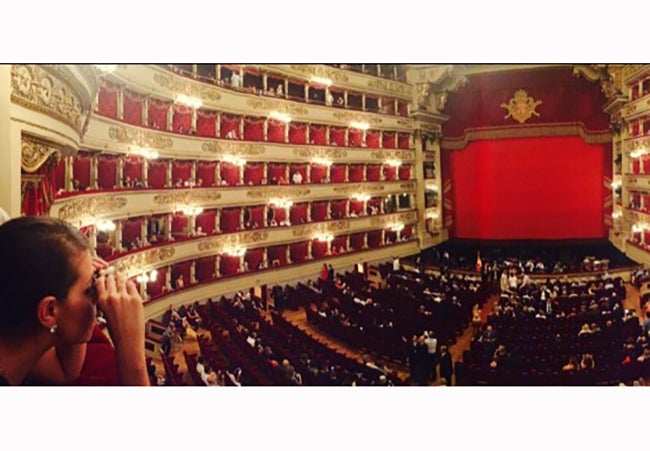 Taking a panoramic look around La Scala through my opera glasses before the start of the show
Fashionistas love Milan too, especially students of luxury like me.  The absolute highlight of shopping in Milan for me was experiencing Prada's original location, a cavernous underground showroom in the Galleria Vittorio Emanuele.  Opened in 1913, ascending the spiral staircase down to the dimly lit basement with limitless handbags and small leather goods in mahogany, mirrored display cases felt more like walking through a museum than a shop.  Window shopping on Montenapoleone was equally breathtaking, like taking a stroll down Madison Avenue.  But specialty shops with affordable wares on streets like Corso Garibaldi and fast fashion outposts on Via Torino were where I enjoyed most of my retail therapy.
Fashion nerds also appreciate the new Fondazione Prada, a museum complex of modern art patroned by the fashion house, a bit far from city center in an industrial/residential area.  With numerous temporary avant-garde exhibitions, most of which I honestly could not even comprehend, the highlight for me was undoubtedly having a drink at Bar Luce, a cafe designed by film director Wes Anderson, next to none other than Michael Kors, who was in town for Fashion Week.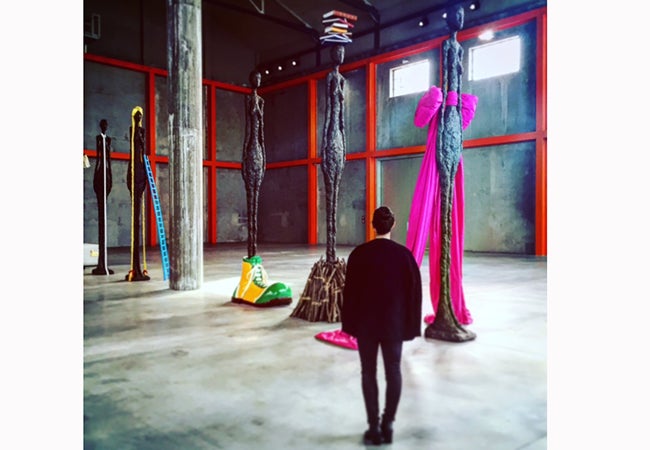 Checking out a contemporary art installation at the Fondazione Prada
Milan is also full of hidden gems, some off the beaten path and others well known but almost impossible to access.  San Bernardino alle Ossa, or what I simply referred to as the "Bone Church," is a quick detour from Piazza Duomo with a hidden chapel full of skulls.  The Castello Sforzesco is now home to the Pieta Rondanini, Michelangelo's final work, which was left unfinished at the time of his death.
But the most coveted ticket in town is a viewing of Da Vinci's
The Last Supper
, "Il Cenacolo," tucked away in a chapel at Santa Maria delle Grazie.  After months in the city, I was finally able to get my hands on tickets for a spot just days before I was to head home.  To protect the precious mural, small groups are allowed in for only 15 minutes at a time and guards stand close watch to ensure no photos are taken.  It was truly a once in a lifetime experience – the room was silent, the wall aglow, and the figures larger than life.  After a quick refresher course on the history of the piece, I was still overwhelmed at the sight of it, a wonderful final experience before my departure.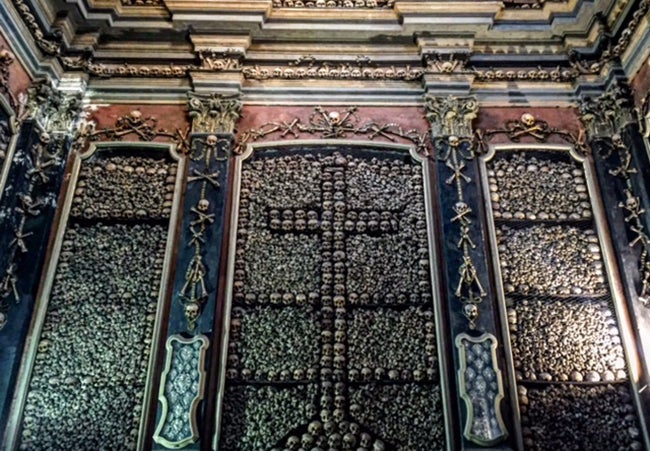 The creepy-cool hidden chapel at the "Bone Church," San Bernardino alle Ossa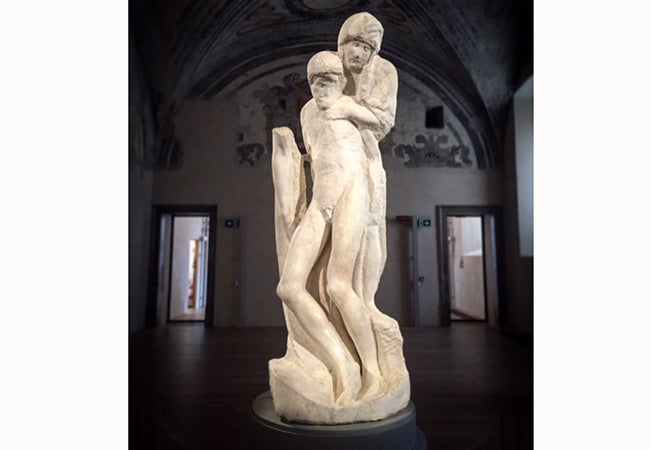 The new home of Michelangelo's Pieta Rondanini at the Civic Museum in Castello Sforzesco
As I embarked on the ten hour flight home to New York from Malpensa, the heavily snowcapped peaks of the Alps surrounding the runway made me realize just how long I had been gone.  I had left home in the height of summer and was now returning to a late autumn chill, just in time for the holidays.  Looking back on what I had learned both in the classroom and on my travels, I couldn't help but feel an immense feeling of both gratitude and fulfillment.  It took guts and determination to work toward this experience, completing 48 credits in less than two years, then leaving a job, an apartment, a school, family, friends and a city that I loved in pursuit of the rewarding challenge of studying abroad.  Looking back, I know this was all worth it.  During my time away from home, I traveled over 25,000 miles on 14 flights and countless trains, visiting 15 cities in 9 countries. While in Milan, I took 10 classes across 2 modules, completing 15 credits by spending over 150 hours in the classroom, going on 5 company visits and giving 8 group presentations.  Not only do I have memories that will last a lifetime, I also completed my MBA and am now poised to put together all the pieces of the next chapter of my life in New York.
But perhaps the most important thing I learned on my trip may just simply be…
Milano, ti amo.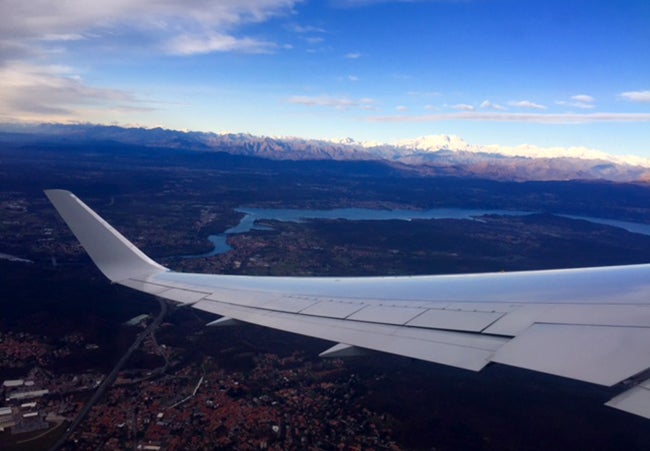 Flying past Lago Maggiore toward the snowcapped Alps on my flight home to New York.  Arrivederci!
---
More posts by this author