Studying at NYU Prague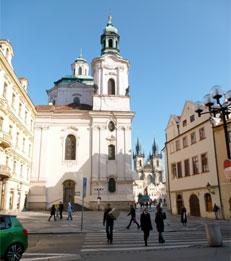 All the people I met and places I've been have made it the best experience of my life.
Undergraduate student Adebunmi "Bunmi" O Onitiri blogs from her semester abroad at NYU Prague.
Well the semester is over and I'm no longer a study abroad student at NYU Prague. I'm not even a Sophomore anymore!! How did this happen so fast? Even though its nice to hear English again and eat all the food I've been missing (a k a Auntie Anne's, Chipotle, Shake Shack, etc.), words cannot express how amazing study abroad was. I (along with everyone else who was a part of this experience, I'm sure) can honestly say that these were the best four months of our lives. It didn't even hit me until I was standing in line at American customs that this was the end. Had to pull myself together so I wouldn't fall apart in front of national airport security, but it didn't take long for the reverse culture shock to kick in.

Read more
 
Last time I blogged I said I was going to talk about my week. Well it was Spring Break week and I'm not lying or exaggerating when I say this but there's honestly nothing like Spring Break abroad, especially if you're traveling from Prague. You'll understand why after I share my favorite moments in Madrid, Barcelona and Lisbon with two of my favorite people (shoutouts to Kim Pham and Cassie Sanders)

Read more
 
Can you believe we're halfway through spring semester already? Back in February, all of us in Prague felt like it was Siberia with temperatures at five degrees almost everyday. I remember when it hit 30 degrees, everyone went crazy about how ""warm"" it was. So of course I'm more than happy that its springtime, but still shocked how quickly time has passed. It's probably why I haven't been keeping up with you guys about NYU Prague life. So to make up for it, I'm going to give some basic, everyday Prague experiences and then the cities I've traveled to since I've been here. Hopefully I won't be too long, but bear with me...

Read more
 
I've just experienced my first full day at NYU Prague!! Besides this ridiculous cold weather, I couldn't be any more excited to be here. Today we started our orientation week with info sessions and group tours, and after getting lost with a couple of friends, I think I'm going to love living here. Honestly, I thought I was going to experience the initial culture shock of not understanding anything I hear or see, but this is surprisingly refreshing. I'm beginning to understand why every time someone mentions NYU Prague, a student that went before goes wild and freaks out about how amazing it was. Its only been 24 hours so I don't have too much to say but it's only the beginning ladies and gentlemen.
Read more
---