Business and Policy Leader Events
26th Annual Stern Women in Business Conference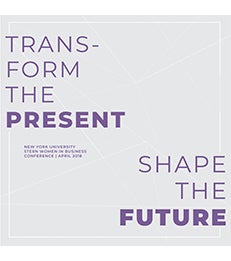 Date:
Friday, April 6, 2018
Location:
Patrons Lobby, Tisch Hall
On April 6, Stern Women in Business (SWIB) will host its 26th annual Stern Women in Business Conference entitled, "Transform the Present. Shape the Future"
The event will feature keynote addresses from Beth Comstock, former vice chair at GE, and Kathie Andrade, CEO of Retail Financial Services at TIAA. Discussion will center around topics including the gender pay gap, the rapid cultural shift in response to 2017's dramatic revelations of sexual harassment and assault in the workplace, career switching at any stage, and women who solve their own problems by becoming entrepreneurs.
For more information on the event, including a full conference agenda, please
click here
.