Research Center Events
NYU Stern Hosts Second Annual FinTech Conference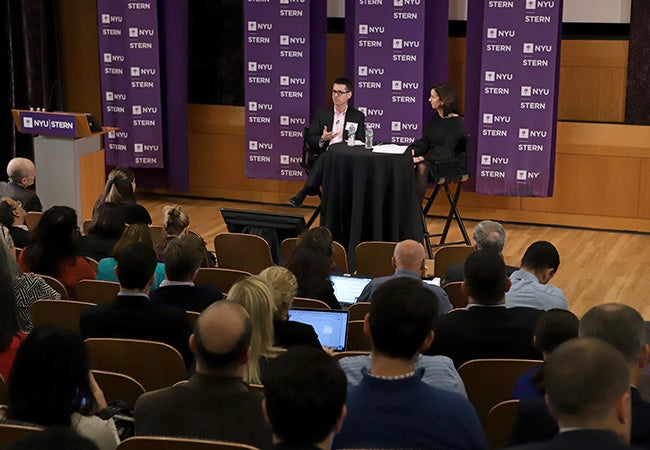 "We are at the start of what promises to be an extremely exciting journey," said Vice Dean of MBA Programs
Raghu Sundaram
, kicking off NYU Stern's
Second Annual FinTech Conference
on November 3. "We are committed to staying ahead of the trends in the Finance and Technology sectors while shaping the future of business education."
The day-long forum convened researchers, regulators, industry executives, alumni and students to debate and discuss the future of FinTech, the latest research in the dynamic field and the ways technology is reshaping the finance industry.
Professor
Kathleen DeRose
explained, "FinTech is one of the fastest growing segments of the economy, and data science is rapidly changing the future of work. Stern is at the forefront of both research and academic coursework. We are thrilled that we were able to host a day of thought-provoking conversations while providing members of the FinTech community a place to convene and network."
Highlights from the conference included keynote addresses from Matt Harris, Managing Director, Bain Capital Ventures and Scott Mullins, Amazon Web Services Worldwide Financial Services, as well numerous panels topics ranging from automation in financial services, the regulatory landscape and cashless payments and investments.
Professors
Arun Sundararajan
and
Vasant Dhar
participated in in a morning panel discussion, debating the societal impacts of a rise in artificial intelligence, the powerful technologies emerging and the progress in the field.
Later in the morning, Professor
David Yermack
served as a moderator for a panel on responses to automation before Professor DeRose hosted a fireside chat with CommonWealth Executive Director Timothy Flacke. Flacke offered insights on prize-linked savings, explaining that 25 states have recently adopted savings lotteries, which encourage low-income earners to put money away into savings accounts in addition to be entered in drawings for transformational life prizes.
Afternoon sessions included a lively debate on the short and long-term effects of global FinTech regulation and the impact of FinTech payments on the future of cash. Additionally, Professor
Sabrina Howell
moderated three demo sessions that focused on entrepreneurship in FinTech and featured presentations from startup companies Better Mortgage and Exeq.
Conference attendees also had the opportunity to attend one of the following executive sessions conducted over lunch including:
Student Lending: Phil DeGisi, CMO, CommonBond
P2P Lending: David Snitkof, Co-founder and Chief Analytics Officer, Orchard
FinTech Accelerators and Incubators: Adrian Johnson, Startup Bootcamp
FinTech Angel Funding: Brian Cohen, Chairman, Managing Partner New York Angels
VC-Startup Partnerships: Michael Sidgmore, Venture Partner, Broadhaven and CEO Alex Hardy, LiveOak Technologies
Software-Startup Partnerships: Margaret Hartigan, CEO and founder, Marstone
B2B Global Robo: Drew Sievers, CEO of Trizic and Andreas Ruflin, Head Product, Evolute
FinTech and the Retirement Market: Grant Easterbrook, CEO and Founder, Dream Forward Financial (and client company)
The Evolution and Electronificiation of Bond Trading: Josh Hershman, COO, and Dan Siracuse, CFO, Trumid
Blockchain FinTech Applications: Tom Jessop, President, Chain
FinTech Data Aggregation: Lowell Putnam, CEO and founder, Quovo
FinTech Platforms: Adam Broun, COO, and Patrick Wood, Head of Academic Research, Kensho
FinTech Data Management Tools: Jake Perlman-Garr, CEO and founder, Datavore
Reg Tech: Jennifer Lee, Investment Team, Edison Partners and Jean-Marc Levy, CEO, ComplySci, portfolio company
To view a photo gallery from the event, please
click here
. More information on the event can be found by accessing the conference
website.
Opening Keynote: Matt Harris, Managing Director, Bain Capital Ventures​
Research Session 1: Automation and Financial Services​
Research Session 2: Responses to Automation: Disruption or Adaptation?​
Morning Fireside Chat: Regulation and Financial Access, The Amazing Story of Prize-Linked Savings in the U.S.​
Demo Sessions: Entrepreneurship in FinTech​
Panel 1: The Global Regulatory Sandbox: How is Regulation Shaping FinTech Globally?
Panel 2: The End of Cash?: How is the FinTech Payments and Investment "Stack" Developing Globally?​
Evening Keynote: Scott Mullins, Amazon Webs Services
____
The 2017 FinTech conference was sponsored by First Data, Evolute, Broadhaven, EquityZen, S&P Global Market Intelligence and Trumid.